TweakTown's Rating: 91%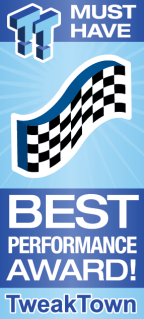 The Bottom Line
Cooler Master's V850i Gold ATX 3.0 PSU will handle most systems with ease and ticks many of the boxes for things we look for in an excellent power supply.
Pros
+

80 Plus Gold rated

+

100% Japanese capacitors

+

10-year warranty

+

Stylish design

+

Excellent performance
Cons
-

Internal fan is not Cooler Master made

-

The rear grille pattern is not cohesive with the rest of the design

-

No fan control in software
Should you buy it?
Avoid
Consider
Shortlist
Buy
Introduction, Specifications, and Pricing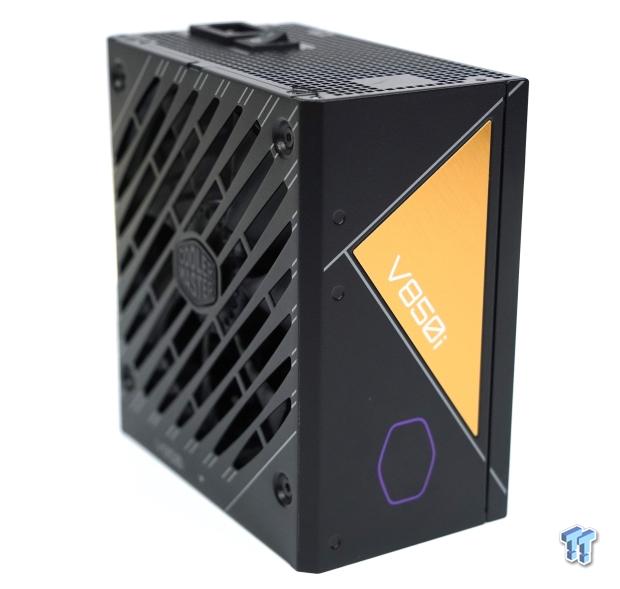 The last time I looked at a PSU from Cooler Master, the XG850 Plus Platinum, I knocked it for not being ATX 3.0 compliant. Well, Cooler Master has sent us their new PSU, the V850i, which is of the ATX 3.0 variety with a 450w 12VHPWR connector. The V850i is an 80 Plus gold-rated, fully modular, digital PSU. The MSRP pricing is $229.99 but can be found for $185.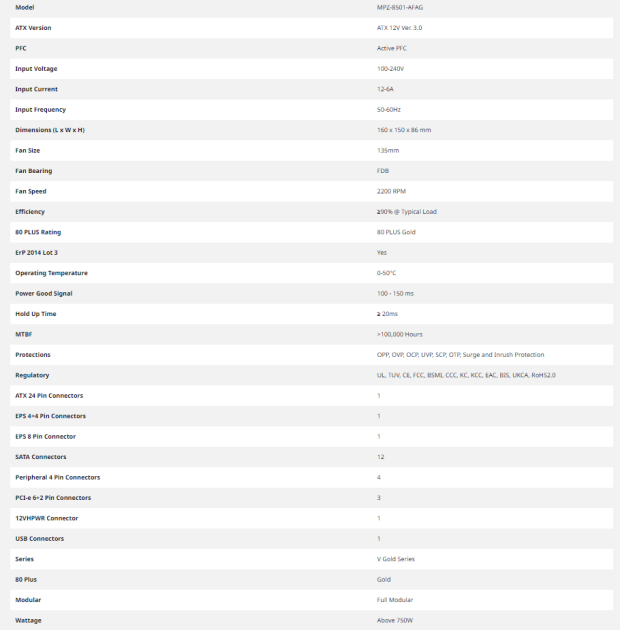 The Cooler Master V850i aims to be pretty full-featured, with enough connections to power just about any PC configuration. Let's dig in now and see what it's all about.
Packaging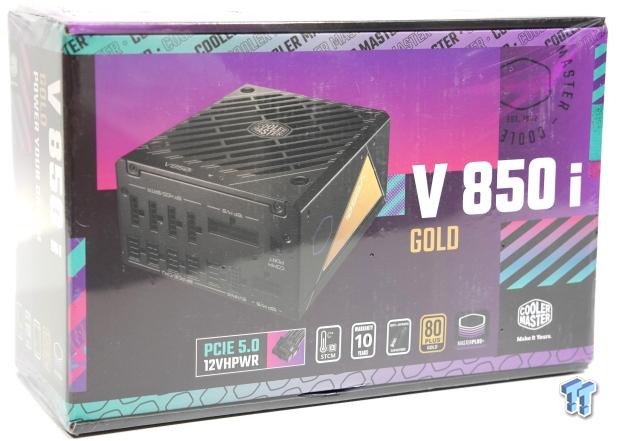 The box that the V850i comes in is fairly standard but with a Cooler Master type of flare. On the box are images of the PCIe 5.0 12VHPWR connector, temperature rating, 10-year warranty, 100% Japanese capacitors, a certification for 80 Plus Gold, and the MasterPlus software.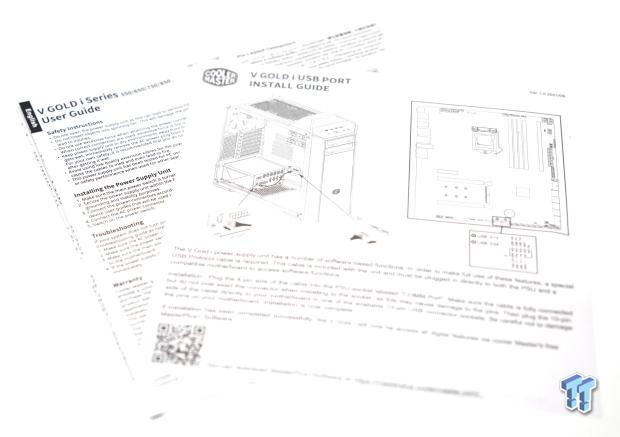 The user guide and the install guide that came with the V850i were informative and interesting, as the case depicted was the MasterCase 5, which is a case that was produced circa 2015.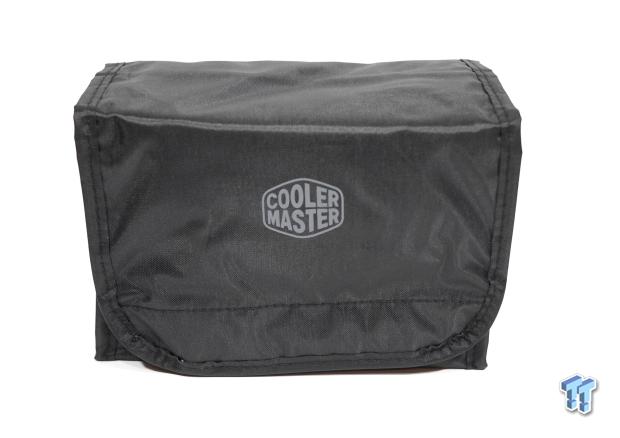 The cable bag, which houses all the cables needed for the V850i, is neatly stored in this bag for a clean presentation.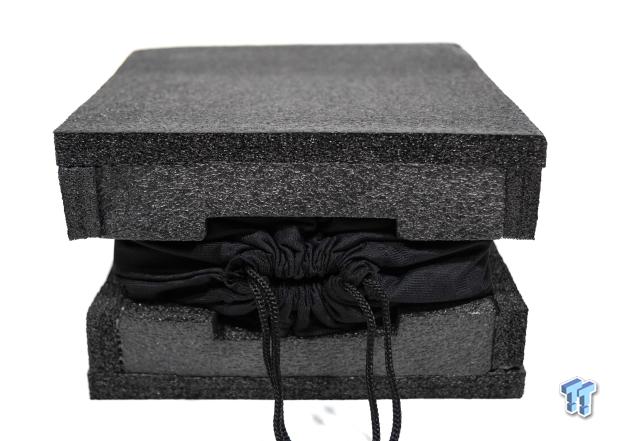 The V850i PSU is protected during shipping with two pieces of greyish-black high-density foam.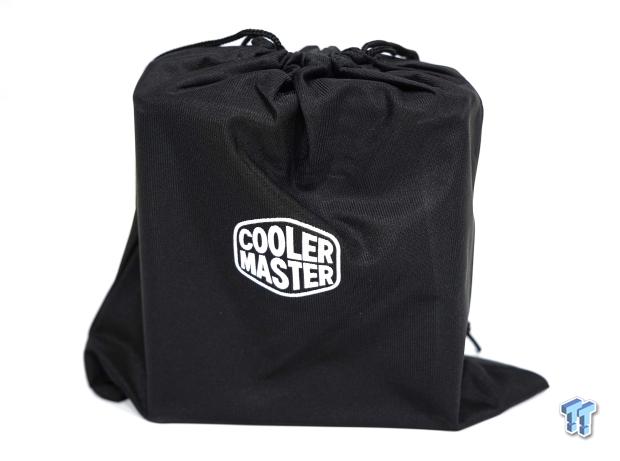 The Cooler Master branded bag that the V850i is enclosed in is soft to the touch. Nice.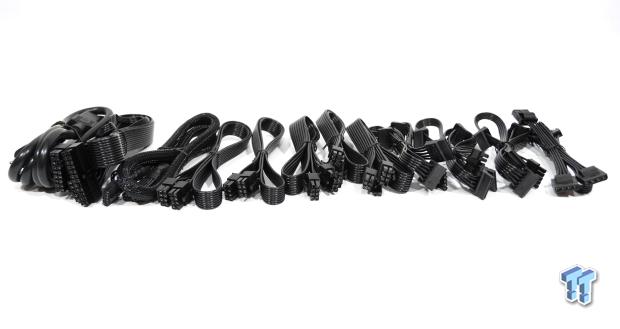 Flat black ribbon style cabling that Cooler Master has chosen to include with the V850i. Note, the only sleeved cable is the 12VHPWR cable.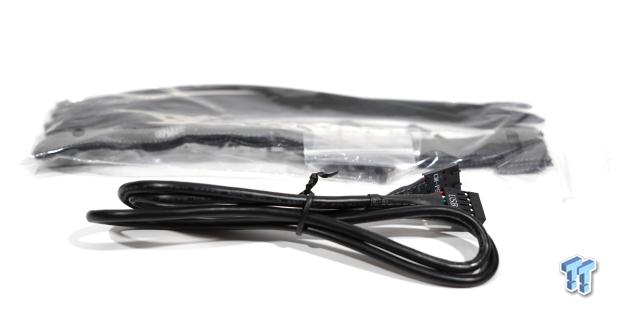 Also included with the V850i are three velcro cable straps, screws, and a USB 2.0 data cable for the V850i for communication with the Cooler Master MasterPlus software.
Outside the CM V850i ATX 3.0 PSU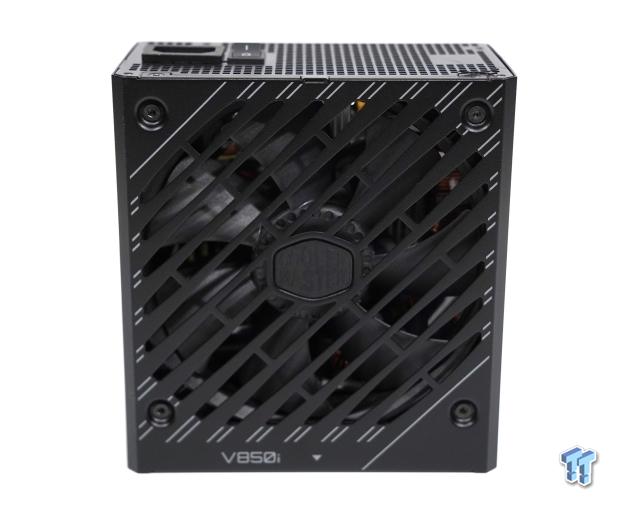 The fan side of the Cooler Master V850i shows a stylish grille pattern that seems to go well with the TD500 series of ATX cases that Cooler Master offers.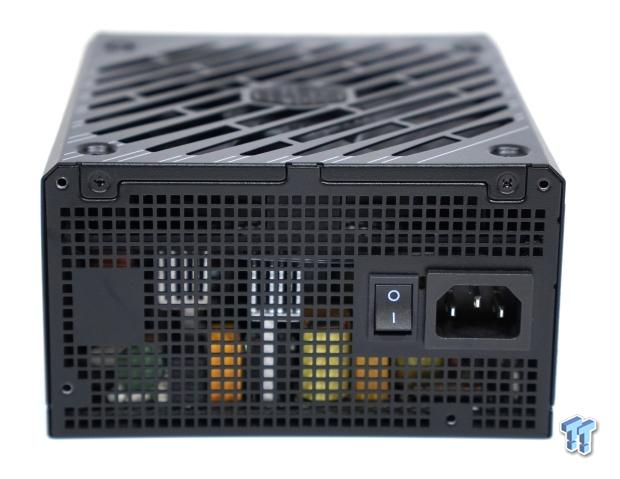 The rear grille is a different pattern than the fan grille, which throws off the flow of the design.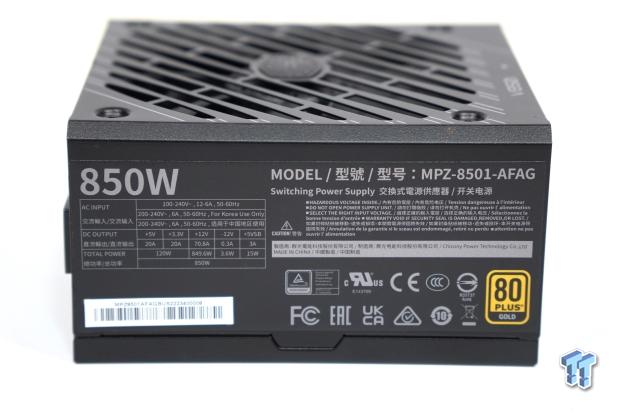 The side nomenclature shows the usual information about a computer PSU.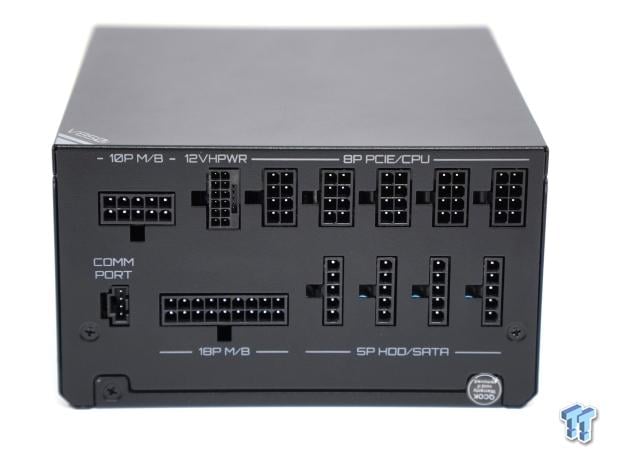 The plug side of the V850i shows a split 24-pin motherboard design, a single 12VHPWR connection, five PCIe or CPU outputs, a COMM port that terminates to USB 2.0, and lastly, four SATA or MOLEX connections.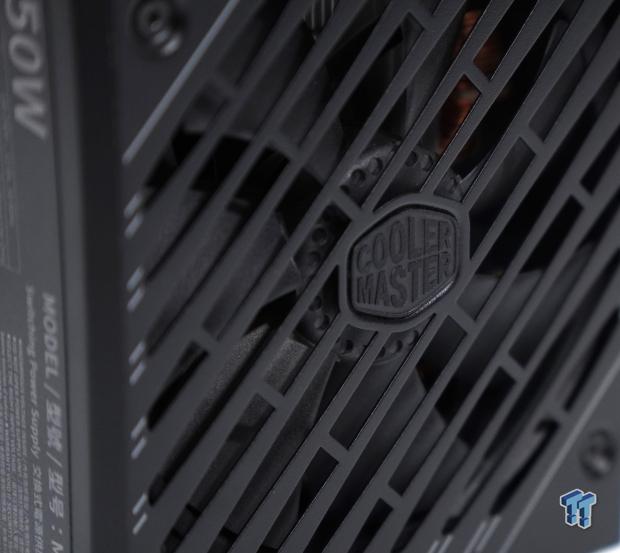 Here's another view of the stylish fan side of the V850i. It's a pity the rear grille doesn't follow the same design language.
Inside the CM V850i ATX 3.0 PSU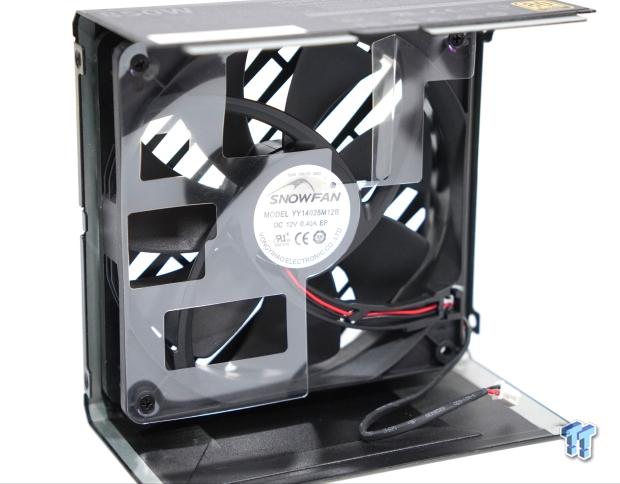 Interestingly, Cooler Master has not chosen to use one of their fans to cool the V850i. Instead, Cooler Master has selected the Snowfan model YY14025M128, which is a 135mm fluid dynamic bearing fan according to the specifications but could be a ball bearing. Googling the model number, the 135mm fan is rated to run at 0.4A with a max speed of 2000 RPM. CFM is rated to around 102CFM at around 41dBa of noise.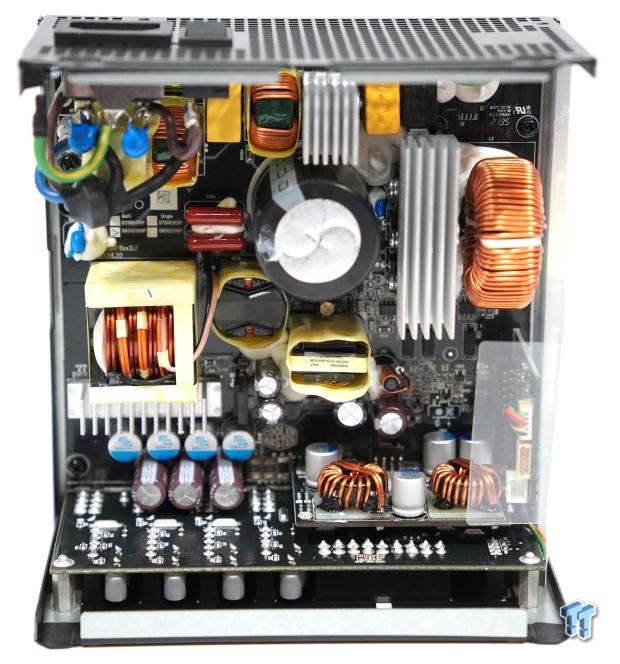 The internals of the V850i shows a very clean layout, with the OEM being Chicony Power Technology, which is based in Taiwan. CPT manufactures power supplies for Lenovo, HP, and even Sony PlayStations. A single large Japanese Toshin Kogyo capacitor is rated at 680µF at 450V, as well as rated 105C in terms of temperature.
Ryan's Test System
Motherboard: GIGABYTE Z690 AORUS PRO (INTEL Z690) - Buy from Amazon
CPU: Intel Core i5 12600K - Buy from Amazon
Cooler: Cooler Master Hyper 212 Halo Black - Buy from Amazon
Memory: Patriot Viper Venom 32GB DDR5 5600 RGB - Buy from Amazon
Graphics Card: NVIDIA RTX 3090 Founders Edition - Buy from Amazon
Storage: Corsair MP600 PRO XT Gen4 PCIe x4 NVMe M.2 SSD - Buy from Amazon
Case: Cooler Master TD500 Mesh V2
Software: AIDA64 Engineer 6.32.5600, and CPU-z 1.94.0 x64
Power Supply: Cooler Master V850i Digital ATX 3.0 PSU
OS: Microsoft Windows 11 Pro 64-bit Build 22621 - Buy from Amazon
Software: AIDA64 Engineer 6.8.6300, and CPU-z 2.03.0 x64
Testing and Final Thoughts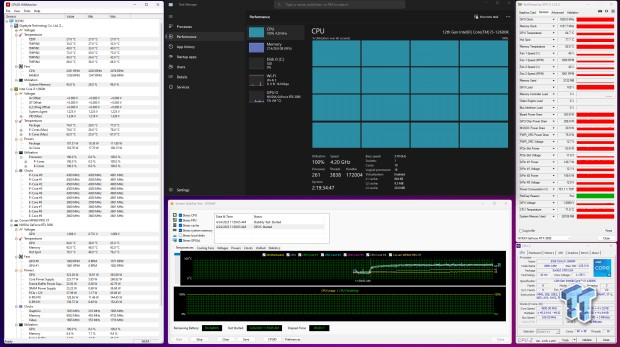 Putting the V850i under load to around 50% of the rated wattage gives the best efficiency. The wattage pulled from the two hungriest components, the CPU and GPU, in this case, an Intel Core i5 12600K and an NVIDIA RTX 3090 FE. The 12600K is a modest CPU with six performance cores and four efficiency cores, making for a ten-core sixteen-threaded CPU. The 12600K has a maximum turbo power of 150 watts but only drew around 112 watts while under full load.
The GPU, the NVIDIA RTX 3090 FE, a 350-watt TDP GPU, drew about 363 watts under full load. Combining the totals of each CPU and GPU, we get a total of 475 watts under full load. Doing some simple math, this makes the Cooler Master V850i with a 56% load. The V850i specifications state it is greater than or equal to 90% efficiency at a typical load, which it very much is - an excellent PSU.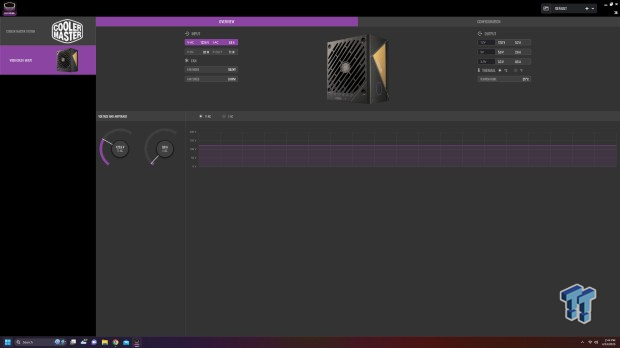 Since the V850i is a digital PSU with a USB 2.0 interface, monitoring input and output voltages, wattages, and fan speeds is possible. However, no fan control is present, which is a little disappointing.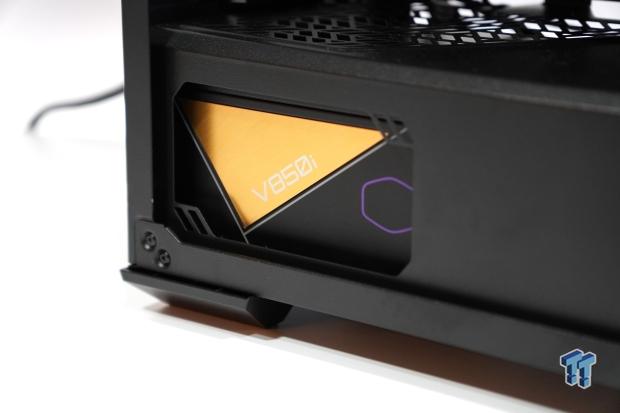 So, is the Cooler Master V850i ATX 3.0 PSU right for you? In today's power-hungry world, you best ensure you have at least 850 watts of power, especially if you intend to run a high-end GPU. The V850i can currently be found at $185 before any discounts, placing it on the higher end of the pricing than its other 850-watt competitors.
Having the latest ATX 3.0 rating means that whatever camp or your loyalties lie, whether with NVIDIA's 12VHPWR connector or going with the oldy but a goodie PCIe 8-pin, the V850i will indeed power just about anything that is thrown at it. Unless, of course, you are an extreme overclocker, then you might need something more potent.