TweakTown's Rating: 90%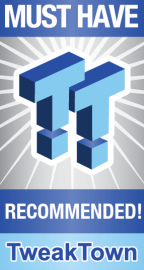 The Bottom Line
If you can find it, the CVN Z790D5 is a solid board for those that love the nostalgia of a white PCB motherboard with copper heatsinks, good performance, and a reasonable price tag.
Pros
+

DDR5 support

+

PCIe 5.0 support

+

Price

+

White PCB for themed builds

+

Good performance
Cons
-

SSD cooling might be an issue

-

Availability
Should you buy it?
Avoid
Consider
Shortlist
Buy
Introduction, Specifications, and Pricing
Colorful is a vendor from which we see only a few boards, our last being a B560 offering from 11th Gen Intel. They are one of the only vendors currently making white PCB motherboards, so anyone wanting to do a themed build that takes advantage of white should take note.
For their latest offering, Colorful sent over the CVN Z790D5, their highest-tiered option within the Intel Z790 chipset. This board blends the white aesthetic with copper heatsinks, yet another nostalgic design queue we haven't seen in many years.
On the hardware side, this board lines up like any other entry to mid-level Z790 offering. At the top, the Intel Z790 chipset gives socket LGA1700 support for both 12th and 13th Gen Intel CPUs. The D5 in the model's name suggests DDR5 support, and this board offers four slots with support from 4800MHz to 6600MHz via overclocking.
The expansion includes two PCIe x16 slots, the top one offering Gen5 support and the second offering Gen4. In addition, this board has two Gen3 x1 slots as well. Storage includes four m.2 slots, all supporting Gen4, the first slot pulling CPU lanes. SATA is included for legacy storage support, with six ports available.
Connectivity gives us a single Gen2x2 port for 20GBps USB-C devices. We also have a single USB 3.2 Gen2 and four USB 3.2 Gen 1 ports. Networking includes 2.5Gbe, WiFi6 via the AX201, and a 7.1 controller that handles audio.
Pricing
Pricing on the CVN Z790D5 comes in at $274.99. However, we could not find stock of this board at any online retailer.
Packaging, Accessories, and Overview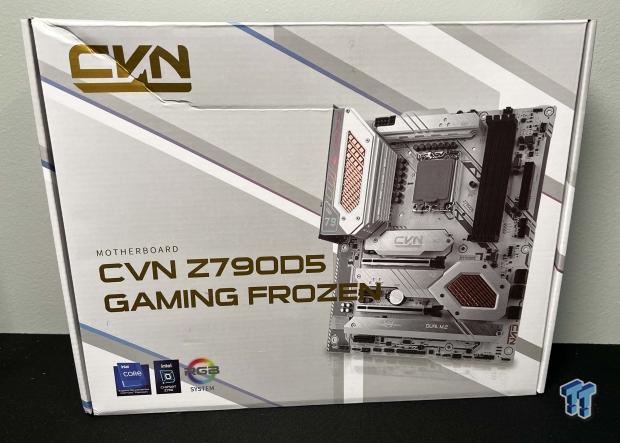 Packaging is quite similar to our last encounter with a Colorful motherboard. We have the CVN branding up top with an image of the board to the right.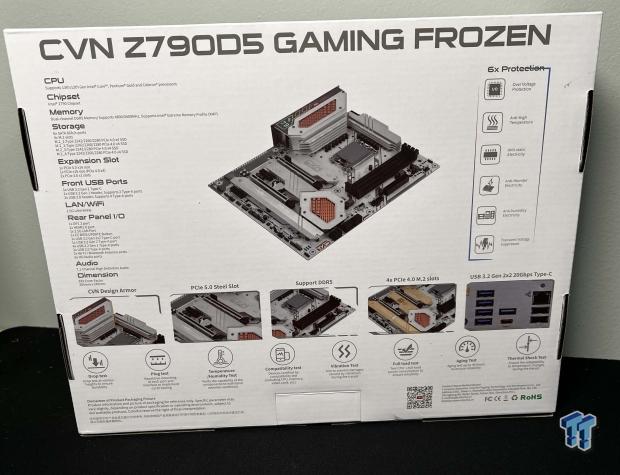 On the back, we have specifications on the left and an image of the board on the right. Down below, they have noted several key features of this motherboard.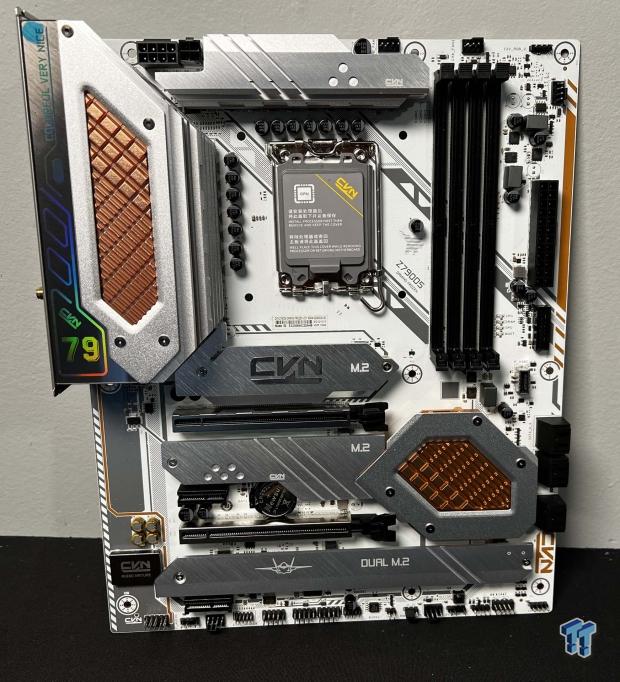 Pulling the board from its packaging, we get our first look. As mentioned, this is one of very few white PCB boards, and Colorful has decided to tick the nostalgia box with a blend of copper and aluminum heatsinks.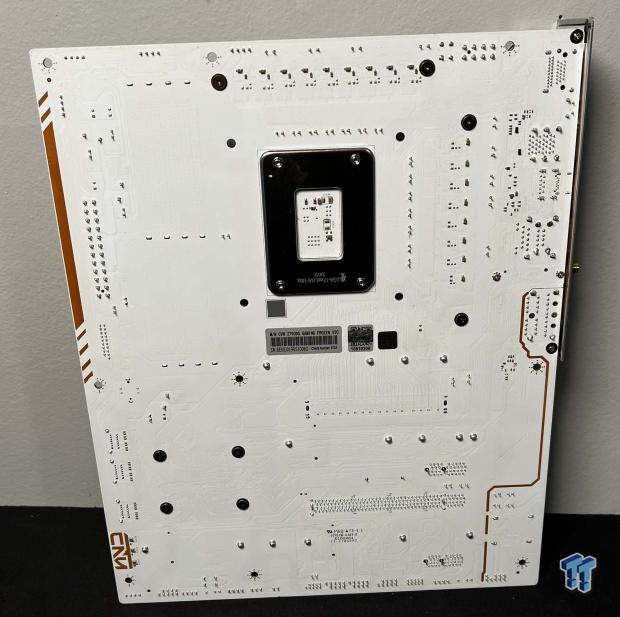 The back of the board has no secrets to hide, with just the socket backplate up top.

The rear I/O includes DP and HDMI at the top and is followed by four Gen1 USB 3.2 and another two USB 3.2, one at Gen2 and the USB-C using Gen2x2. Further down, we have the LAN and Wi-Fi antennas, audio finishing up the I/O.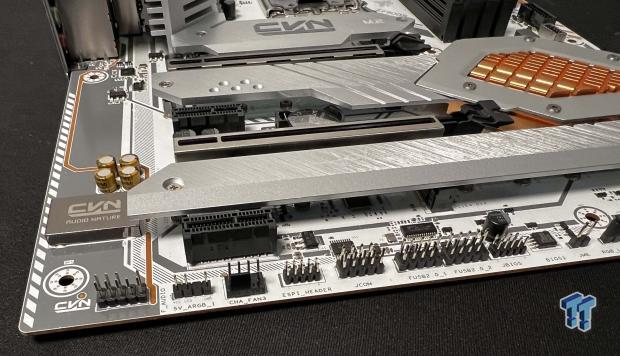 Jumping around the board, we have front panel audio, RGB, and fan headers along the bottom. A little further to the right, we ran into two USB 2.0.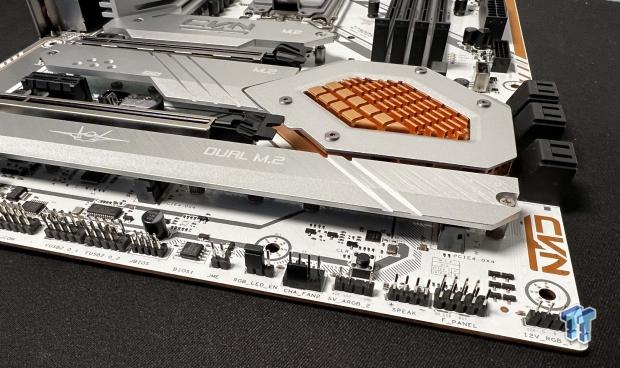 Getting to the corner, we have front panel chassis connections along with a 12v RGB header.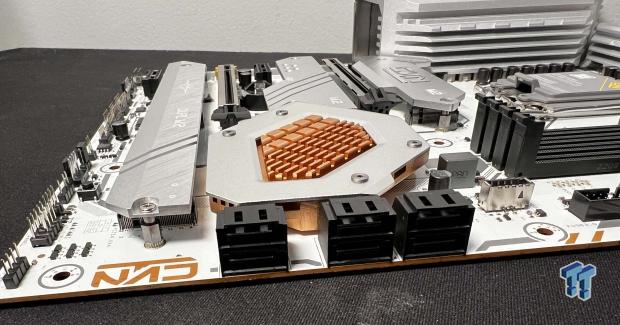 Around the edge, we have the six SATA ports and the internal USB 3.2 Gen 2 header.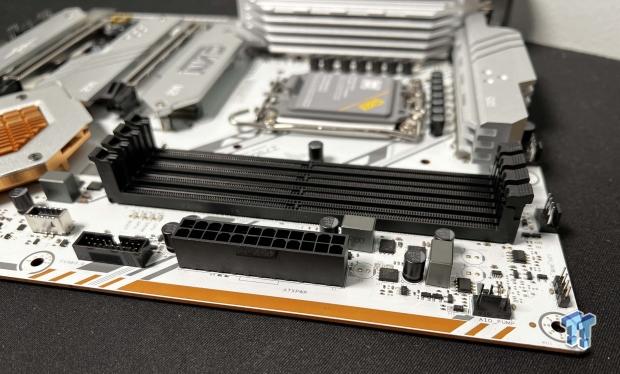 24-pin power is centered above, the fan header to the right, and USB 3.2 Gen 1 header to the left.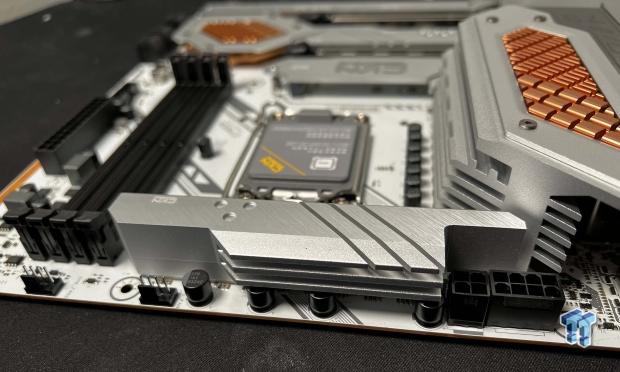 Across the top, we have a four and eight-pin CPU power connection and two fan headers.
UEFI, Software and Test System
UEFI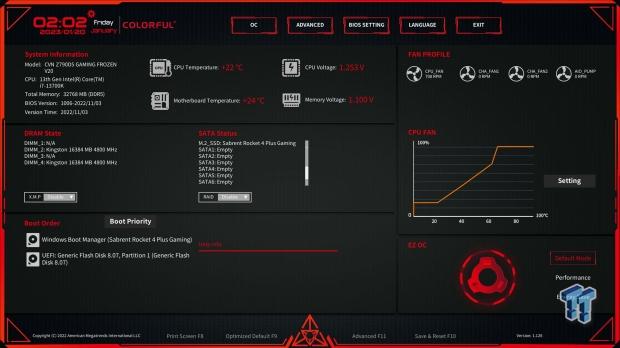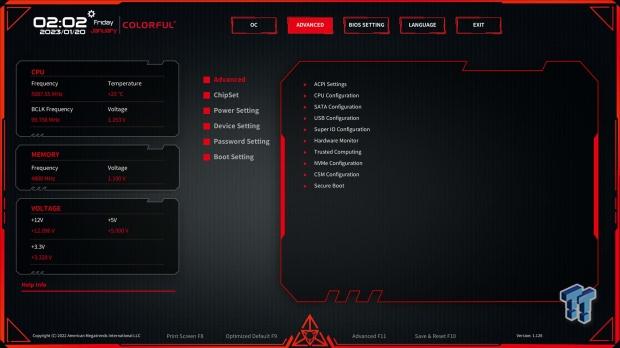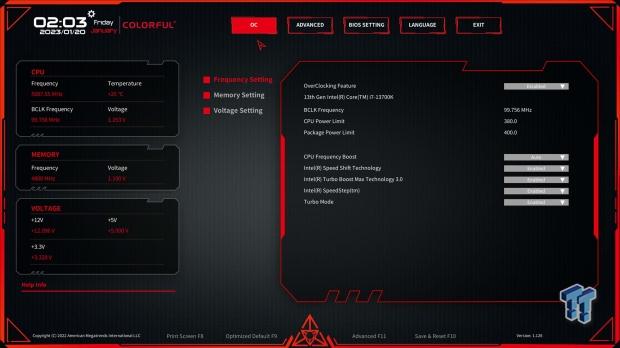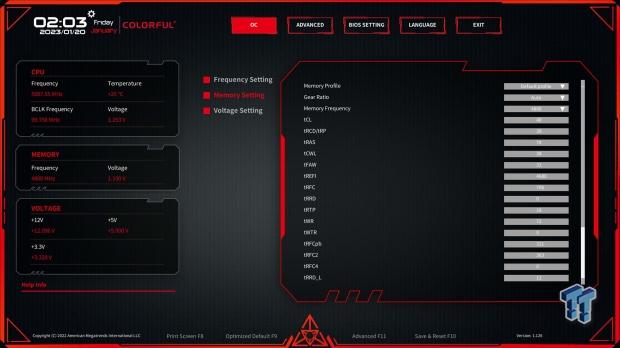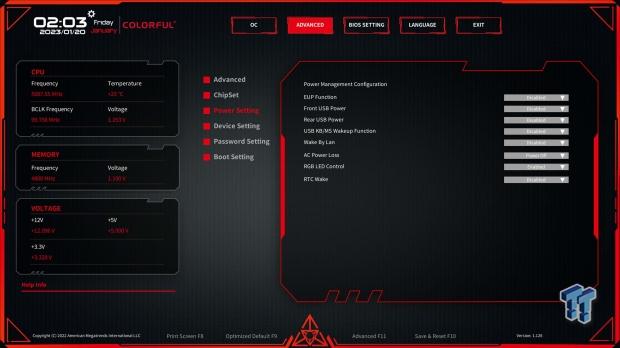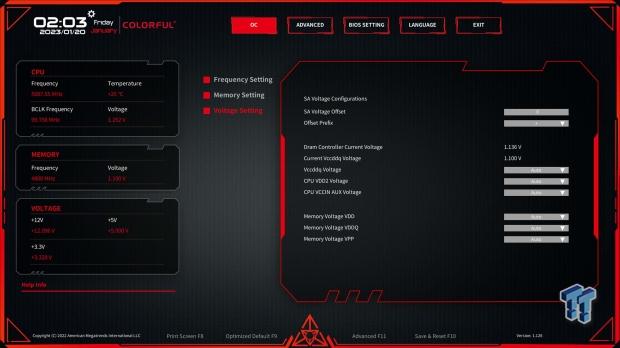 The EFI for the Colorful Z790 is unique as well. The main screen offers system information and the ability to enable XMP, change boot priority and manage connected fans.
The advanced menu gets more into the configuration for ACPI, CPU, and storage devices. There is also a hardware monitor that will give voltages and temperatures, and the OC menu item allows you to tune the CPU and memory.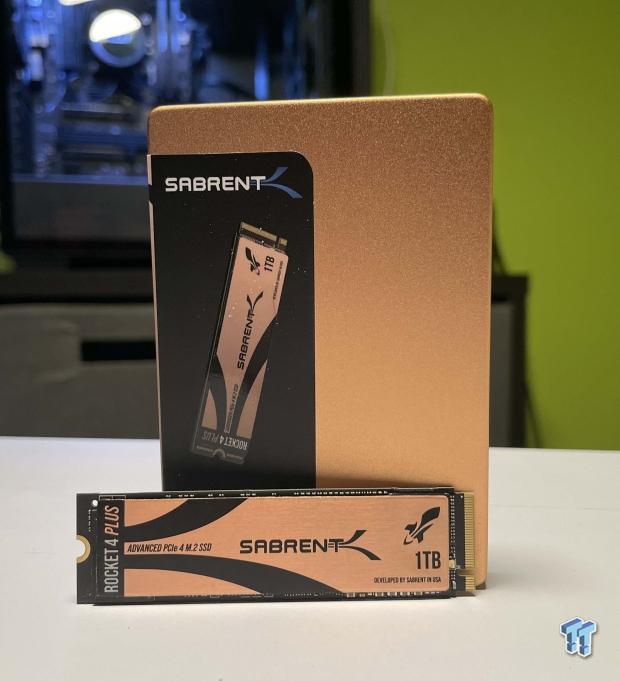 Sabrent supports our motherboard testing with the Rocket 4 Plus.
TweakTown Intel Motherboard Test System
Cinebench R23, Crossmark and AIDA64
Cinebench R23
Cinebench is a long-standing render benchmark that has been heavily relied upon by both Intel and AMD to highlight their newest platforms during unveils. The benchmark has two tests, a single-core workload utilizing one thread or 1T and a multi-threaded test that uses all threads or nT of a tested CPU.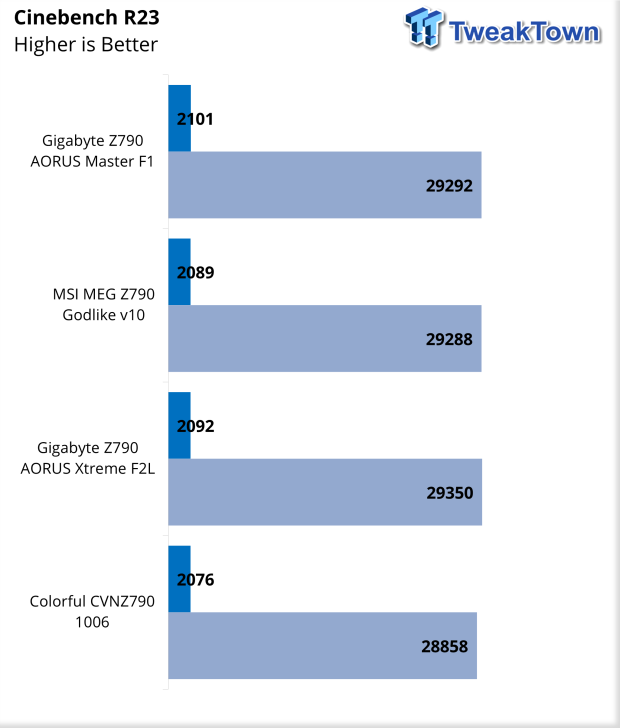 The CVN is only our fourth Z790 motherboard to come through. We tested it on BIOS 1006. Within R23, we picked up 2076 for single-thread performance and 28858 in multi-thread.
CrossMark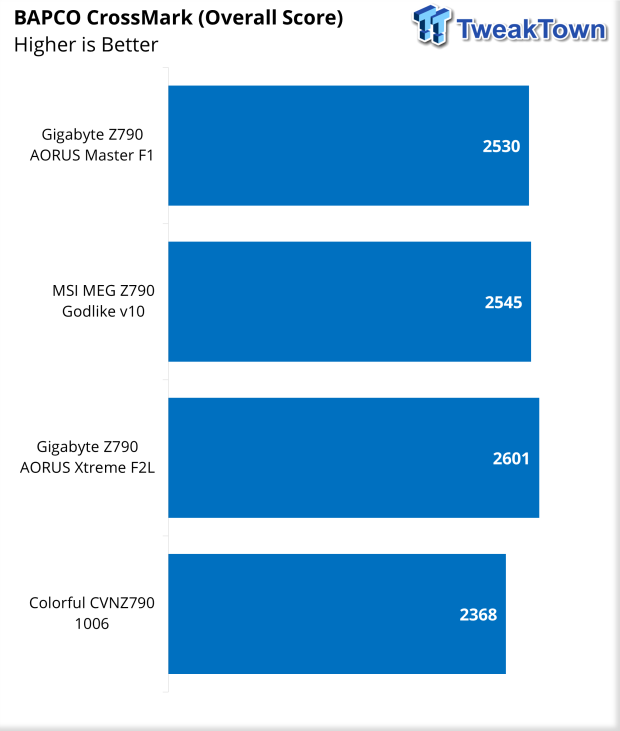 CrossMark landed at 2368.
AIDA64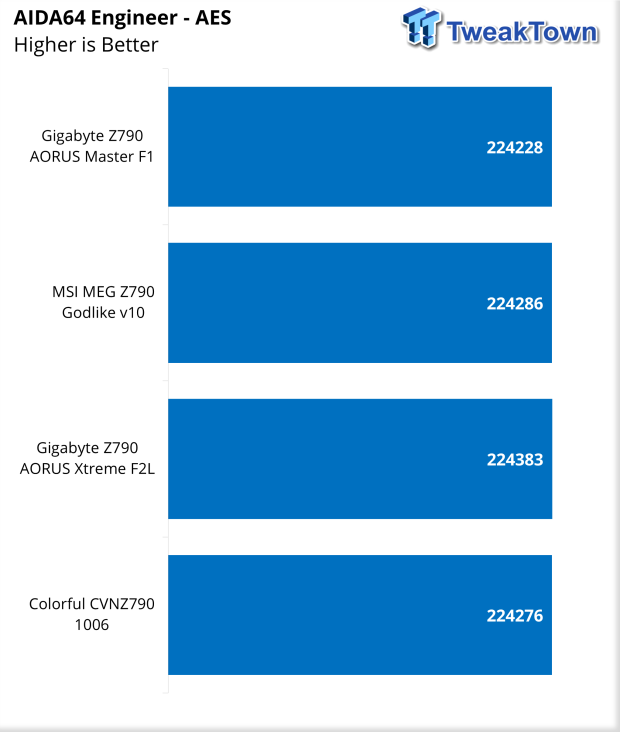 In AES, we grabbed 224276, right in line with previous Z790 boards.
SHA3 offered 6222, a good bit better than the early revisions of the Godlike and AORUS Master.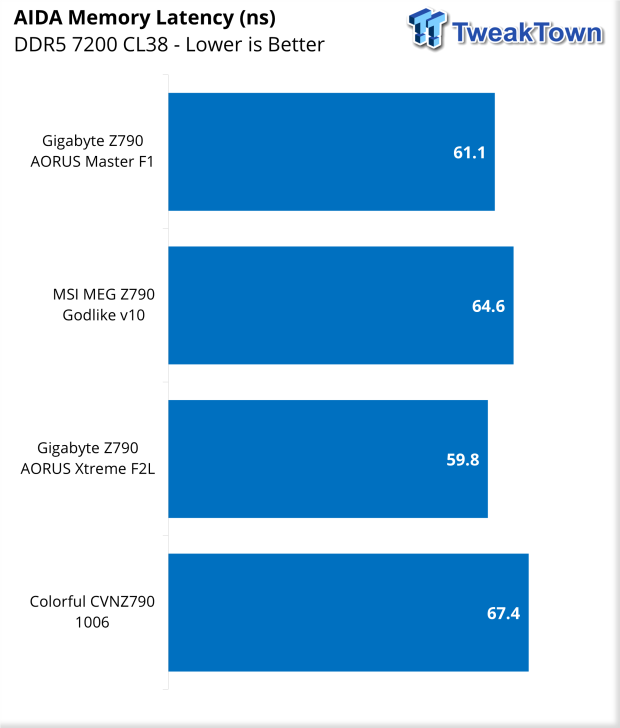 Memory latency landed at 67.4ns with our Kingston Fury DDR5.
UL Procyon, 3DMark, and Gaming Benchmarks
UL Procyon Suite
The UL Procyon Office Productivity Benchmark uses Microsoft Office apps to measure PC performance for office productivity work.
The Photo Editing benchmark uses Adobe Lightroom to import, process, and modify a selection of images. In the second part of the test, multiple edits and layer effects are applied to a photograph in Adobe Photoshop.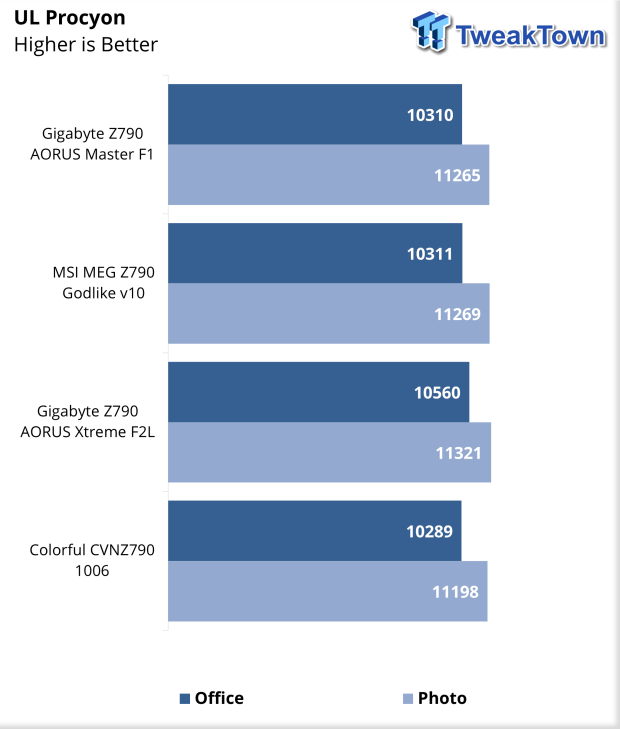 Our Procyon testing starts with Office, the CVN grabbing 10289 in Office workloads and 11198 in Photo.
3DMark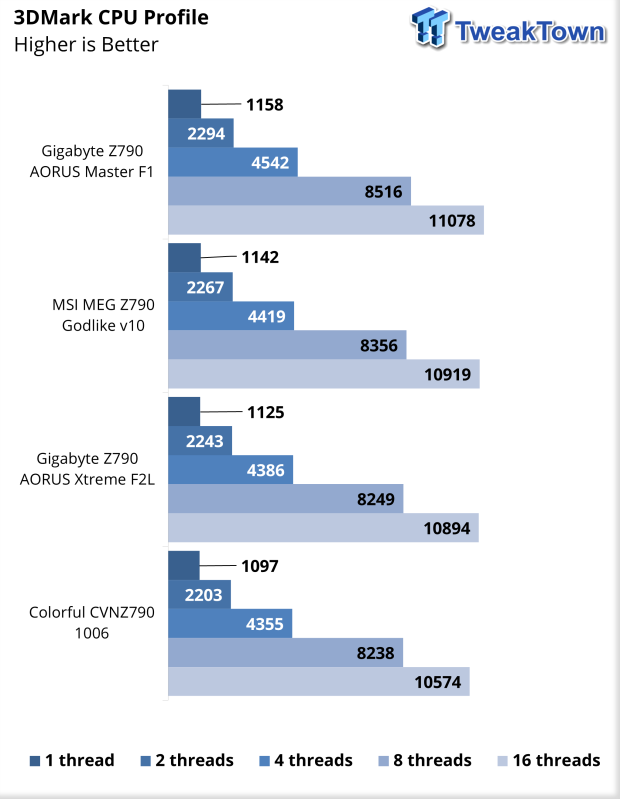 Starting with the CPU Profile, we picked up a 1097 single-thread score. At sixteen threads, we have 10574.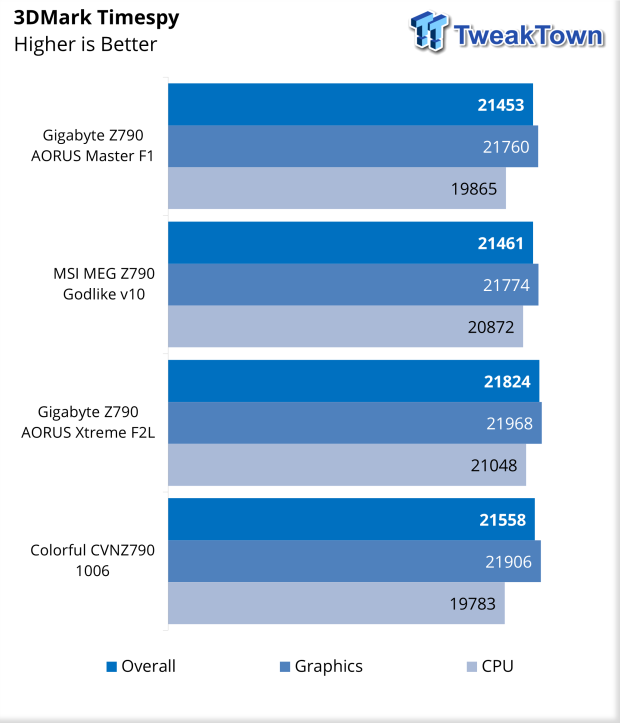 Time Spy overall landed at 21558, 19783 going to the CPU.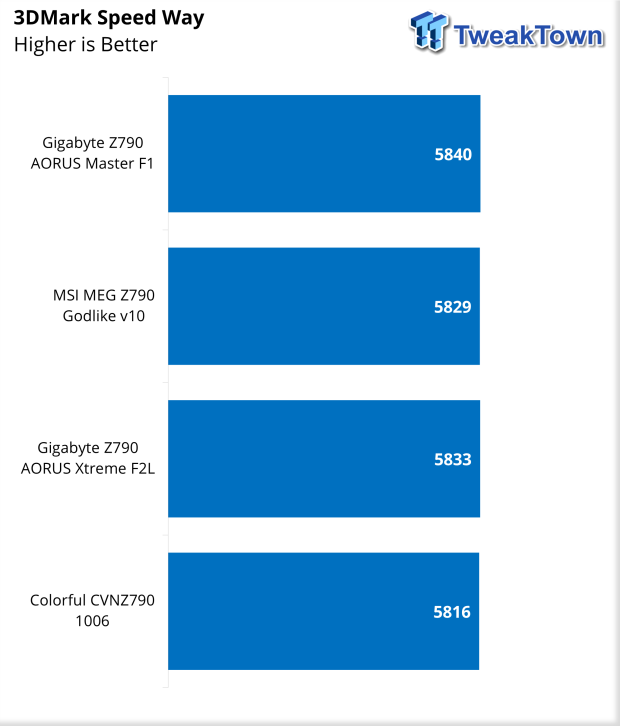 Speed Way scored 5816 with the CVN.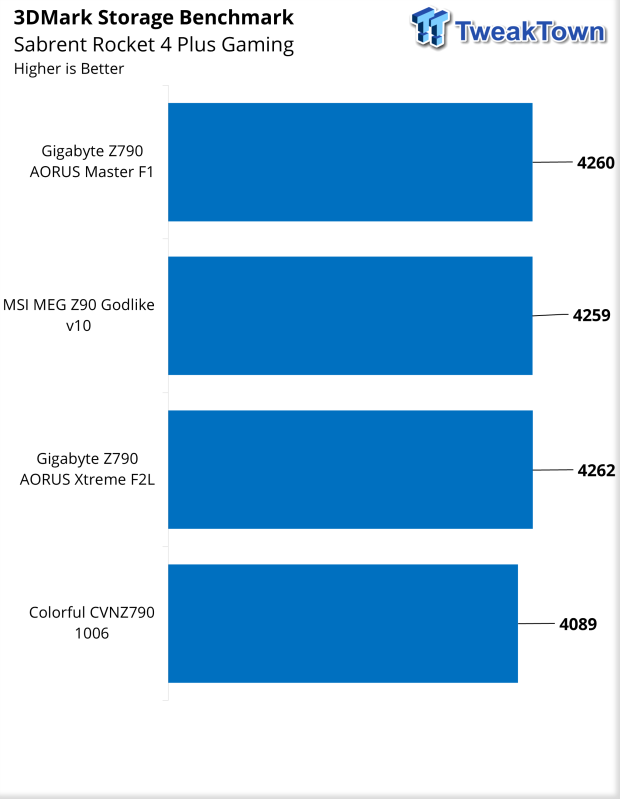 Storage on the CVN scored 4089 with our Rocket 4 Plus G.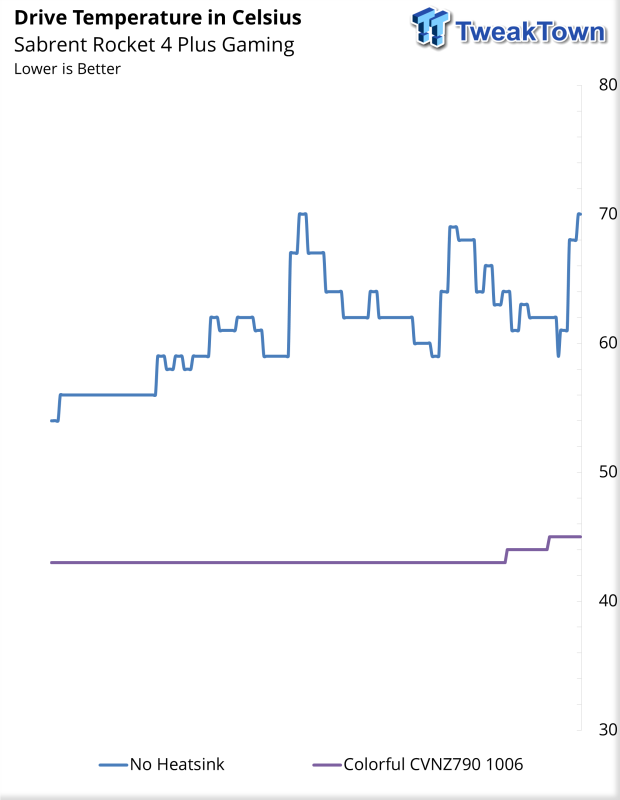 The CVN Z790D5 could have done better cooling our drive during testing. As you can see above, our Rocket 4 Plus hit 70c twice during the 3DMark Storage Workload, which is the thermal throttle limit of the drive.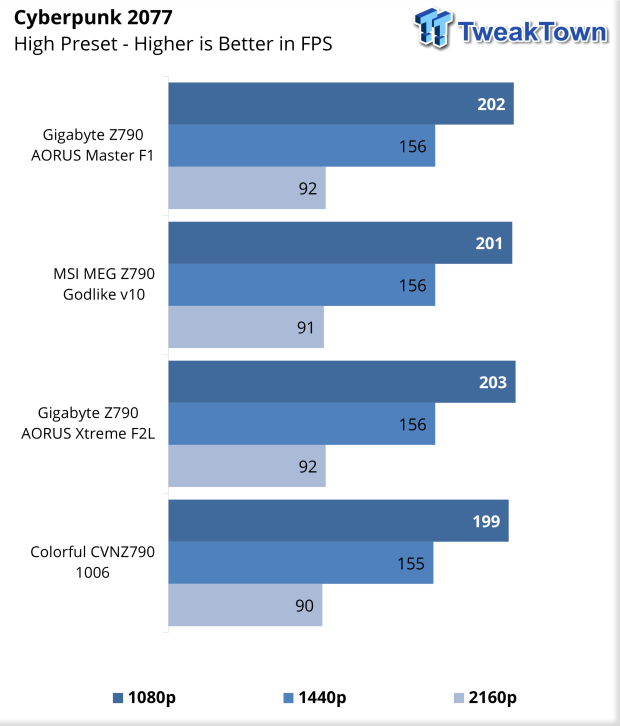 Gaming on the CVN, we had a few passes in Cyberpunk 2077. 1080p giving us 199 FPS and 4K at 90 FPS, both on the high preset.
Power and Final Thoughts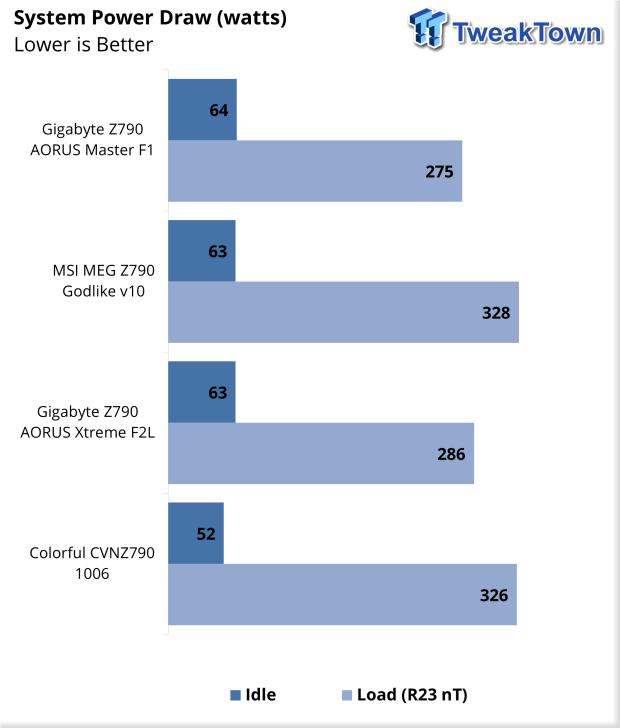 The power draw for our test system with the CVN Z790D5 installed ran at 52 watts idle and 326 watts at load.
Final Thoughts
The CVN Z790D5 was a fantastic board in testing; however, we did note a few scenarios where the board seemed to lag behind the pack, mainly in BAPCo Crossmark, where it was a few hundred points back in our charts. Outside of that, the board performed quite well. AIDA showed solid numbers from AES and SHA3 workloads, and our memory latency was on par with other Z790 motherboards at 67ns.
Gaming workloads from 3DMark showed this board a touch slower in the CPU department. We suspect our 13700K wasn't boosting as high as it previously did on other platforms, due to thermals or power. That said, we picked up an overall score of 21558, which was better than the AORUS Master and Godlike. Speed Way landed a bit better, the CVN matching our previous boards. All this said we weigh heavily on real gaming workloads, and the CVN was right there in Cyberpunk, offering up 199 FPS at 1080p and 90 FPS at 4K, matching everything in our charts.
Storage performance was a touch under the weather compared to other options in our charts. The CVN grabbed 4089, about 200 points under what we usually see with the Rocket 4 Plus, likely due to the NVMe cooling on the board and the drive reaching its 70c thermal limit. Power draw was among the highest we have seen from a Z790 motherboard, matching the 328 watts at load from the Godlike.
All this said, while underperforming in some areas, overall, the CVN Z790D5 is a rather nice option at $274.99 for those building a themed gaming machine on a white PCB board without the price tag of a Z790 Apex. We would like to see some availability of this board in the retail market, as it's not easy to find right now.