TweakTown's Rating: 99%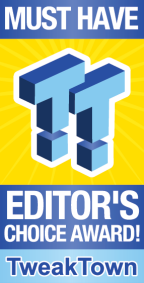 The Bottom Line
Phison's E26 SSDs continue to impress by outperforming anything flash-based to date.
Pros
+

Throughput

+

Gaming

+

Consumer workloads
Cons
Should you buy it?
Avoid
Consider
Shortlist
Buy
Introduction & Drive Details
Retail PCIe Gen5 10,000 MB/s SSDs are starting to hit the shelves and are redefining flash-based storage performance. Our first arrival, the SSTC Tiger Shark lit up our charts, proving to be simultaneously the fastest and best performing flash-based SSD we had ever tested. Today we have another in the lab for your viewing pleasure. The inland TD510 2TB is Micro Center's first inhouse PCIe Gen5 offering.
The inland TD510 2TB is essentially a clone of the Phison E26ES SSD we reviewed back in January of this year. Our test subject is identical in every way down to its actively cooled heatsink, with the only differentiator being the color of the said heatsink. Needless to say, we are intimately familiar with this particular hardware configuration in terms of performance and its thermal characteristics.
PCIe Gen5, especially related to fast NVMe storage, is revolutionary because it offers double the throughput of its predecessor, potentially delivering twice the storage performance of PCIe Gen4, depending on the workload being run. All this bandwidth does, however, come at the cost of increased heat that must be properly mitigated. This is the reason the TD510 is actively cooled.
As mentioned, this is the very same cooling solution that Phison employed on its E26 Engineering Samples (ES), and we know it does its important work quite well, so overheating this SSD with typical consumer workloads isn't going to be a concern whatsoever.
To date, there is only one PCIe Gen5 storage controller on the consumer scene. That controller is Phison's PS5026-E26: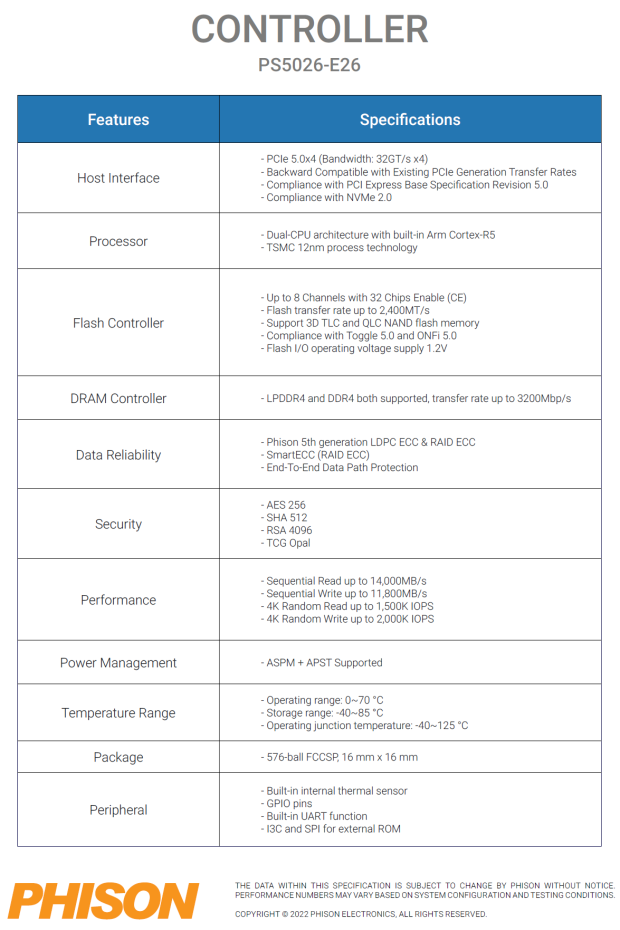 As demonstrated by the above data sheet obtained from Phison's website, the PS5026-E26, or "E26" controller as its commonly referred to, is offering up double the throughput available via PCIe Gen4 at up to 14,000 MB/s, along with class-leading reliability and security features. Additionally, all Phison E26-controlled SSDs feature Phison's exclusive Gaming I/O+ DirectStorage optimized firmware.
While we haven't published anything to quantify what Phison's technology does for a DirectStorage gaming experience, we can tell you that we notice a massive improvement over SSDs like the P41 Platinum or 990 Pro when running the new DirectStorage-enabled game Forespoken. Non-Phison SSDs cause noticeable stutters and even textures popping in late. Phison SSDs with Gaming I/O+ technology baked in are smooth as silk. It's something that's almost impossible to quantify with data but is very apparent to the user.
Having already tested this hardware configuration, we know that at this moment in time, it does offer the highest performance/best gaming experience of any flash-based consumer SSD, so if you want the best, here it is. Now, let's see exactly what levels of performance we can extract from Micro Center's value-priced Gen5 offering.
Drive Details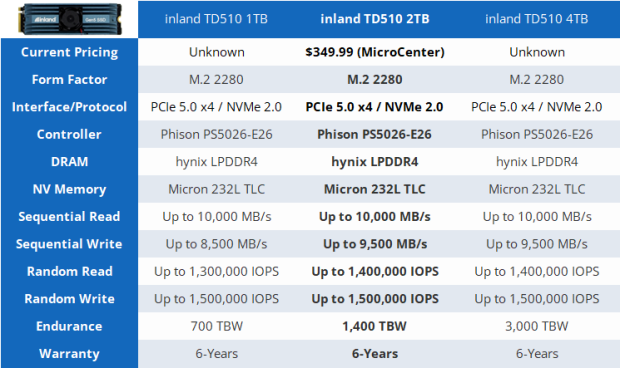 As we see it, $349.00 for 2TB of 10,000 MB/s throughput with an included and highly effective heatsink is one of the better deals we've seen for this hardware configuration. Also worth mentioning, Micro Center backs the TD510 with an industry-leading 6-year warranty.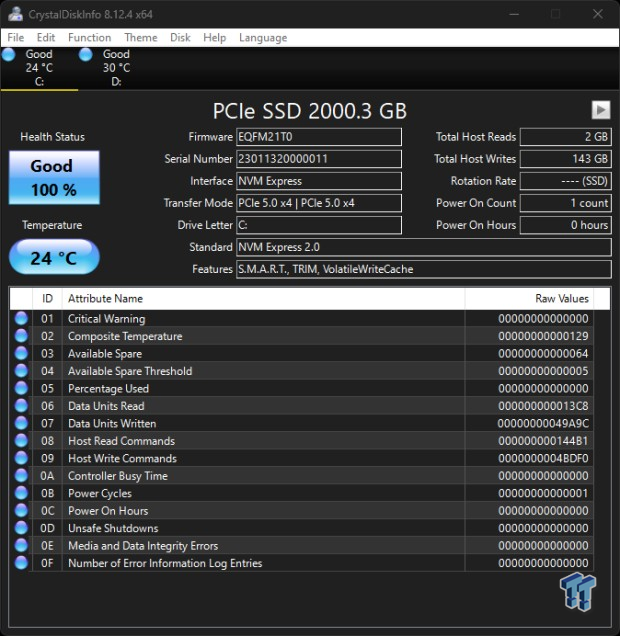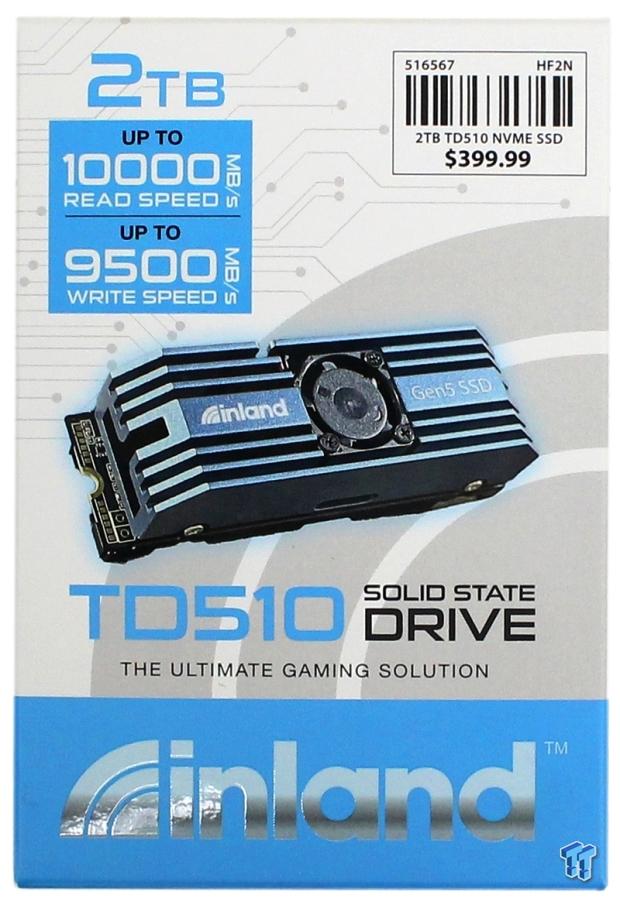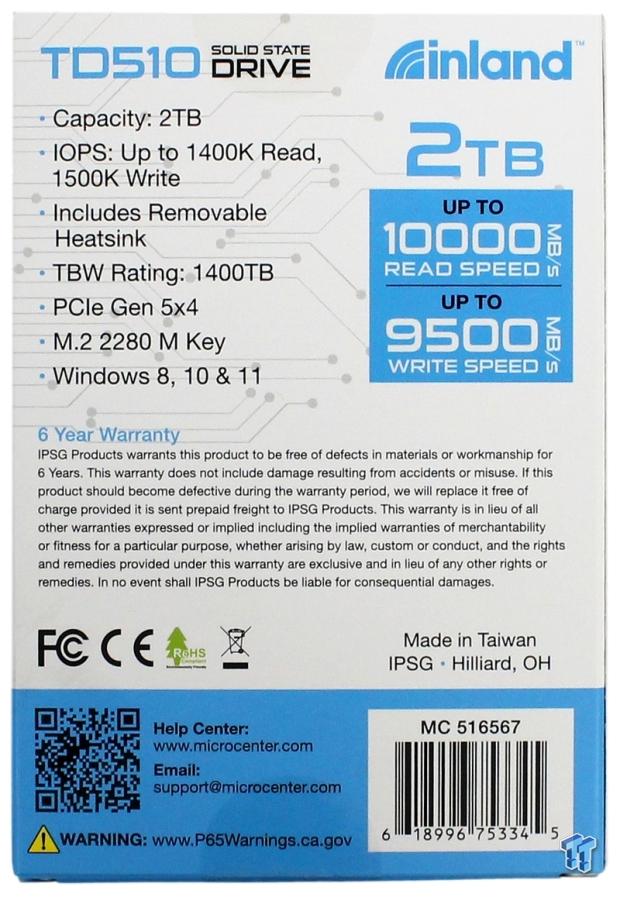 Jon's Test System Specifications
Intel Test System
AMD Test System
Because we at TweakTown like to be first at everything whenever we can, we will present our storage performance results for the test subject on both 13th Gen Intel and 7000 Series AMD platforms going forward for the foreseeable future. Because Intel still delivers the best real-world storage performance, (Look Here), our running chart will continue to be Intel-based until AMD can deliver better real-world storage performance than its rival.
Synthetic Benchmarks: CDM, Anvil, ATTO
CrystalDiskMark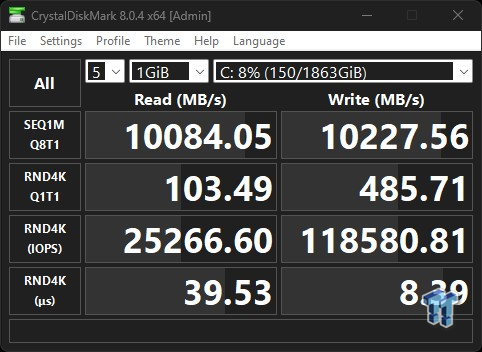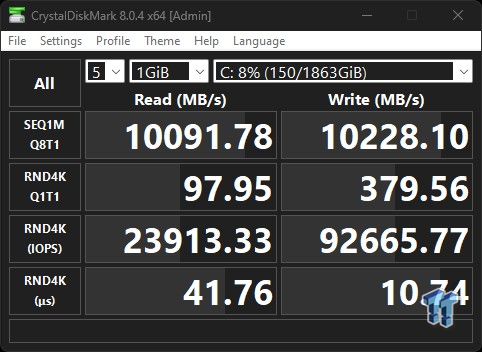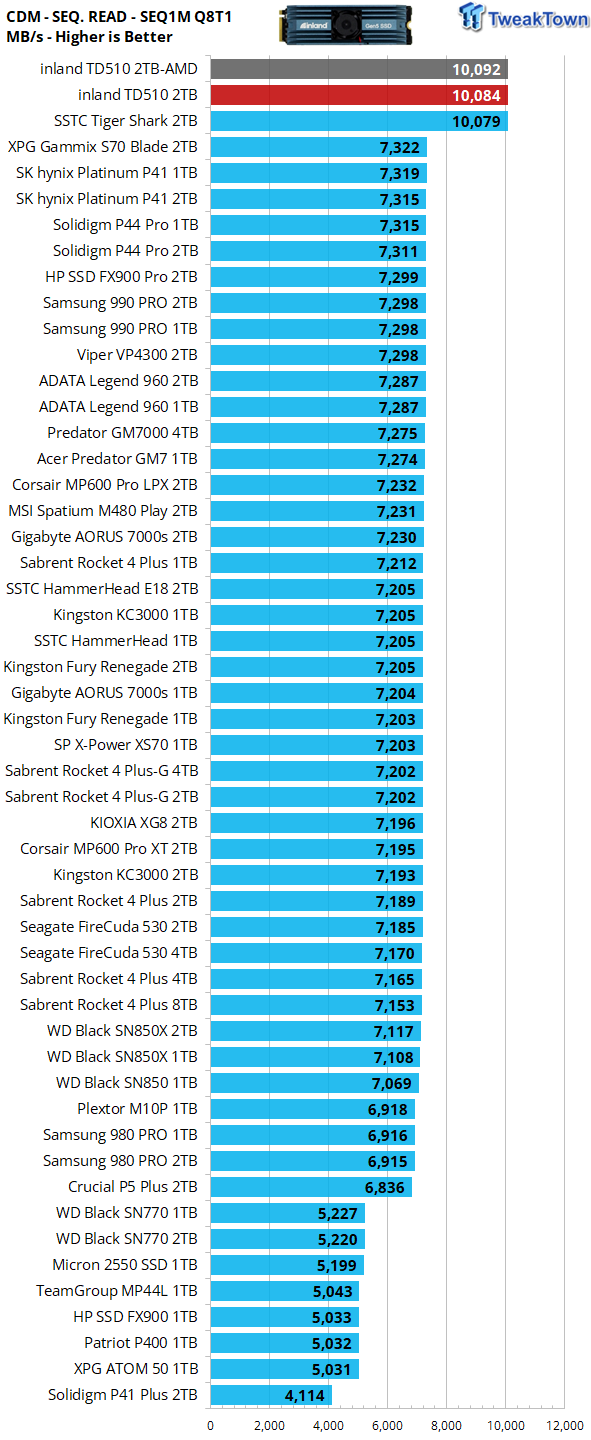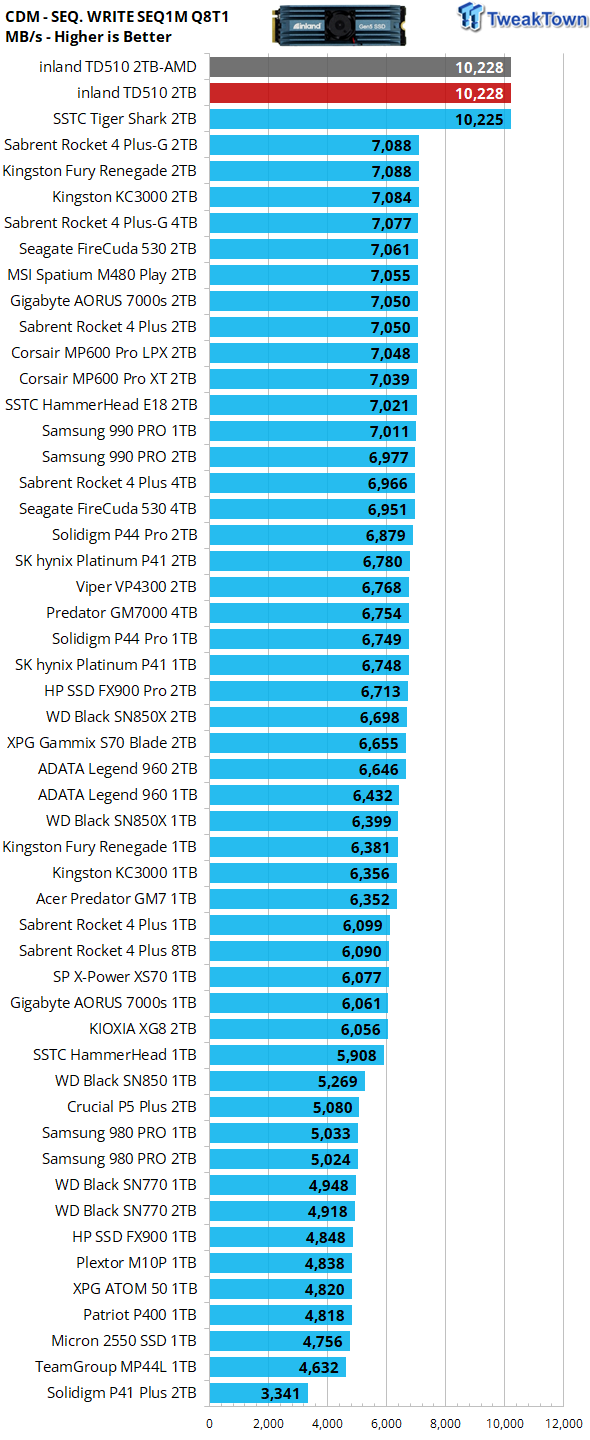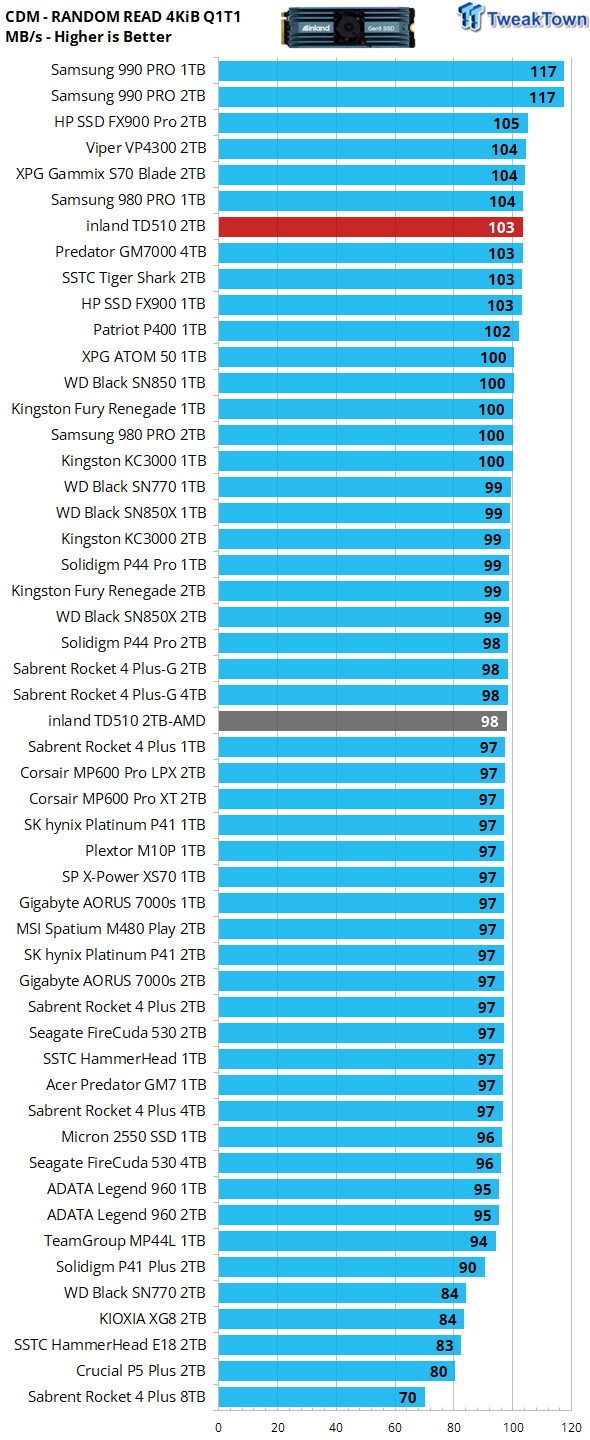 We employ CDM as our standard measurement for sequential throughput and Q1T1 random read. As expected, sequential throughput comes in right at 10,000 MB/s read/write for both platforms. More importantly, the 4K Q1T1 random read is hovering around near the top of our chart.
Anvil's Storage Utilities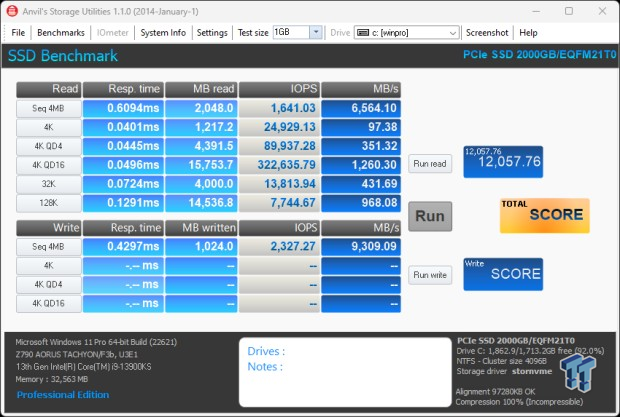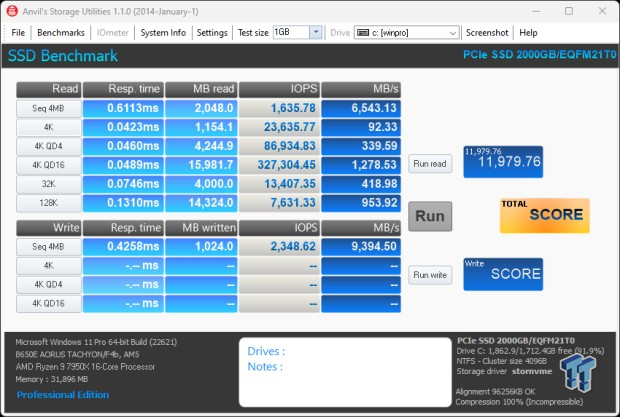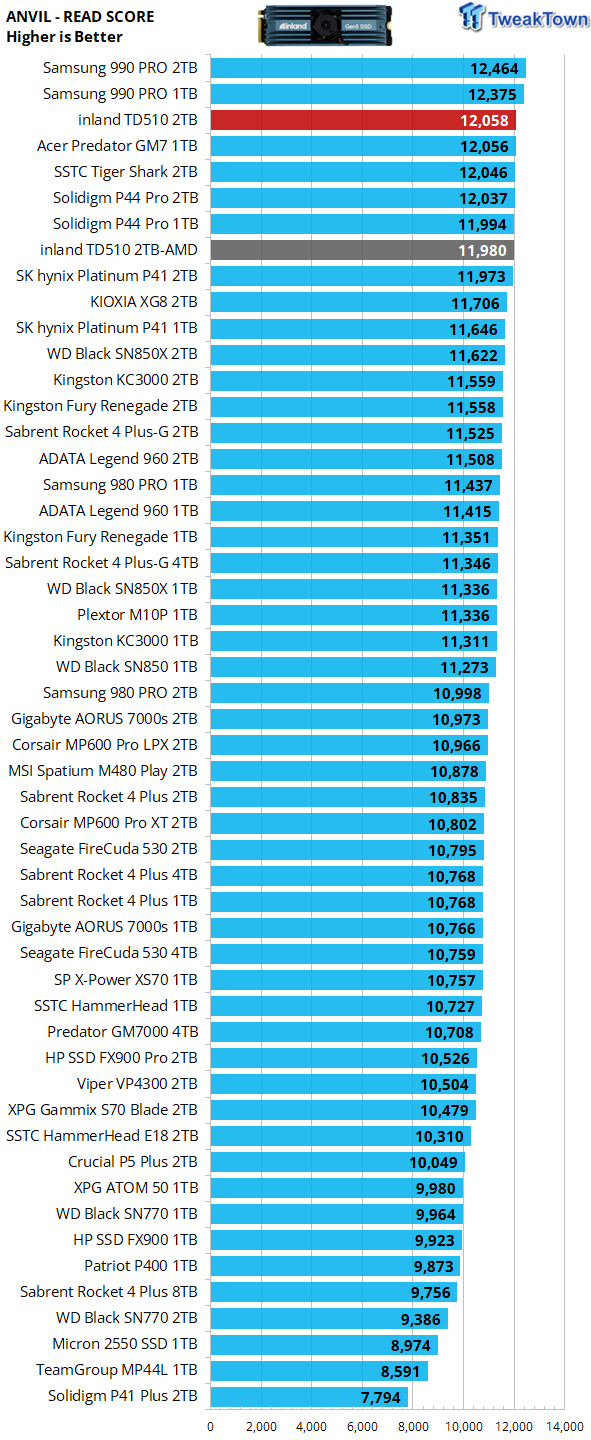 Whenever we see 12K here, we know good things are in store for us when we get to workload performance or performance that matters.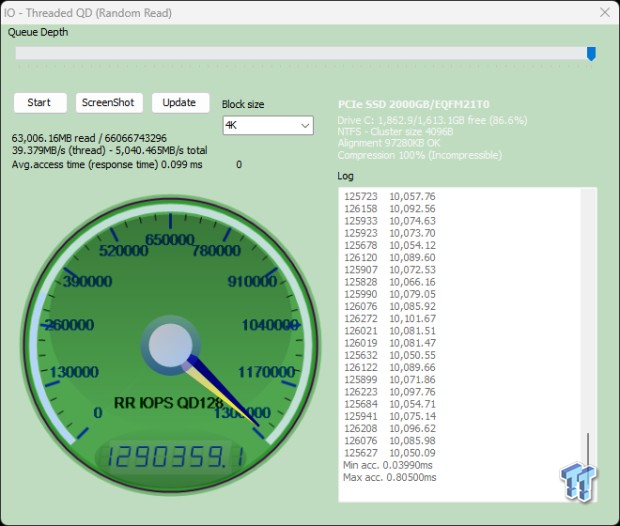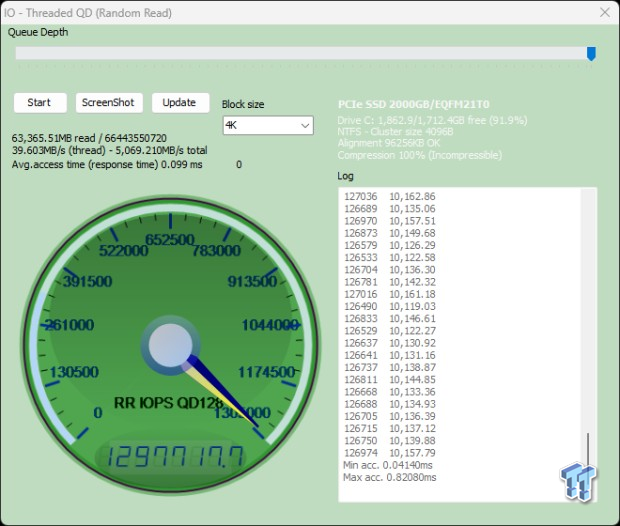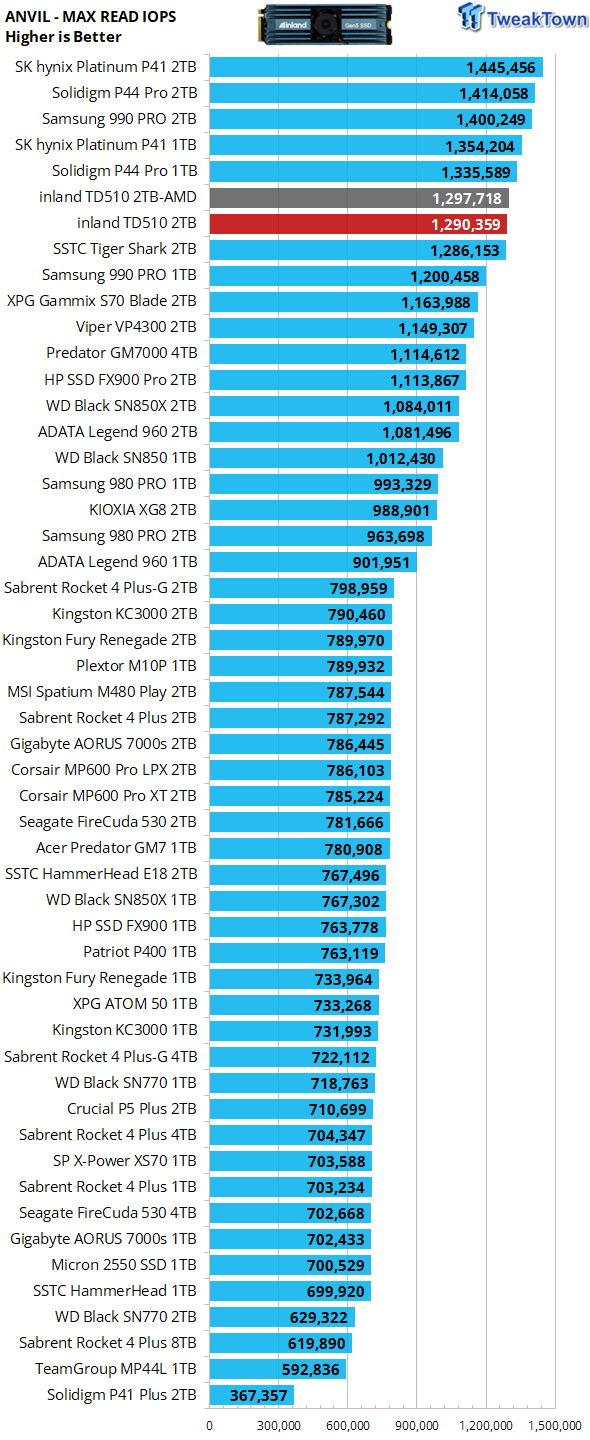 We employ Anvil's random read test as our standard for measuring max random read IOPS. This test is very accurate as it at its core is Iometer skinned over. We test at QD128. We come up a bit short of the drive's quoted up to specs being 1.4 million RR IOPS. This is absolutely as expected for a Phison SSD, as this metric has always been somewhat overstated by Phison. That said, 1.29 million IOPS here is more than satisfactory considering our more demanding user state.
ATTO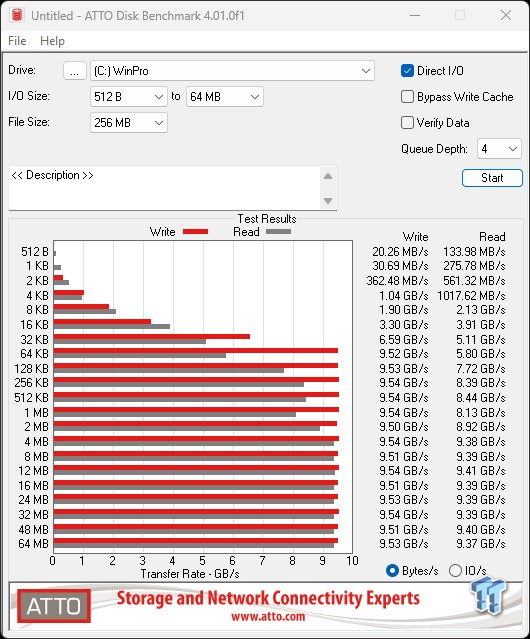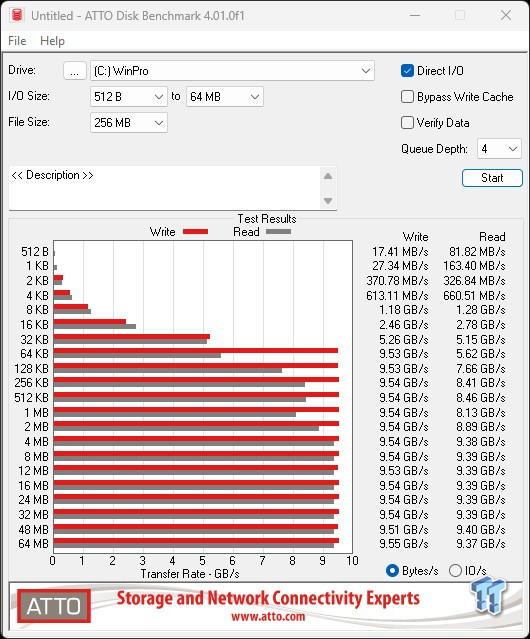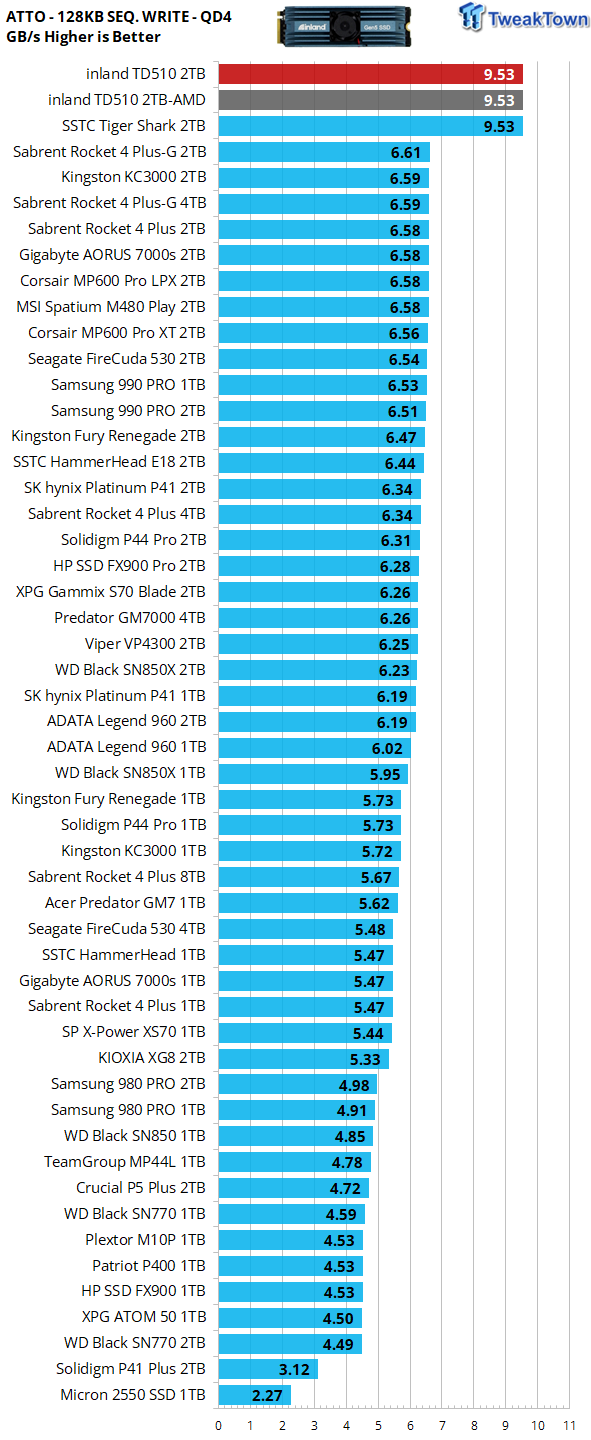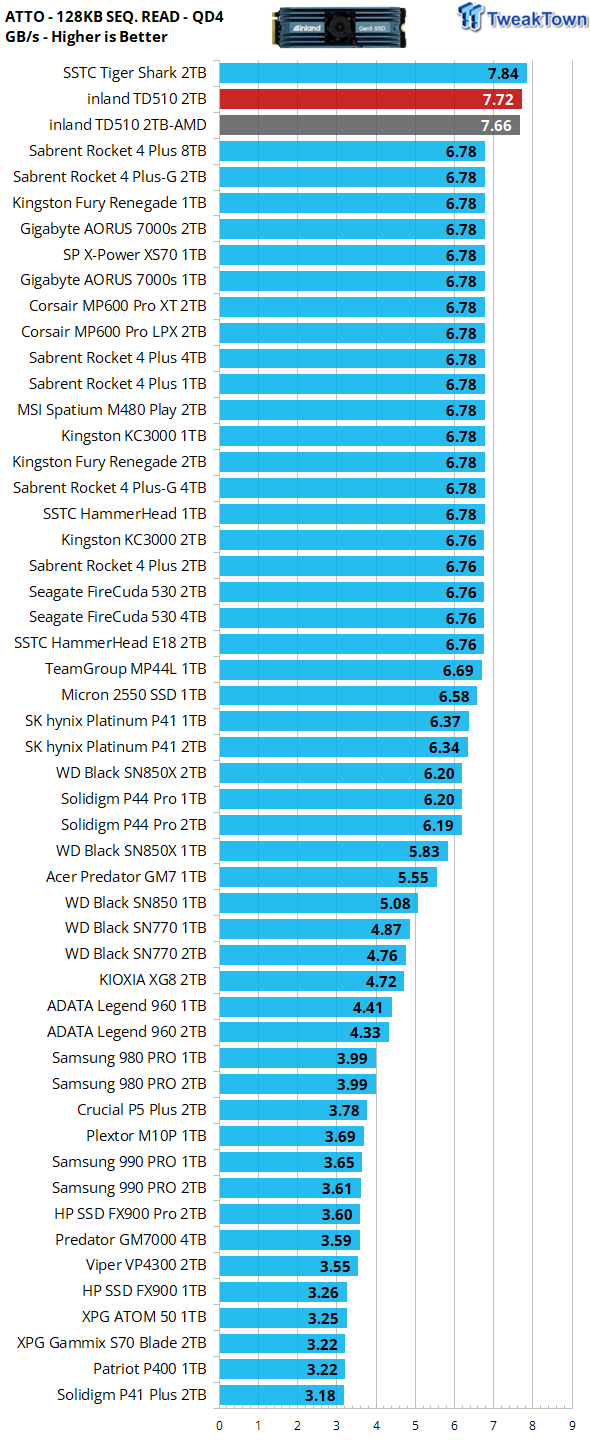 More than anything else, ATTO gives us a clear picture of what transfer sizes a particular SSD favors in terms of sequential throughput. Our test subject favors sequential transfers of 4MB or larger when serving data to the host (reading) and 64K or larger when programming (writing) data. This is quite different than what we've come to expect from Phison-controlled SSDs, where they've traditionally hit full stride at 128K when reading data.
Real-World Testing: Transfers, 3DMark SSD Gaming Test, PCM10 Storage
Transfer Rates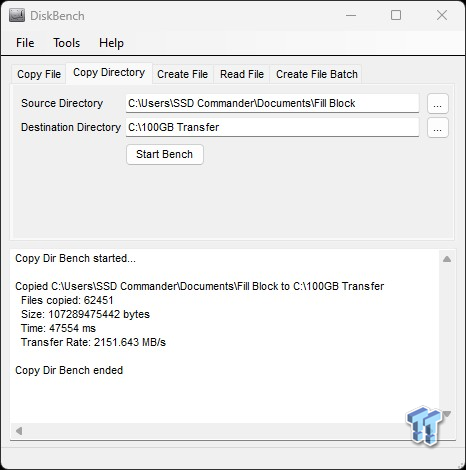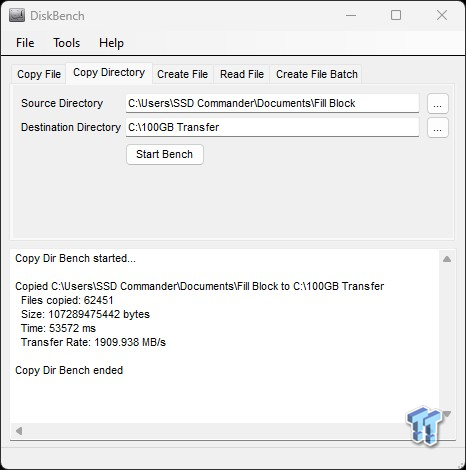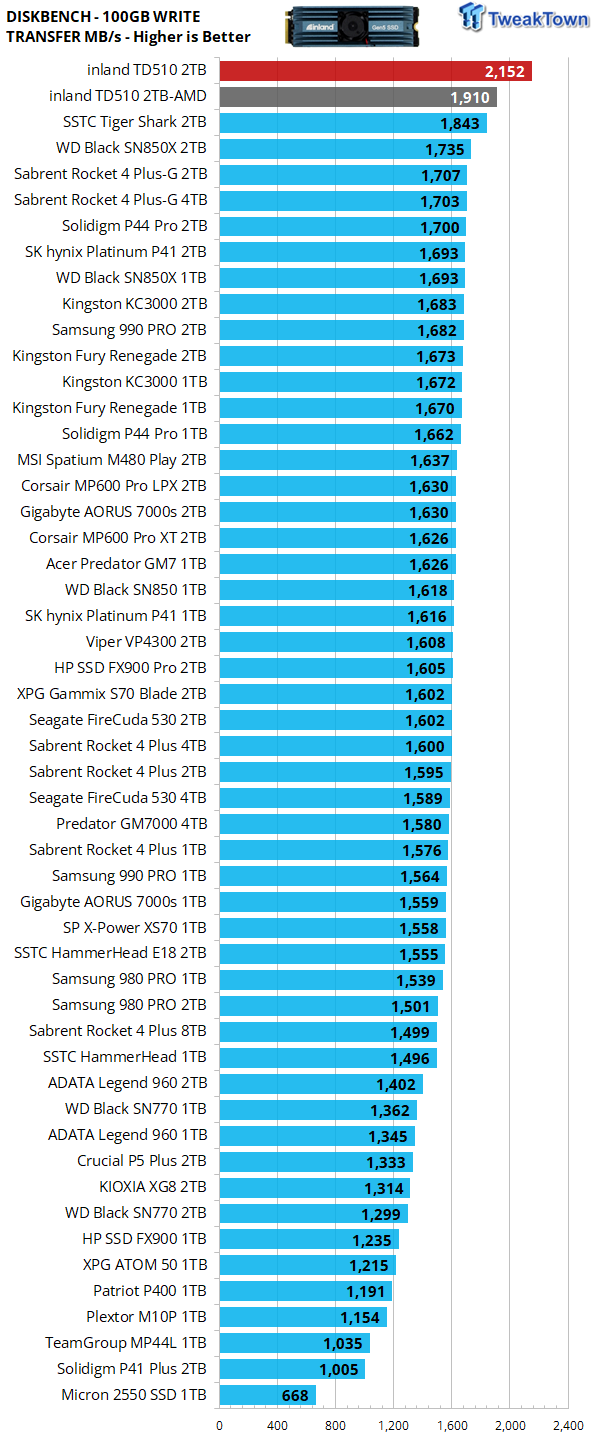 Our 100GB data transfer test is not your ordinary 100GB of data. Ours is a crushing mix composed of more than 62K files. Write performance random or sequential, is an infrequent operation, and as such, we do not consider it to be an important performance metric in the consumer space. An example being how many times is a game installed vs. how many times it's played.
2,152 MB/s is a new lab record for a flash-based SSD.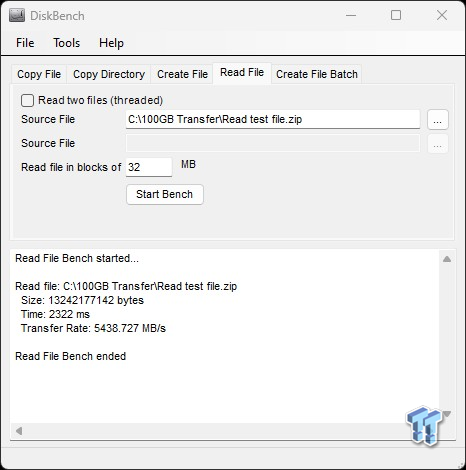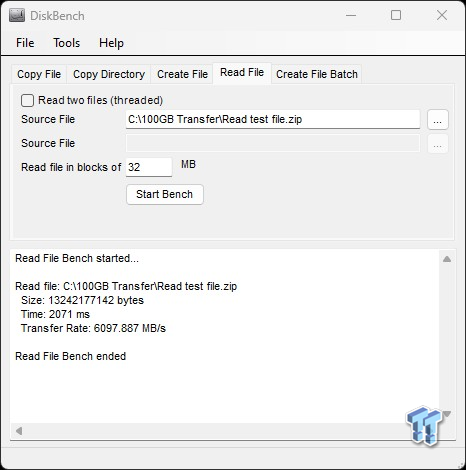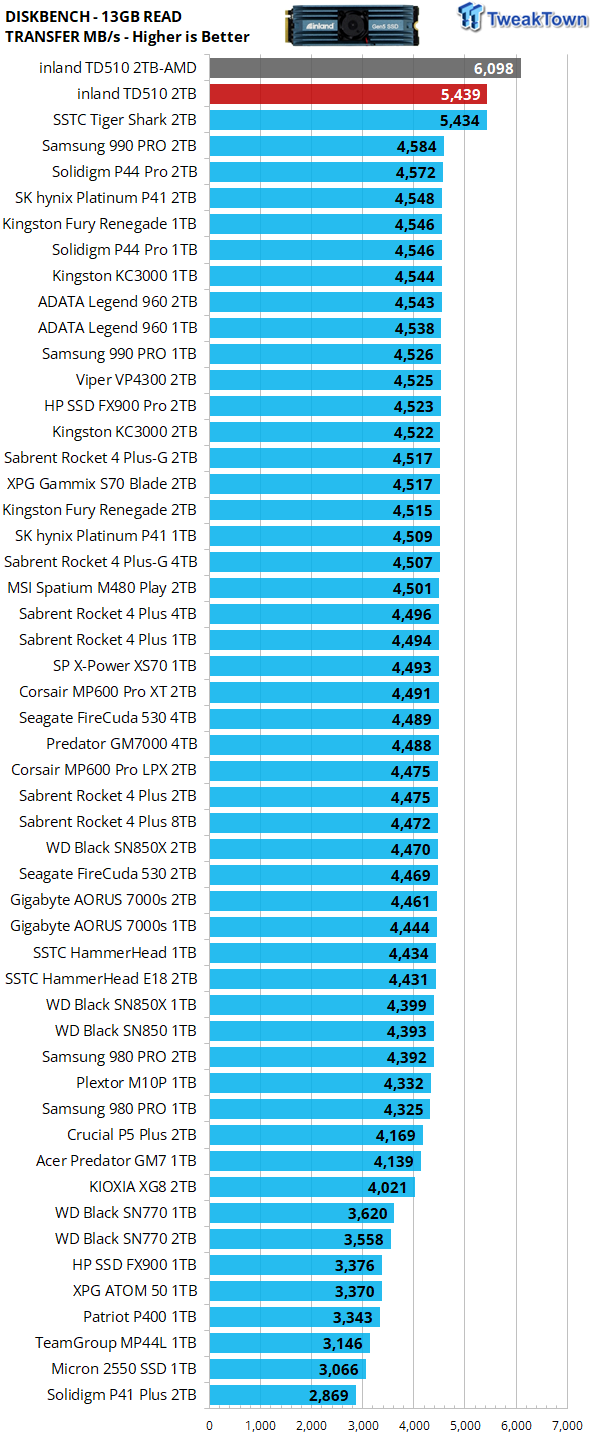 Unlike programming (writing) data, serving data to the host (reading) data is always an important performance metric. Again, our test subject does it at unprecedented levels, setting a new lab record for a flash-based SSD running on an Intel-based system. Impressive.
3DMark SSD Gaming Test
UL's newest 3DMark SSD Gaming Test is the most comprehensive SSD gaming test ever devised. We consider it superior to testing against games themselves because, as a trace, it is much more consistent than variations that will occur between runs on the actual game itself. This test is in fact the same as running the actual game, just without the inconsistencies inherent to application testing.
In short, we believe that this is the world's best way to test an SSDs gaming prowess and accurately compare it against competing SSDs. The 3DMark SSD Gaming Test measures and scores the following:
Loading Battlefield V from launch to the main menu.

Loading Call of Duty Black Ops 4 from launch to the main menu.

Loading Overwatch from launch to the main menu.

Recording a 1080p gameplay video at 60 FPS with OBS (Open Broadcaster Software) while playing Overwatch.

Installing The Outer Worlds from the Epic Games Launcher.

Saving game progress in The Outer Worlds.

Copying the Steam folder for Counter-Strike Global Offensive from an external SSD to the system drive.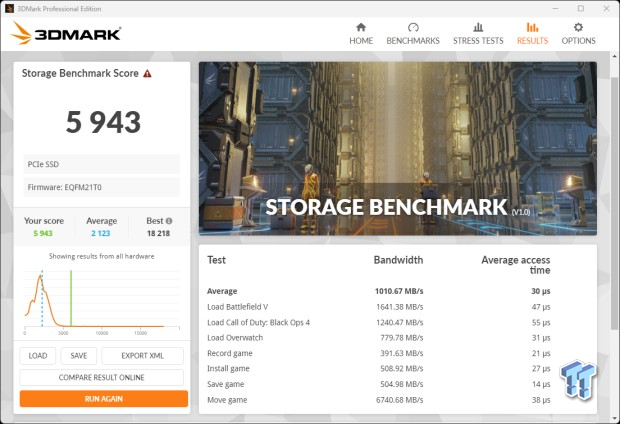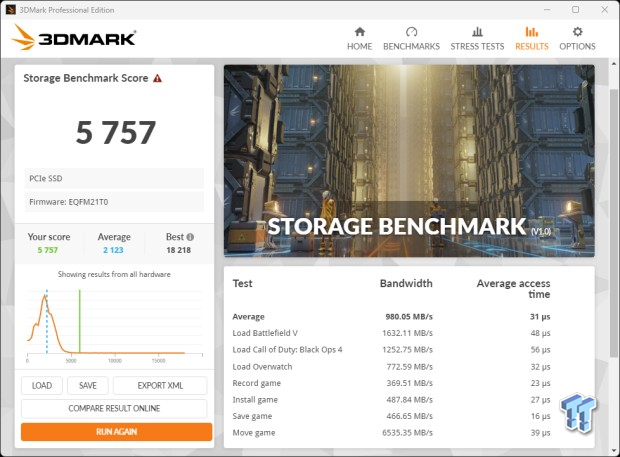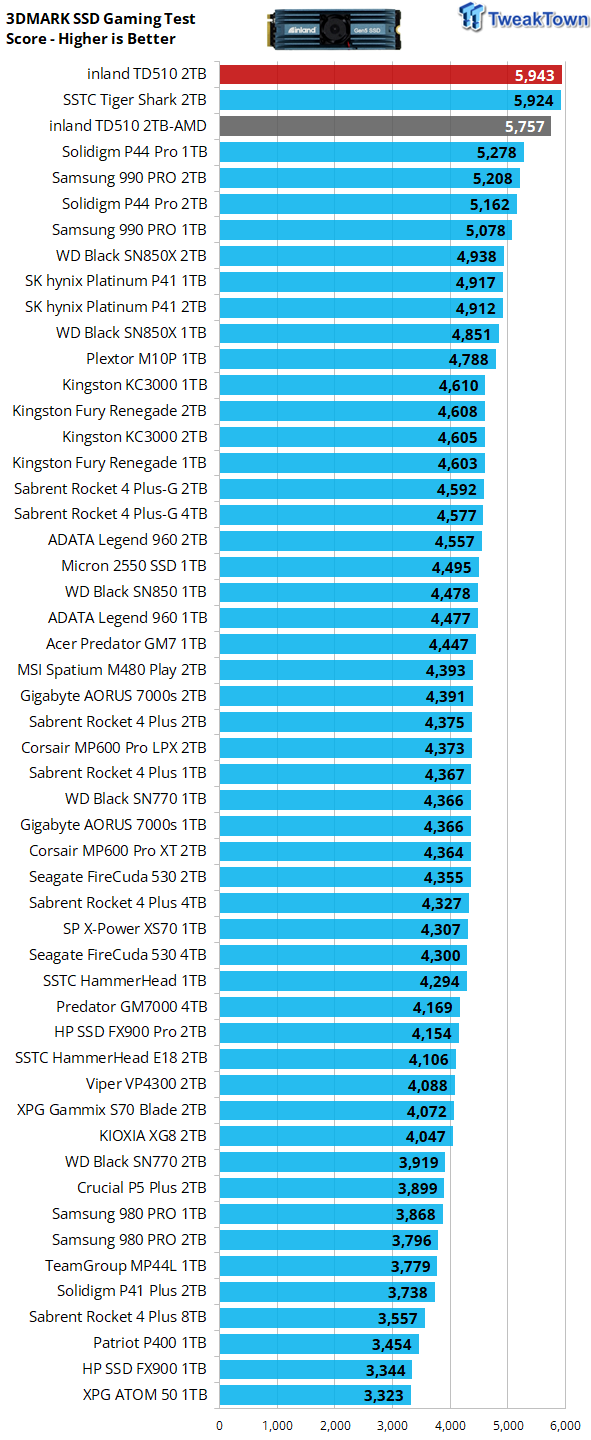 Gaming is a performance metric that matters to the majority of DIY consumers, especially to the enthusiast crowd that TweakTown caters to.
Impressive, and yet another lab record for a flash-based SSD, beating Solidigm's P44 Pro by a whopping 12.5%.
PCM10 Storage Tests
PCMark 10 Storage Test is the most advanced and most accurate real-world consumer storage test ever made. There are four different tests you can choose from; we run two of them.
The Full System Drive Benchmark and the Quick System Drive Benchmark. The Full System Drive Benchmark writes 204 GB of data over the duration of the test. The Quick System Drive Benchmark writes 23 GB of data over the duration of the test. These tests directly correlate with mainstream user experience.
PCMark 10 Full System Drive Benchmark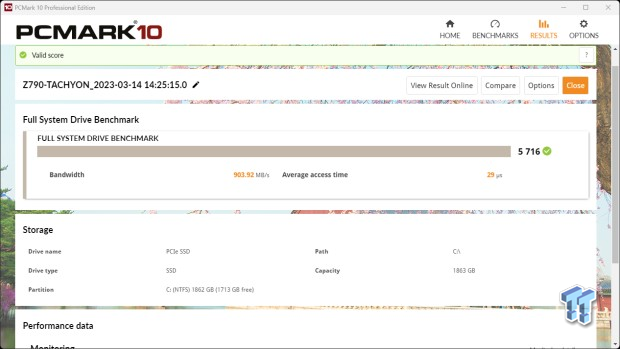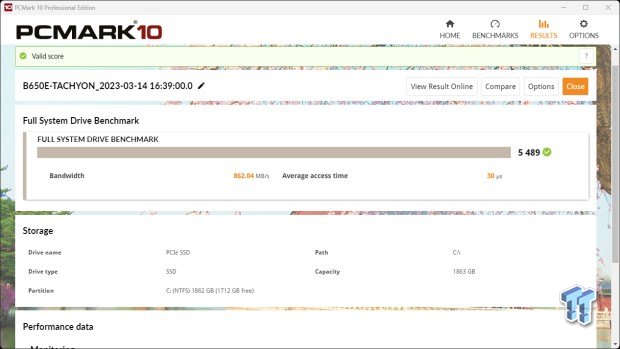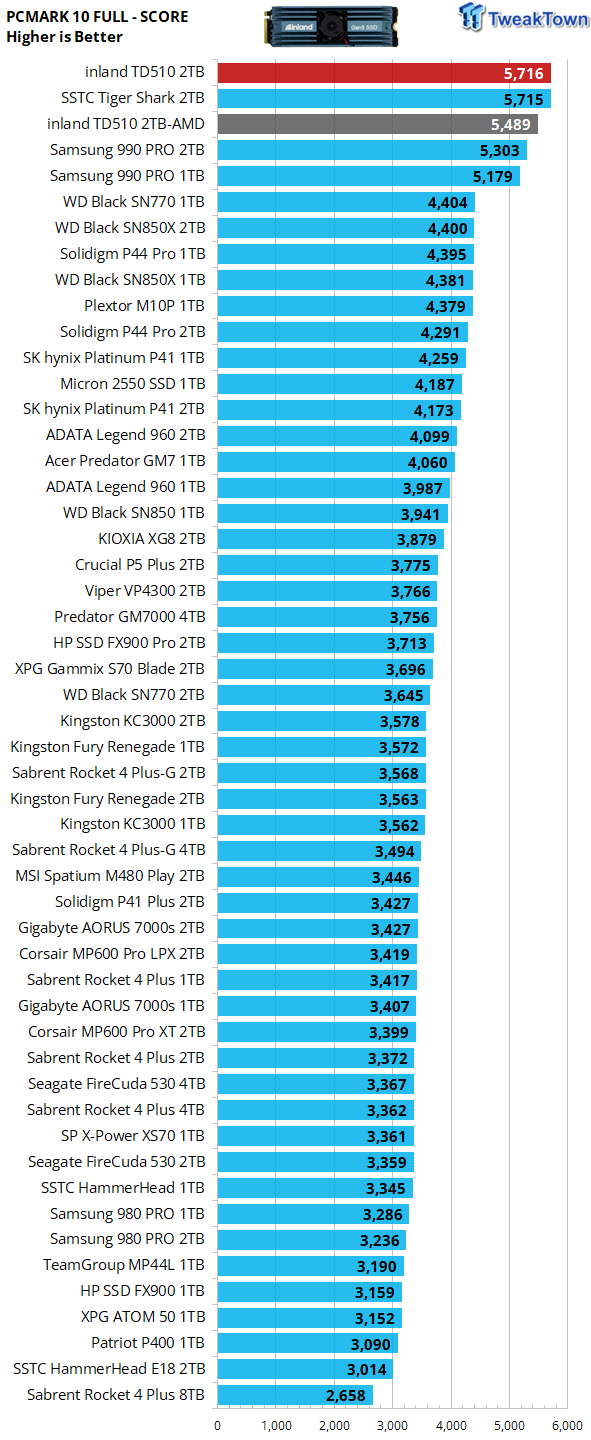 This particular test writes 204GB data and covers a broad range of common consumer tasks, including booting Windows 10, file transfers, Adobe and Office applications, and startup times for games, including Battlefield V, COD Black Ops 4, and Overwatch. Unlike synthetic numbers, this is comprehensive real-world data which is why we use it to rank SSDs in terms of user experience.
The most performance where it matters most. Our test subject manages another lab best, beating our previous champion, the similarly configured SSTC Tiger Shark, by one point. Hey, a win is a win. This is performance that matters, and for some perspective, if we look past the 990 Pro's running in full power mode, the next best is 30% lesser performing than our test subject.
PCMark 10 Quick System Drive Benchmark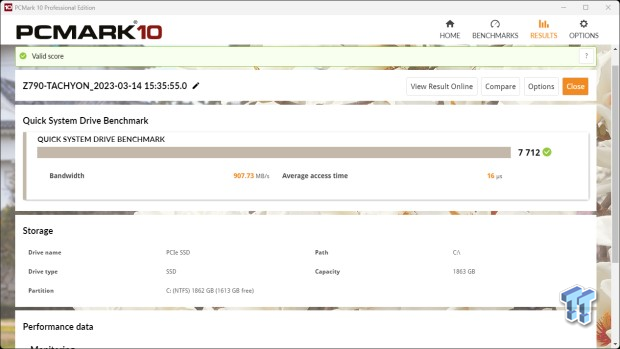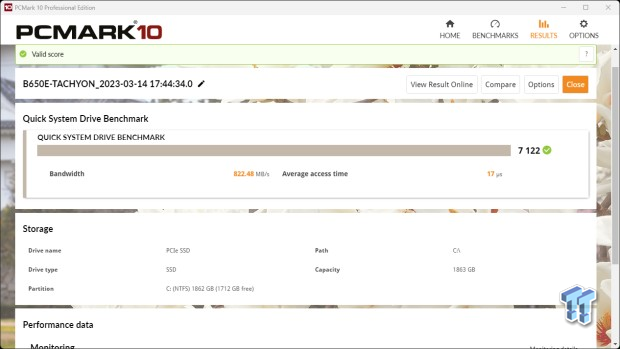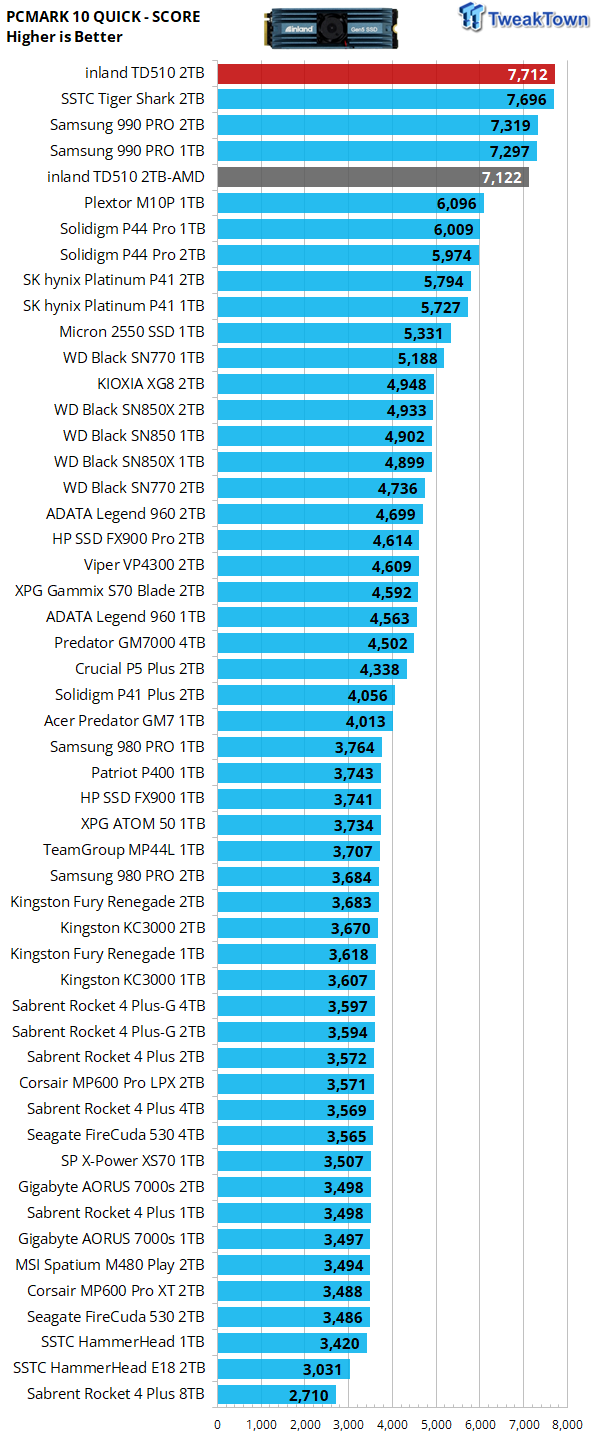 Again, the best we've ever extracted from a flash-based SSD running as our system disk.
Final Thoughts
As a brand, inland has built a well-deserved reputation for offering exceptional value, and our test subject is direct evidence of this. At $350 for this Gen5 SSD, we find its value exceptional for what you get in return; being the best-performing flash-based consumer SSD available. The similarly configured SSTC Tiger Shark is $20 cheaper, however, it doesn't come with a heatsink or a 6-year warranty, so depending on how you plan on cooling yours, the inland TD510 might be the better bargain.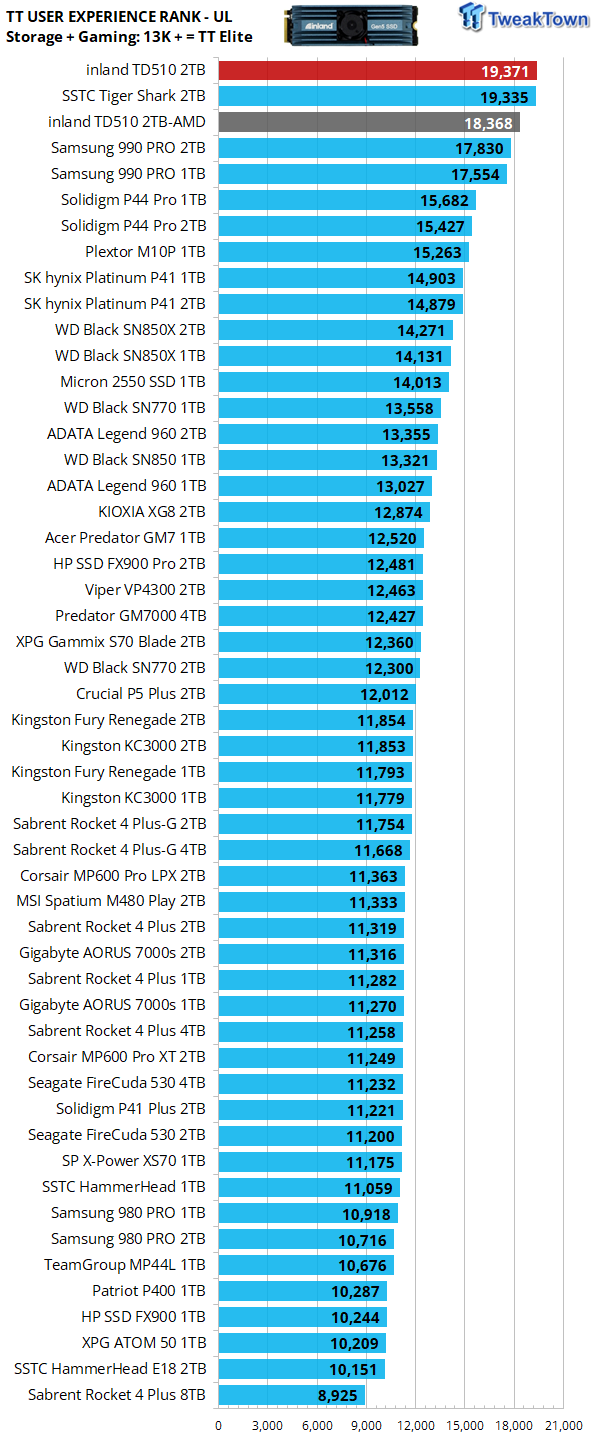 We rank SSDs in terms of overall user experience (performance where it matters most) as expressed by PCMark 10 storage and 3DMark gaming storage tests. We consider a user experience score of 13K or more to verify an SSD as a TweakTown Elite performer. Another lab record here pretty much says it all.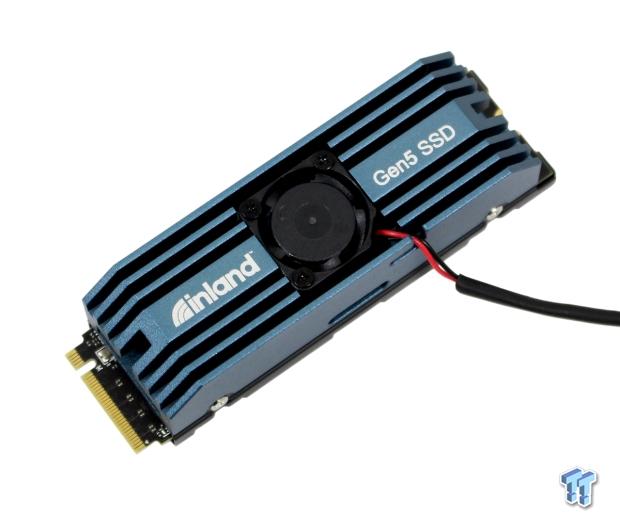 Included heatsink, combined with the best warranty period in its class, and unrivaled performance where it matters most, have earned Micro Center's inland TD510 2TB our most prestigious award. Editor's Choice.