TweakTown's Rating: 93%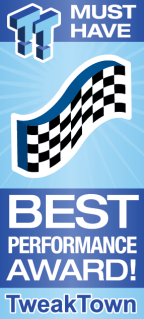 The Bottom Line
The SteelSeries Apex Pro TKL Wireless is a premium high-end wireless keyboard through and through. With its fully adjustable OmniPoint Mechanical switches, you can customize the keystroke feel in truly impressive ways.
Pros
+

Fully adjustable switches are impressive

+

You can go from fast 0.2mm actuation to deep 3.8mm in seconds

+

Excellent build quality

+

Robust software support

+

TKL form factor is great for gaming
Cons
-

Expensive

-

We did get a few glitches when using the max 3.8mm setting

-

The mini OLED display needs more out-of-the-box functionality
Should you buy it?
Avoid
Consider
Shortlist
Buy
Introduction & Specification Details and Close-up
There's some to be said about top-of-the-line models for PC hardware, a specialized enthusiast bracket where cutting-edge tech is given all the room it needs to breathe. Whether you're talking about a high-end GPU like the GeForce RTX 4090 or the SteelSeries Apex Pro TKL Wireless Keyboard, these products exist in a segment all their own - and often command a premium in a Jurassic Park-like "spare no expense" sense. Albeit you're not dealing in a life or death situation running from Velociraptors.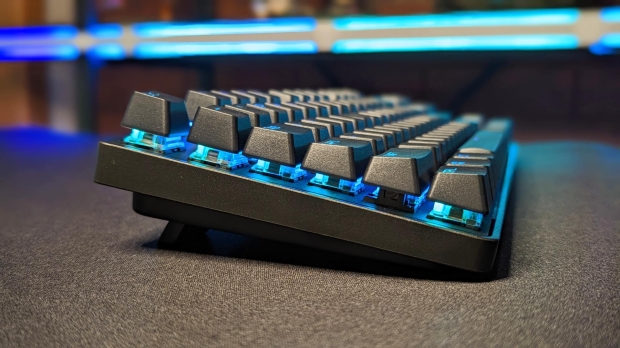 When it comes to a premium product like the SteelSeries Apex Pro TKL Wireless Keyboard, there's also an expectation that you'll be getting an exceptional experience when in use - so to speak, not only in terms of the quality of the physical build and the underlying hardware in the form of specialized switches and customization options but also on the software and support side. With its USD 289.99 price point (it can be picked up for cheaper than this), you might wonder what the "most advanced keyboard" from SteelSeries brings.
And well, for the most part, it's all about the new OmniPoint 2.0 adjustable switches, which are custom mechanical switches developed by SteelSeries that are like the name suggests - fully adjustable on a per-key basis. This means you can set individual keys or the entire keyboard to be a 0.2mm actuation point lightning-fast keyboard for competitive games or go the opposite route with 3.8mm actuation for deeper and more tactile keystrokes.
Depending on the actuation depth, you can even set up dual functionality on keys to perform different function assignments. So yeah, there's the sort of mechanical switch customization that we're used to and what the SteelSeries Apex Pro TKL Wireless Keyboard delivers. It manages to pull all of this off in the compact and popular TKL form factor with low-latency wireless. Let's dig in.
Specifications & Close Up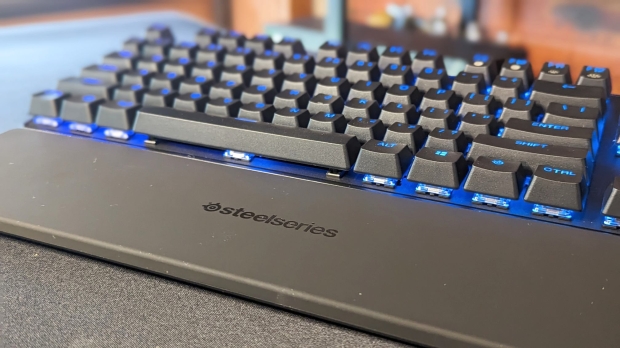 Product Name: SteelSeries Apex Pro TKL Wireless Keyboard (2023)
Product Type: Wireless Gaming Keyboard
Size (Full/TKL): TKL
Switch: OmniPoint Adjustable Mechanical
Actuation Points: 0.2 - 3.8 mm adjustable
Interface: Wired, 2.4 GHz, Bluetooth
Battery Life: 37.5 hours (Wireless), 45 hours (Bluetooth)
Platforms: Windows, Xbox, PlayStation, and Mac OS X (USB port required)
Lighting: Per-Key RGB Illumination
Dimensions: 355mm x 128mm x 42mm (keyboard)
Weight: 1070 grams
What's in the Box: Apex Pro TKL Wireless Gaming Keyboard, Detachable Braided USB-C to USB-A Cable, USB-C Wireless Dongle, Extension Adapter, Keycap Puller, Wrist Rest, Product Information Guide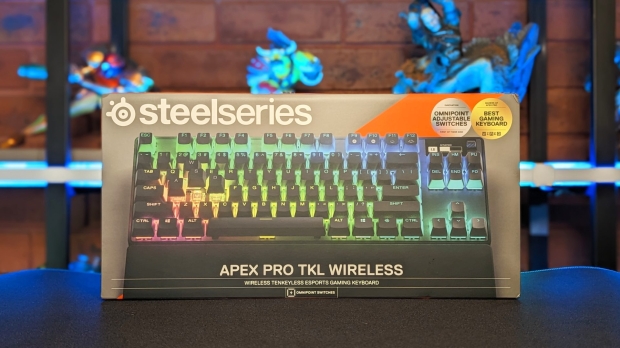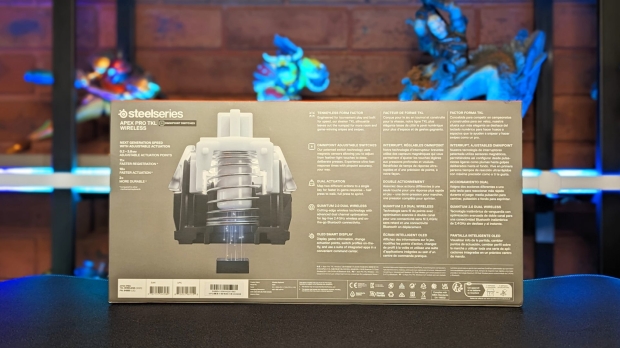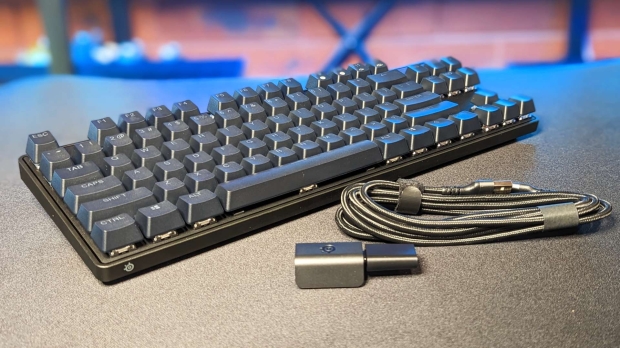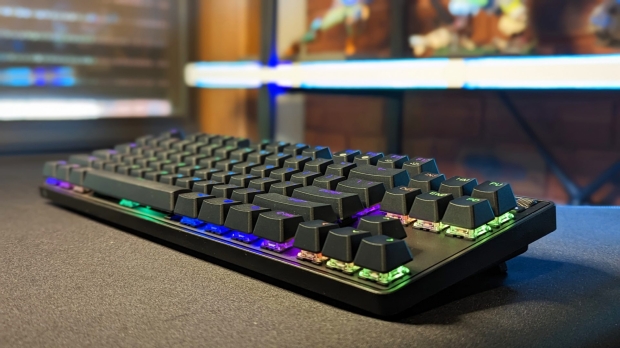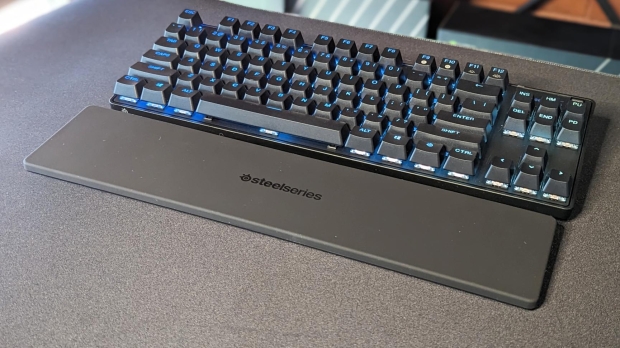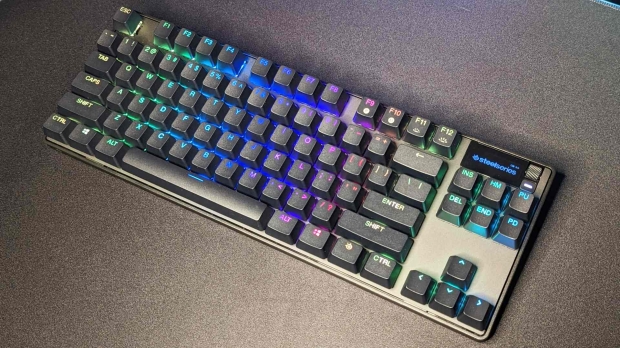 Kosta's Test System Specifications
Motherboard: MSI MPG X670E Carbon Wi-Fi
CPU: AMD Ryzen 9 7900X
GPU: NVIDIA GeForce RTX 4090 Founders Edition
Cooler: Corsair iCUE H100i RGB PRO XT Liquid CPU Cooler
RAM: 64GB (2x32GB) Corsair DOMINATOR PLATINUM RGB DDR5 DRAM 5200MHz
SSD: Kingston FURY Renegade PCIe 4.0 NVMe M.2 SSD 2TB
Power Supply: Thermaltake Toughpower GF1 850W
Case: Thermaltake Core P3 Tempered Glass Snow
OS: Microsoft Windows 11 Pro 64-bit
Design & Software
Design
From a physical design standpoint, the SteelSeries Apex Pro TKL Wireless Keyboard features a minimal look and feel thanks to its compact TKL form factor - which means you don't get a numpad. Construction-wise, this is a solid 1kg unit with a high-quality aluminum alloy top plate and a rugged hard plastic shell. You've got an adjustable height stand, which is pretty standard in mechanical keyboards, but a little OLED display sits alongside a small but high-quality volume dial and a mute button which is very cool.
Dedicated media controls on a TKL are not expected, even for something as premium as the SteelSeries Apex Pro TKL Wireless Keyboard, so seeing these additions here is excellent. There's also a wrist rest, but this is non-cushion. It still provides wrist support, so that's a plus.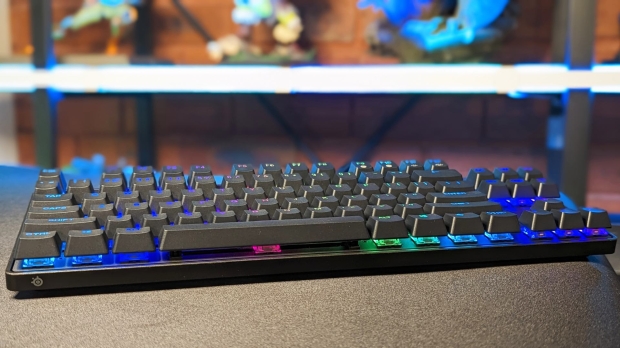 As for the keycaps themselves, they're double-shot PBT with an anti-fade design and feature an excellent textured feel that's great to the touch. The Apex Pro TKL Wireless can double as a wired keyboard, and SteelSeries has included a nice braided detachable USB-C to USB-A cable so you can play and charge. Battery life sits at around 37 hours with RGB lighting, slightly higher than expected for a wireless TKL offering.
Even though the focus is on PC use, especially regarding software support and customization, the Apex Pro TKL Wireless is versatile. It can be paired with consoles and works (albeit in a limited capacity) with Mac systems.
The impressive OmniPoint Adjustable Mechanical switches deployed are the real star. By default, the actuation point is set to 1.8mm for all keys, so right out of the box, you've got fast and smooth linear-style performance. The actuation point can be fine-tuned for all keys, which is pretty amazing to witness in real time, as it can drastically change the feel without swapping out switches. This means you can set up a profile for a specific game and one for basic productivity tasks - and seamlessly swap between the two.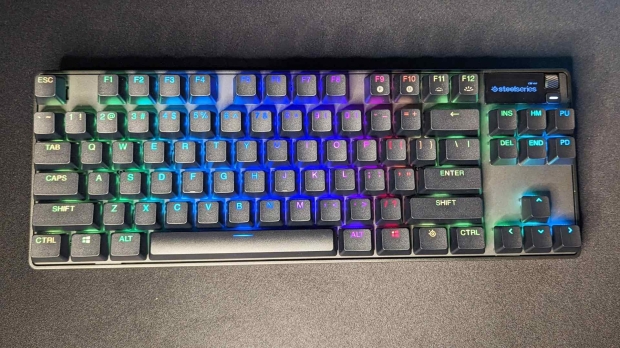 The OmniPoint Adjustable Mechanical switches go a long way to cementing the Apex Pro TKL Wireless as a keyboard for gaming enthusiasts. WASD controls in a first-person shooter are a great example, and you can set the actuation point to be lower and faster for smooth movement while adjusting nearby keys that might be used to pick up items or throw grenades to require more travel and force. We can see the technology becoming a mainstay in high-end keyboards - with SteelSeries leading the charge.
Software
Even though many of its features can be accessed on the keyboard, it's when you pair the Apex Pro TKL Wireless with the SteelSeries GG and SteelSeries Engine software suite that it's all taken to the next level. You've got a dedicated tab for Actuation where it's super easy to adjust the OmniPoint Adjustable Mechanical switches globally, in groups, or on a per-key basis. With five onboard profiles, there's enough room to set up a few variations that can be switched between from the keyboard.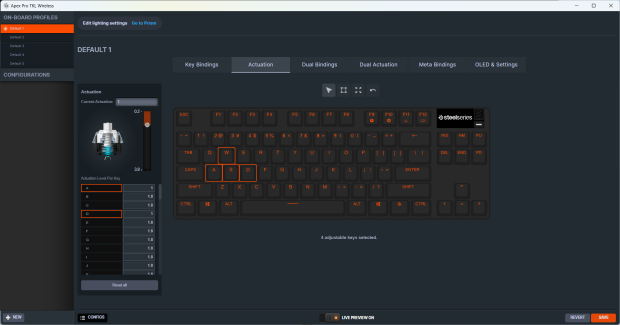 Separating Dual Bindings and Dual Actuation is a great touch, as you can set up alternate functions for all keys and then set a different higher actuation point for that trigger. All in all, it's an intuitive and clean interface for tinkering with adjustable switches and a great bit of software in terms of letting you preview all changes before saving.
Granted, it's virtually impossible to tell the difference between a 1.8mm actuation point and a flat 2.0mm. Still, the range here is extensive, with enough room for a noticeable distinction when creating a wide enough gap.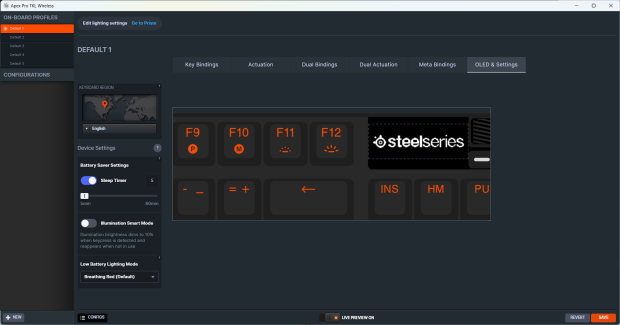 There are also options for full macro recording, and you can swap out the SteelSeries logo on the OLED screen to display any image that's 128 x 40 pixels in size. The OLED panel is handy in showcasing the current battery life, but it's more style than functional. Weirdly the volume dial and audio button aren't programmable, which is a shame.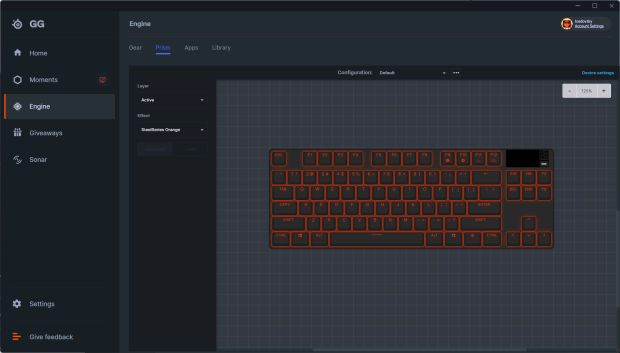 The SteelSeries Prism app within GG handles RGB lighting, and you've got access to a range of lighting profiles and settings with a similarly clean interface to adjust per-key lighting. All in all, it's a robust and powerful software suite from SteelSeries, though it does require you to go through a few nested menus and screens to get to everything; this is always an issue when dealing with software designed for multiple types of hardware. Still, it goes a long way to highlight just how versatile the Apex Pro TKL Wireless can be.
Gaming Performance and Productivity
Gaming Performance
Playing Atomic Heart, DOOM Eternal, and even some Cyberpunk 2077, setting the actuation point to a lower setting on the WASD keys is a wonderful feature to have. It lowers the travel requirement without compromising the initial forces needed to press the keys on the Apex Pro TKL Wireless.
This is one of the reasons why these switches are so impressive; they don't fundamentally "feel" different with various actuation point settings, but there's a big difference in how much you need to press a key before it does its thing. This is great for gaming, especially in titles with traditional first-person keyboard and mouse controls. It's hard to quantify, but it's like magic when it works.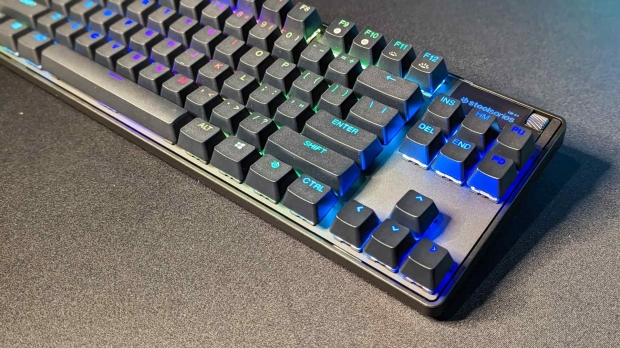 With testing carried out in wireless and wired modes, there was no perceivable difference in performance. There's no lag between saving and witnessing the results, even when switching out profiles or changing the actuation point settings. The Apex Pro TKL Wireless offers up enthusiast-grade gaming performance, whether using its default settings or adjusting the switches.
As a pure linear-style TKL keyboard, it's brilliant - and the keys all have a snappy and robust feel. The spacebar is firm and bouncy no matter where you tap it, which is always great to see. Spacebar action can often be a sign of quality, letting you know whether or not a keyboard has the chops to go the distance.
Productivity
Using a fast linear-style keyboard with a low actuation point for productivity is either one of the things you're a fan of or not. The ability to adjust the actuation point and travel distance from the default 1.8mm to 3.8mm goes a long way to alleviate any concerns because the issue most people have with fast keyboards is that when you're typing, it's easy to accidentally press the wrong key just by gently brushing past it with your fingers.
I'm a fan of linear keyboards for day-to-day use, and it was great to switch to a more extensive travel distance. That said, there were a few occasions where the longer keystrokes resulted in multiple key presses when that wasn't the intention.
To alleviate that, it would be nice to be able to adjust those settings (by adding a delay) within the SteelSeries software. As a TKL keyboard, you do lose out on having the numpad, which takes some time to adjust to if you're used to using that to punch in numbers in spreadsheets. Like, say, benchmark results.
Keyboard Click Sound Level
To test a keyboard's overall sound level, we use the Ozito Digital Sound Level Meter capturing the sentence "the quick brown fox jumps over the lazy dog" multiple times and recording the maximum dB level. This indicates how "loud" the switches used are for everyday usage. The following chart showcases where the SteelSeries Apex Pro TKL Wireless Keyboard sits.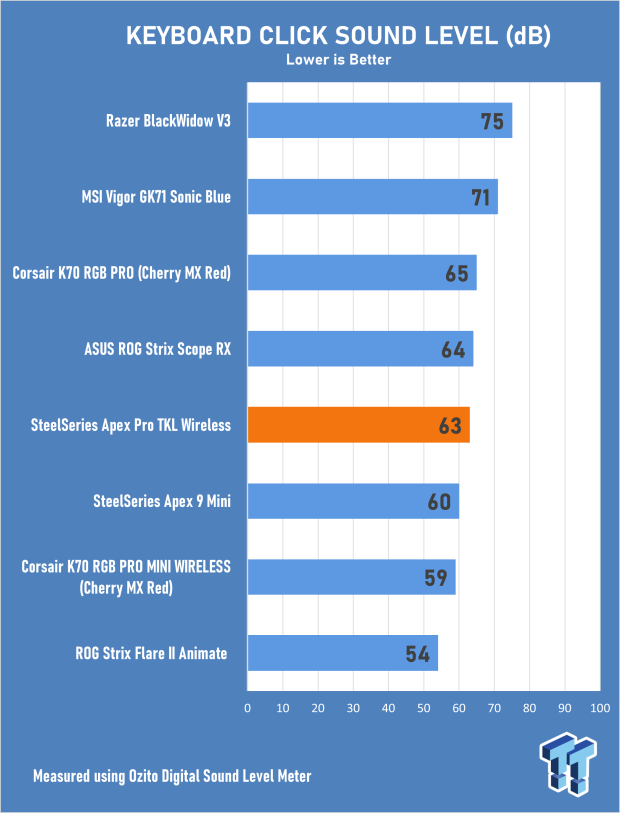 Final Thoughts
Undoubtedly, the SteelSeries Apex Pro TKL Wireless Keyboard commands a high price, but even so, it backs this up with quality and performance. The OmniPoint 2.0 adjustable switches might sound like a gimmick on paper or something that you wouldn't get much use out of, but in execution, they're more than impressive - they feel groundbreaking. Some minor glitches aside, switching between fast or longer keystrokes was eye-opening and let you get a feel for the perfect actuation point. You might not need to adjust once you find your sweet spot, which speaks to versatility.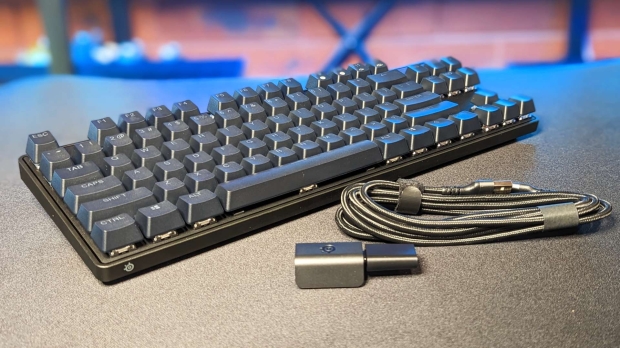 And it's all backed up by a robust software suite called SteelSeries GG. Even though it is a little bloated in terms of how many features it offers out of the gate, it delivers when it comes to intuitive and powerful per-key customization.
As far as high-performance enthusiasts and competitive-grade wireless keyboards go, the Apex Pro TKL Wireless is a winner. It's always great to see just far switch technology has come in the past decade, and we can't wait to see what's in store for the future.