TweakTown's Rating: 96%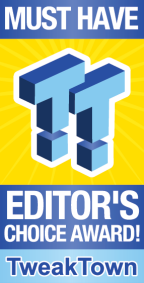 The Bottom Line
While not a perfect score, this TEAM T-Force Delta RGB RAM kit checks all of the boxes. It will cost you a bit more than the usual suspects, but is well worth the investment as the performance slams everything else we have tested.
Pros
+

Stylish

+

Fast

+

High performance

+

RGB lighting

+

Thermal pad on PMIC
Cons
-

Limited overclocking headroom

-

Cost
Should you buy it?
Avoid
Consider
Shortlist
Buy
Introduction, Specifications, and Pricing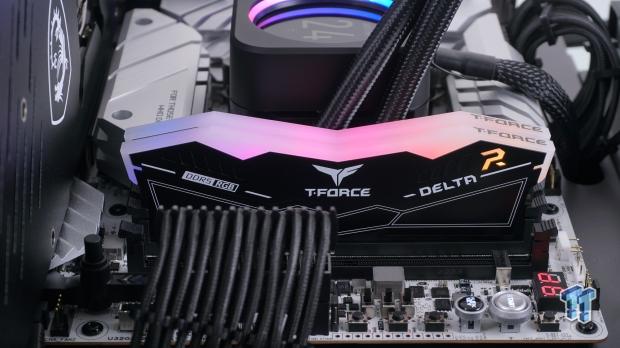 Even though we felt that the Vulcan Alpha left a bit to be desired on an Intel-based system, Team also sent along another kit around the same time. The second kit is more in tune with Intel, which we are happy about, as we do not like sticking it to any company. We would much rather have a review where we can be happy and push the product to the rest of you without any issues or reasons to ignore them. We feel that this is one of those opportunities where the review writes itself glowingly.
We have seen quite a few kits ranging in speed from 4800 MT/s up to 6400MT/s, and while they got the job done, there wasn't much movement in the charts. We mean that not one kit stood out to the point where you couldn't help but admire its performance due to a significant difference in the results. That is about to change. A complete turnaround from the Vulcan Alpha that found itself near the bottom of most of our charts, we venture back to the TEAM T-Force Delta RGB kits, almost identical to the 6400 MT/s kit TEAM sent us months ago.
Today we have the fastest kit of DDR5 we have yet to test. TEAM sent this set of T-Force Delta RGB with 7200 MT/s as the XMP provided speed, and they did not go too wild on the timings to get there. On top of that, the voltage needed to run them is a touch more than any of the other kits we have tested, but we have never been able to hit these speeds with any different set of RAM, even using similar settings.
Typically we would continue with some facts and figures, but we are too excited to keep you in suspense any longer, so we will dive right in and see just how well TEAM turned the corner while offering us this T-Force Delta RGB DDR5-7200 kit.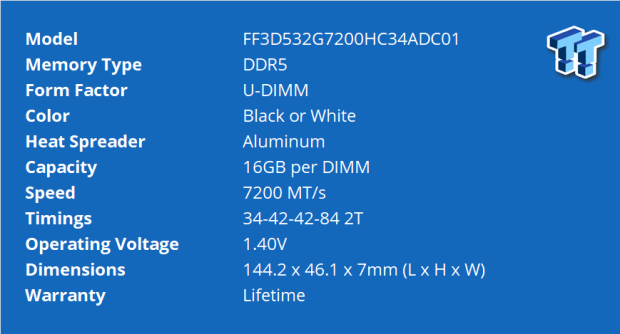 TEAM has a thing for making their part numbers as long as possible, and the FF3D532G7200HC34ADC01 part number of this kit is no exception. However, two parts of that number have impressed us before any testing happens. The primary point is that this is a kit of 7200 MT/s, which we have said a few times now, but the more impressive part is that they were able to get the kit tuned down to CAS 34. These DDr5 kits are available in white or black versions, of which we have the black set to show you today.
Visually, the T-Force Delta RGB is stylish with its black aluminum heat spreaders covering a set of A-Die SK Hynic ICs, and are backed by an unlocked PMIC to allow users to get the most from these sticks if you have the urge to push them past the XMP profile. Out of the box, these 16GB sticks deliver 7200MHz of speed, with 34-42-42-84 2T timings, using 1.40V to do so. They are a bit taller at 46.1mm and a tad longer than others at 144.2mm, but we feel they have what many users of the newer Intel systems want in a set of DDR5.
Compared to many of the other kits we have seen thus far, you will need to dig a bit deeper than usual to afford such a kit, but overall, we do not feel the price is exceptionally high. You will need to fork out $274.99 if you are an Amazon shopper. For those who prefer Newegg, you can also find them there, but with an additional $5 on the price tag.
Considering we have seen a few much slower kits in the past requiring near or above the $200 price point, we feel that the additional cost is well worth the cost in the current market. There is a rumor that DDR5 will drop in price soon, but are you willing to wait and potentially miss out on a fantastic product? Yeah, we don't think so.
Packaging and TEAM T-Force Delta RGB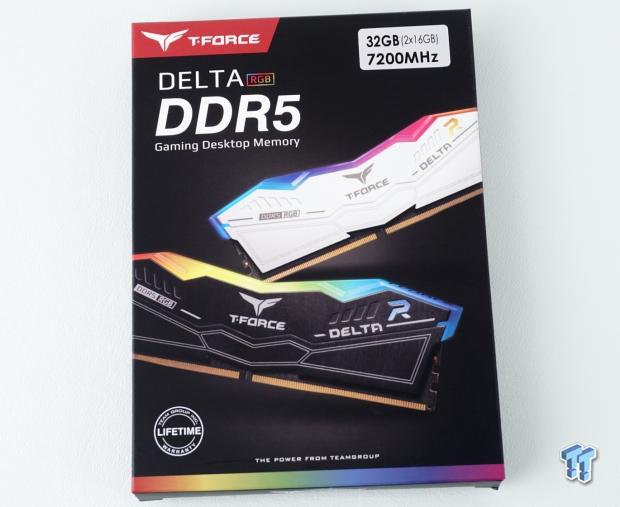 Even though the bulk of the packaging is matte black, TEAM can attract customers to these kits with the bright red flag at the top and the rainbow at the bottom while showing off both color options of the T-Force Delta RGB in the center. Beyond the basics, we also see 32GB at 7200 MHz at the top right, and in the bottom left, we are shown that these kits are backed with a lifetime warranty.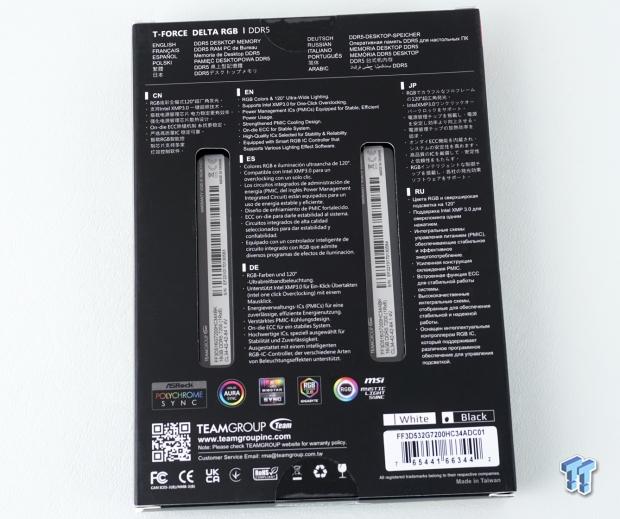 On the back, we are told this is DDR5 memory, above where we find a list of seven features contained within them. To either side is a cutout that allows a potential customer to see the product sticker on each stick, while near the bottom, we see all compatible sync software and information about TEAMGROUP.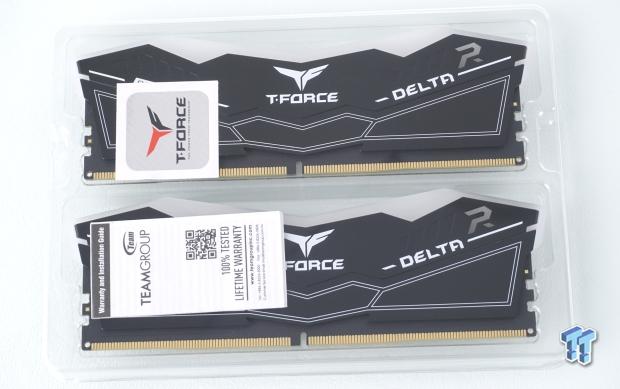 Inside the box, you will find your kit protected by a couple of layers of plastic that help fight damage and scratches on the way to your door but also fights static to ensure they work when you use them. Along with the sticks are an insert on the warranty and installation procedure and a T-Force sticker to put anywhere you'd like.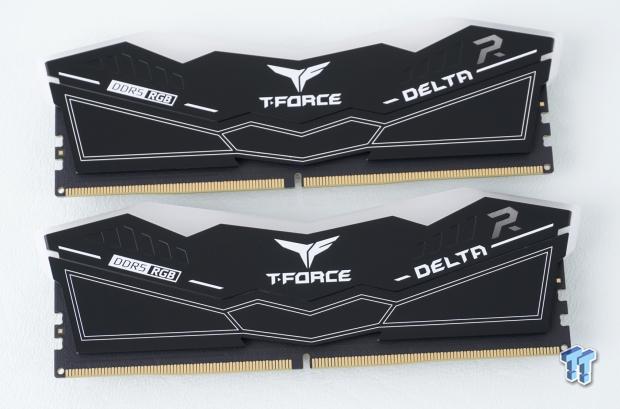 Those that follow or RAM reviews may have a bit of déjà vu seeing these, as they are visually identical to the 6400 MHz set we saw back in July. Keeping to the wing-shaped spreaders with indents at the top and the highlighted pinstripes being white pops, as do the names painted on this side. At the top are white diffusers for the RGB, which also shine through the R at the right end of them.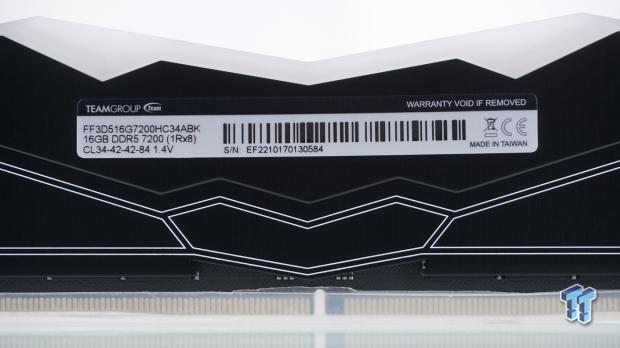 On the back, we find the same pinstripes but none of the branding, as it has been left off, so they can place the product sticker here. On it, we find the model number of each stick, its density, speed, timings, and required voltage on the left. In the middle is the serial number, while on the right, we see where it is made and that we should not remove this sticker if we wish to keep the warranty intact.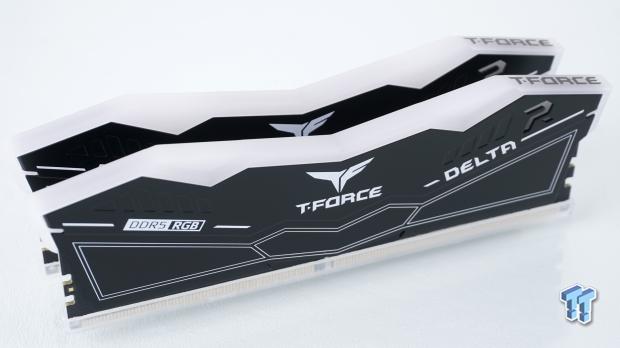 Even from this angle, there is nothing that we do not like. The white-on-black combo is attractive and fits most builds. Even with a white theme, these sticks will work and look fantastic.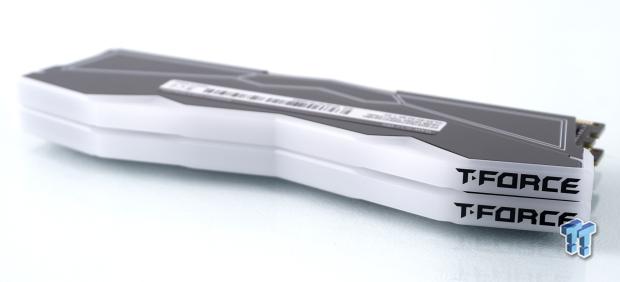 The diffusers at the top are angled to match the shape of the heat spreaders while allowing a ton of RGB illumination to pass through them. Rather than place its branding in the center, TEAM puts the T-Force name at the top of the sticks when installed into your system.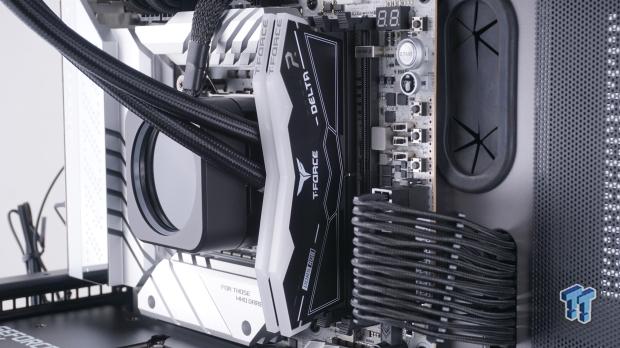 After we installed the set of TEAM RAM on our APEX motherboard, even without power, they look stunning. Of course, our system slots them closer together due to the 1DPC arrangement of the motherboard, but it gives you a sense of how they will look should you install four DIMMs on a 2DPC motherboard.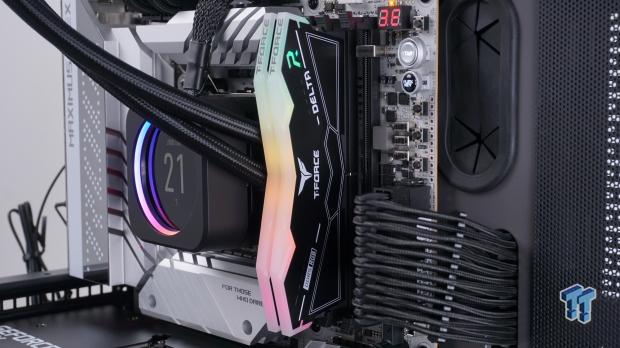 Once we added some power to the build, the T-Force Delta RGB came to life with a rainbow display of RGB lighting. It starts at the top and flows toward the bottom by default, but with any motherboard sync software, it can be set to anything you desire.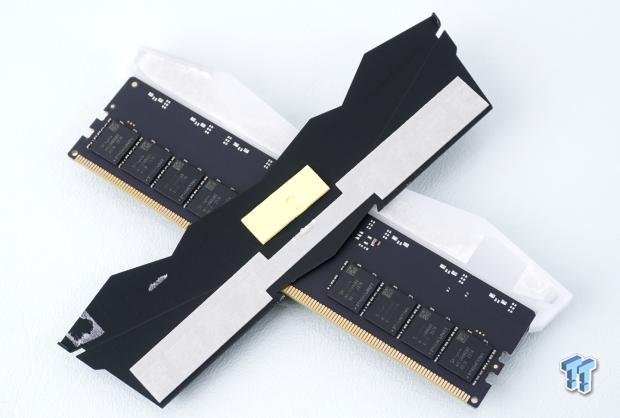 We removed one of the heat spreaders to expose what was underneath, and we noticed that we got our first set of SK Hynix HC5G48AGB0 or A-die ICs. Beyond that, we can also see the thermal tape used to stick the spreader to the ICs, and the yellow thermal pad that helps to keep the PMIC cool.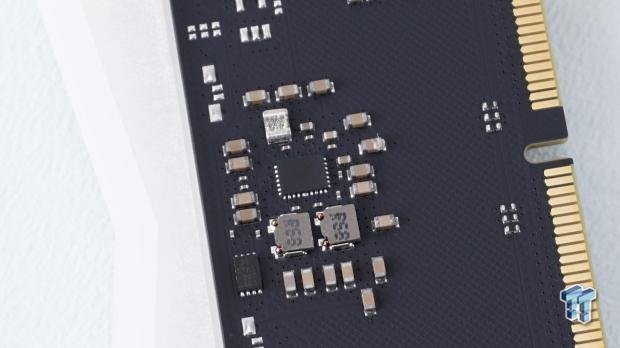 TEAM powers these sticks with a Richtek PMIC marked 0D=9B, an unlocked chip allowing those willing to push their kit a chance at even more than what is provided with the XMP 3.0 profile.
Test System Details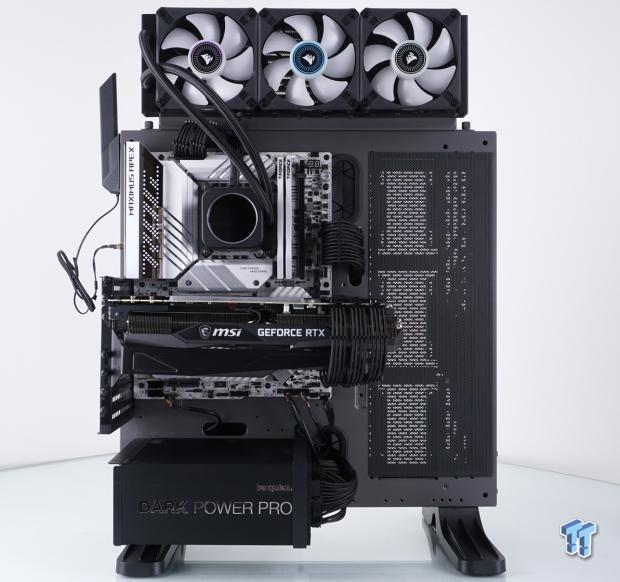 To obtain the Intel CPU-Z screenshots, you will see directly following this image; this is the system we used to do it, as well as in getting the results seen in the following pages. Thanks to Intel, be quiet!, ASUS, MSI, Corsair, and Sabrent for supporting us with this venture. Detailed specifications of the system can be found below.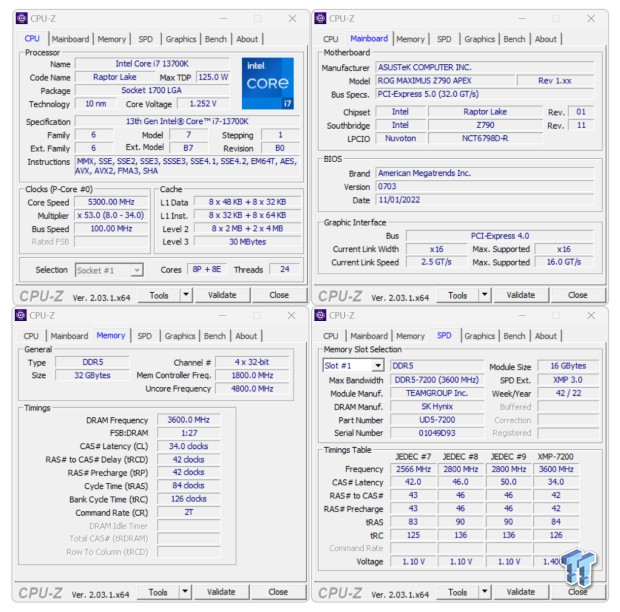 After clearing the CMOS and powering up the PC, we immediately went into the BIOS and applied the XMP profile. Doing so brings this kit up from the 5600 46-46-46-89 2T SPD profile to the 7200MHz 34-42-42-84 2T settings that CPU-Z is showing us currently. After rechecking the BIOS, we see that the VDD, VDDQ, and TX are set to 1.40V, while the system agent read 1.281V, and the MC needs 1.296V.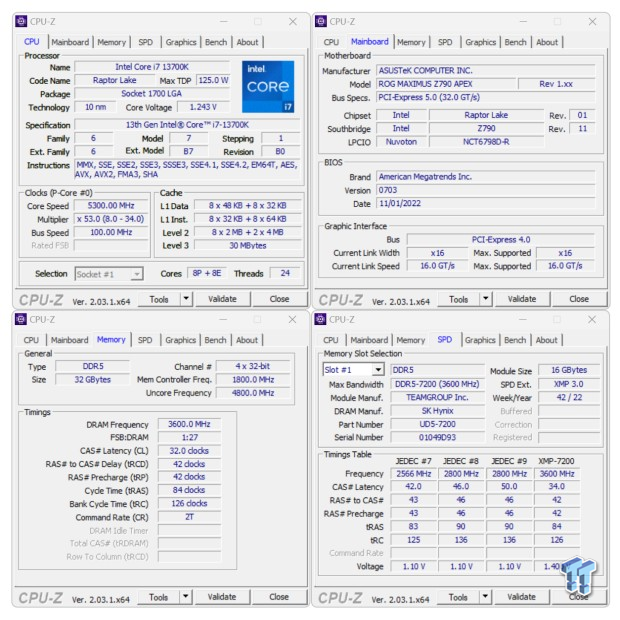 We did not get very far in our attempt to reduce the timings. Even after adding a tenth of a volt to all the settings mentioned above, the best we could get is 32-42-42-84 2T. It is not that shocking to us, though, as we had a feeling TEAM binned these very close to the limit.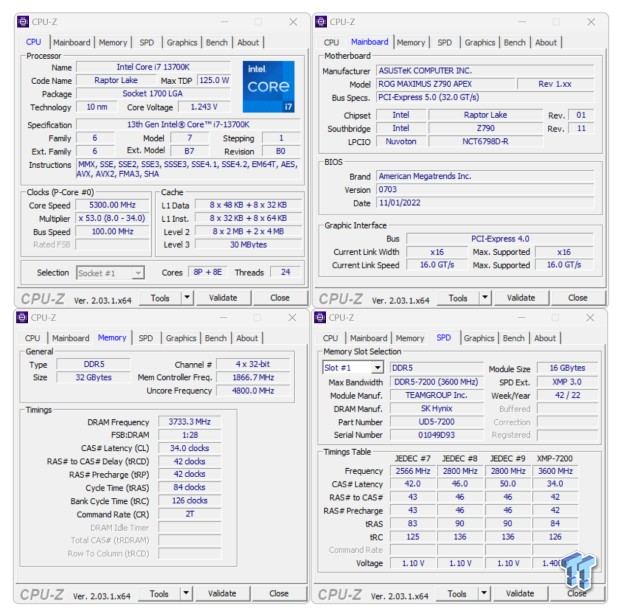 Shockingly, we were able to obtain some extra speed out of the Delta RGB, again with the additional tenth of a volt to the memory settings. In doing so, we got the Delta RGB up to 7467MHz, which is impressive on its own, but we did it with 34-42-42-84 2T timings, which is remarkable, in our opinion.
Chad's Intel DDR5 Dual-Channel Test System Specifications
Intel Performance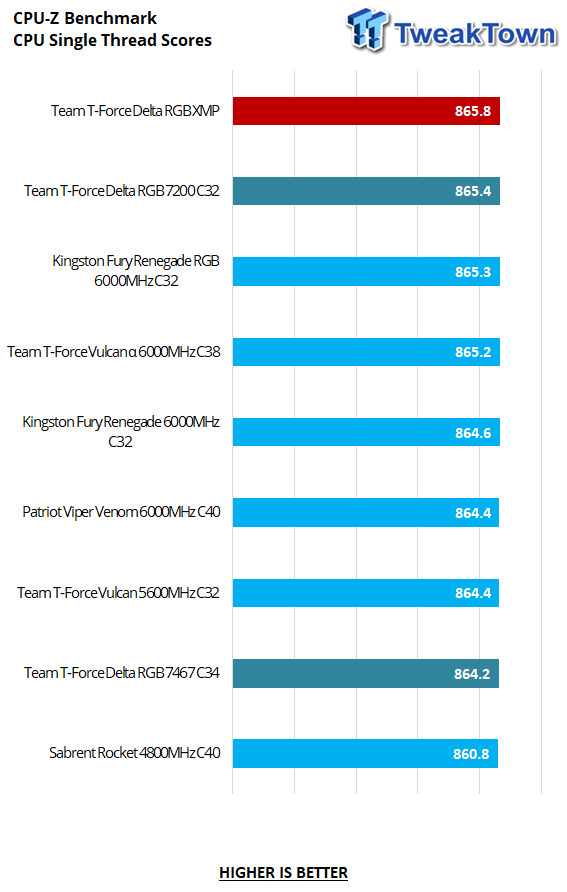 As expected, the Delta RGB takes top honors in the CPU-Z single thread benchmark. In a tough bench to get more points, we can see that running this kit at CAS 32 hindered the score slightly. Sadly added speed did nothing to better what the XMP 3.0 profile offered.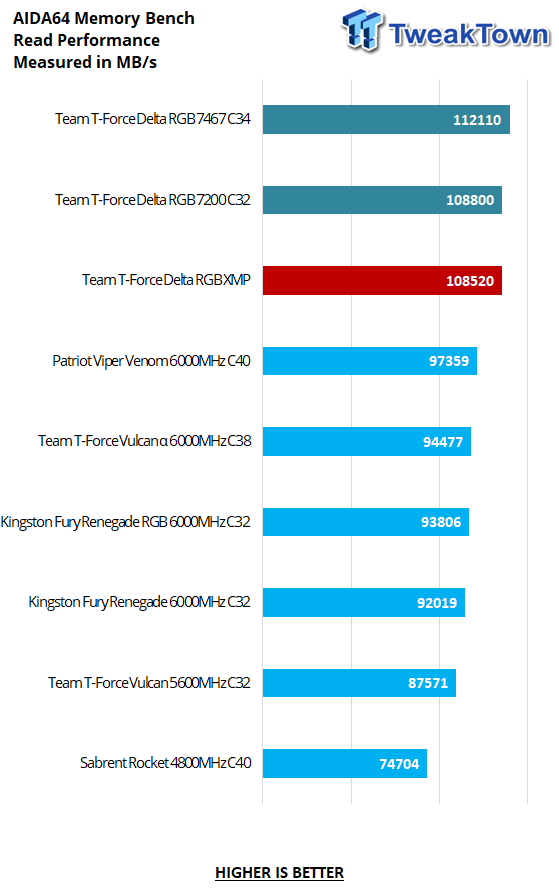 AIDA64 read performance loves this kit as well. With a gap of over eleven thousand MB/s to the next kit in line, these T-Force Delta RGB sticks show their worth. There is not that much performance to be gained with a minimal change in timings, but with more speed, we could push that bandwidth up another 3590 MB/s over the XMP profile.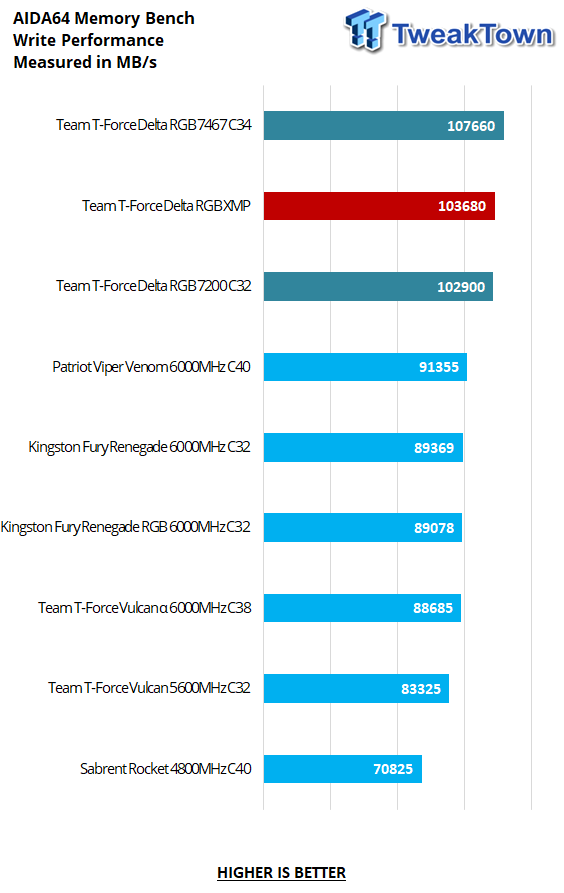 Again, regarding the write performance in AIDA64, TEAM takes top honors by a large margin. With a gap to the next competitor being 12,325 behind the Delta RGB, It is hard to find fault with what we are seeing. Reducing the timings did no good as we lost bandwidth, but increasing speed netted us near a 4000 MB/s increase.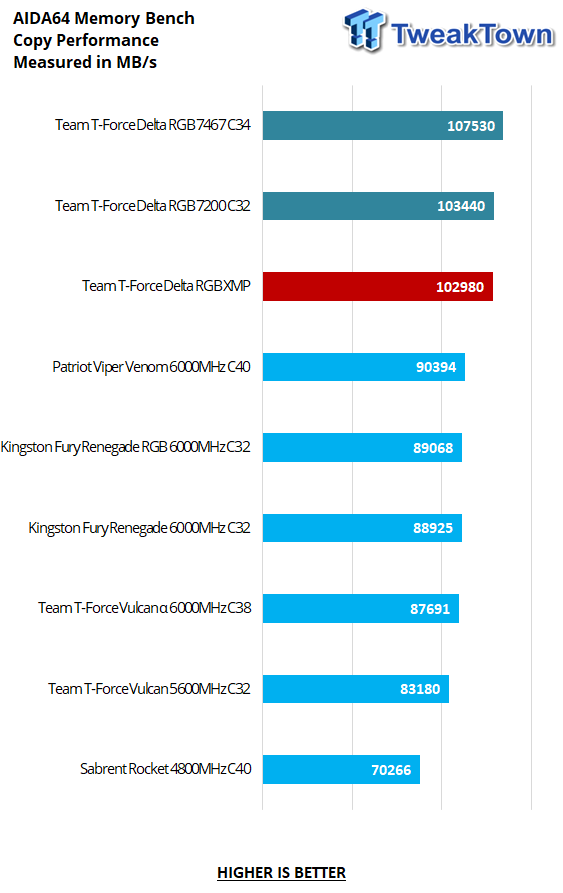 Copy performance usually bites us slightly compared to read and write, but this time we find the T-Force Delta RGB at the top of the chart. The TEAm kit is now 12,586 MB/s beyond the Viper Venom with the XMP profile active, and it only gets better for us as we try our various overclocks.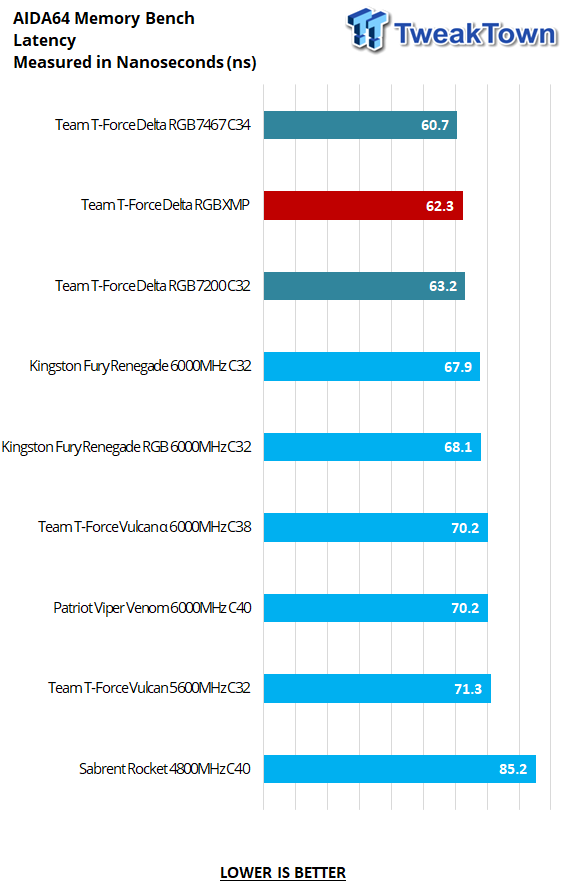 Latency is also excellent. We find a nice reduction in latency compared to all the other listed RAM, and the XMP profile results sit between both attempts at clocking the kit, with all three at the top of the chart.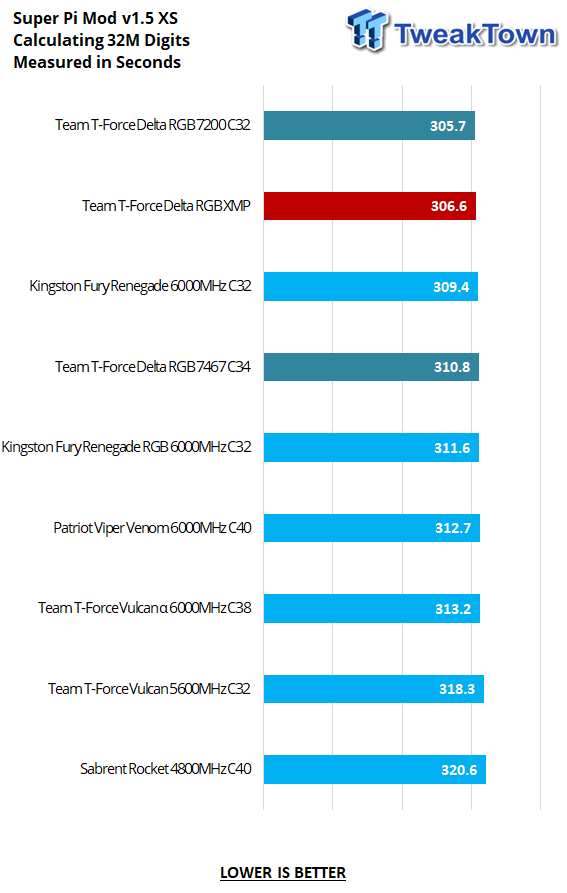 Even with SuperPi, we were able to turn out some fantastic times to complete 32M tests. The XMP profile is strong, but we could do better with a slightly lower CAS timing. Oddly, more speed hurt the results, but they are still in good standing compared to the rest.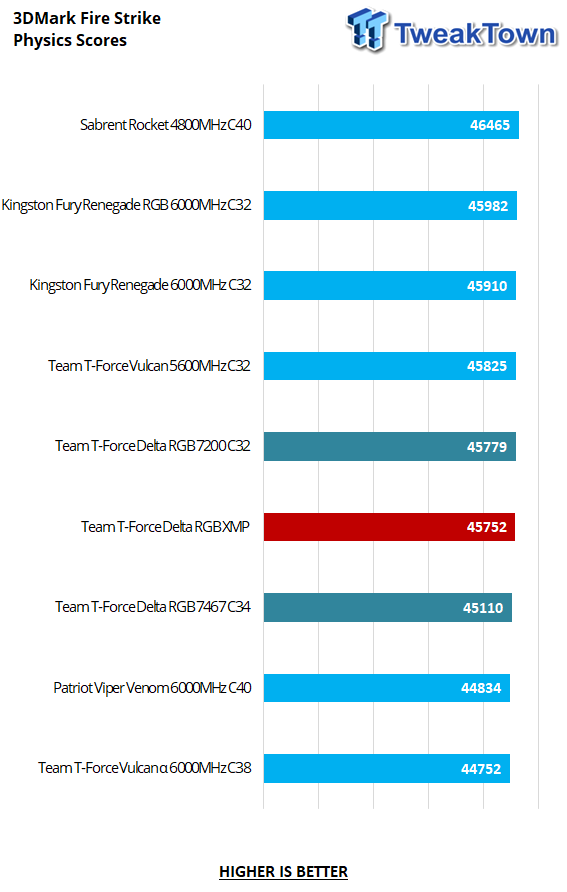 When it came to 3DMark benching in Fire Strike, the physics scores are a bit depressing, but this is the only time you will find this kit flounder with the results in any of our charts.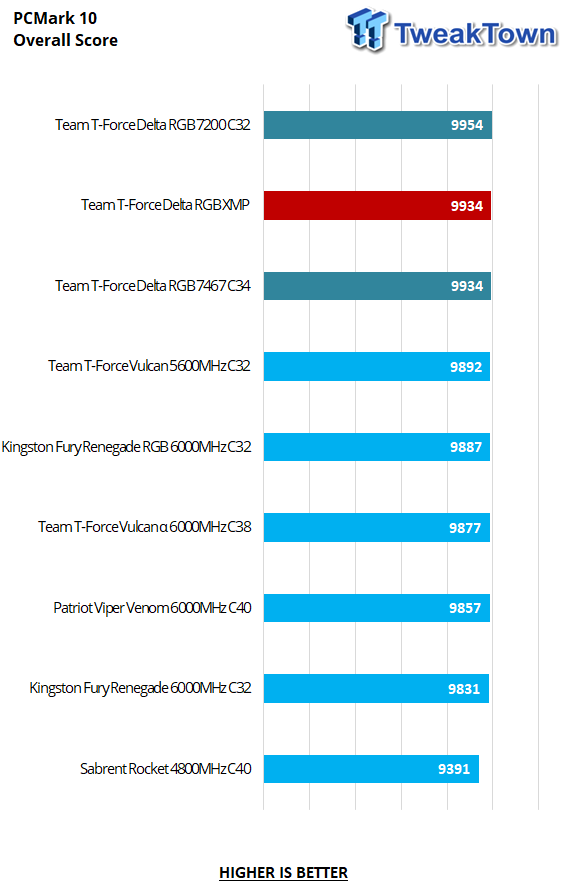 PCMark 10 has no issues with our TEAM T-Force Delta RGB set, as we find it at the top of the chart. There is a considerable gap in the points to the next competitor. When overclocking, we found lower timings win out over the XMP profile, but adding more speed was tied with the XMP results.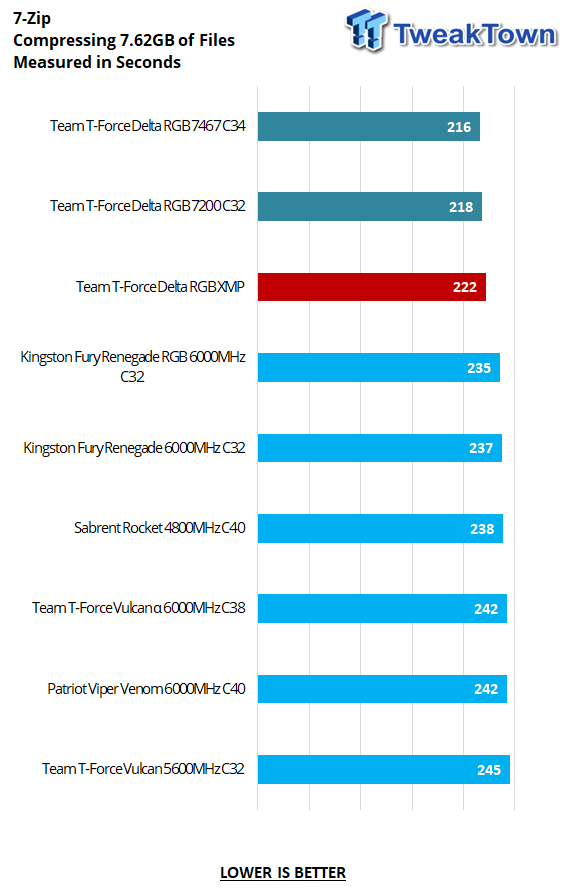 If file compression is your jam, the Delta RGB shows a strong finish. We were thirteen seconds faster than the next kit in line, but we dropped another four seconds by lowering the CAS and yet another two seconds faster than that with more speed added.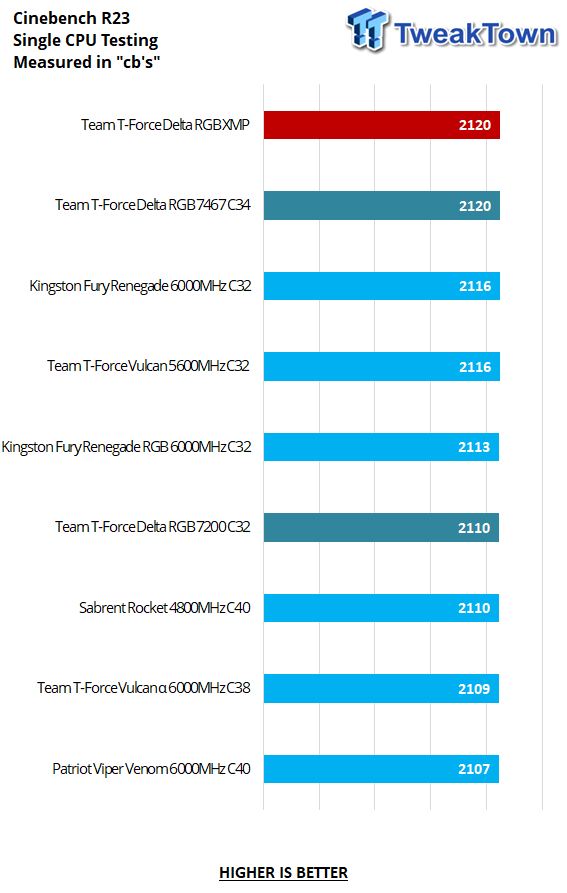 Cinebench R23 prefers more speed, even though the gap to the next kit is small. Out of the box, we got the same performance as when we added more speed, but sadly lowering the timings put TEAM in the middle of the pack.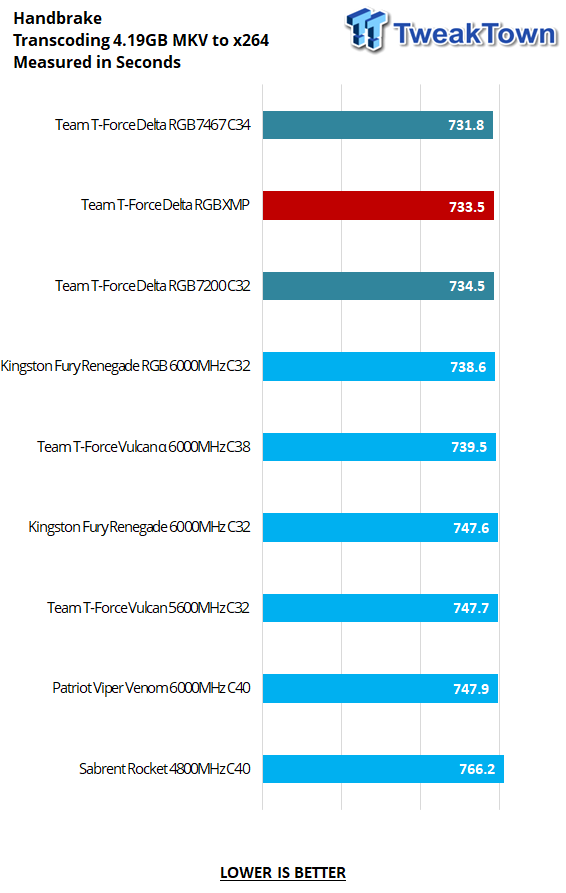 Transcoding is rough on RAM, but TEAM comes out smelling like a rose. At a minimum, five seconds faster than all of the other kits is a strong result in this benchmark. A reduction in timings is a second slower than the XMP result, but we dropped another couple of seconds with an increase in speed.
Final Thoughts
Being the first of what we would consider a "high-speed" set of DDR5, we are in no way disappointed with the results we got in testing. TEAM did flounder in 3DMark scores, but one chart in ten, where the Delta RGB took top honors in all others, we won't hold it against TEAM too much.
TEAM is also the first to deliver a set of the coveted A-die SK Hynix ICs, combined with an unlocked PMIC, letting users take advantage of more performance should they choose to. However, as well as this kit performed, the average user will be more than happy with what they get from the TEAM T-Force Delta RGB at 7200 MHz.
Visually, yes, we have seen this aesthetic before this review, but it is still as good to look at as it ever was. The blend of white on black is a theme that would go well in any build, and with the RGB lighting on top of them, you get the best of all worlds.
Some might say that illumination can take away from the ability to OC a kit, and if that is true, wow, this DDR5 has a lot to offer those willing to push the boundaries. Considering we barely touched the voltages, and as tight as the timings are at this speed, we are honestly shocked there was any movement in the timings, and we never expected to reach 7467 MHz either.
The only downside to a kit like these T-Force Delta RGB we just looked at is the cost. However, this is of no shock to us. If you want some3 of the best in the game, you will have to pay up for it, and we do not see the $274.99 that we found these listed at as an extraordinarily high price point. We have awarded many kits with less value than what TEAM is offering, which is why we will be doing so again. While this is just the first of many kits we expect to see, we have to do right by TEAM and congratulate them on their efforts and speed in getting us a set.
Not only are we impressed, but we are also now running this kit in our EVA build; as we were so impressed with the performance, we couldn't see them sitting on a shelf. If, like us, you want something that blows away the competition with little more than enabling a profile keeping you from it, we see no reason to pass on these T-Force Delta RGB 7200 CAS34 kits.