PNY Technologies, Inc. ("PNY"), world renowned manufacturer of USB and Memory products, has officially released an assortment of Hook Series USB Flash Drives. These metal Flash Drives feature a unique design that sets them apart from other USB Drives available in the market today. Each of these USB Flash Drives feature an integrated hook-and-lock mechanism that offers safe and secure storage for all of your important files.
Specially crafted with high-quality metal housing and polished designs, each of the PNY Hook USB Flash Drives are durable enough to withstand daily and rigorous use. These flash drives can hook on to everything that it is attached. You can attach your Hook USB Drive to your wallet, bag, purse, belt loops and other accessories. The Hook series of PNY USB Flash Drives are ultra-compact and extremely portable in size - perfectly suited to carry your files anytime and anywhere.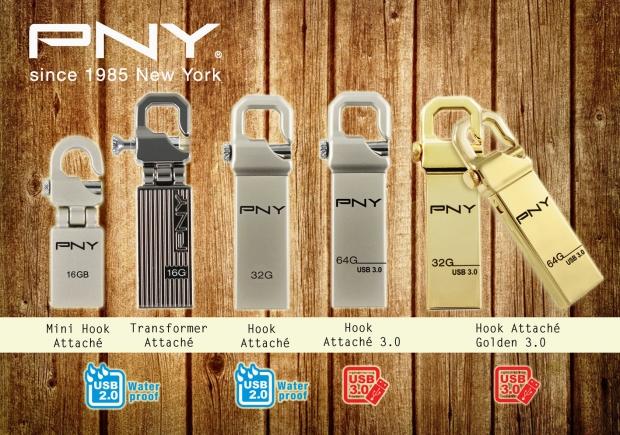 The PNY Hook series range includes a variety of designs and features under their diverse range of USB flash drives:
Hook Attache: The Hook Attache is an ultra-compact, portable and functional USB flash drive. Manufactured in high-quality zinc alloy with durable metal covering and multiple-plated surface of copper and nickel, the Hook Attache lends a rich, modern and industrial look. Available in memory capacities ranging from 4GB to 64GB, you can transfer and share songs, movies, pictures, music, documents and more.

Transformer Attache: True to its name, the Transformer Attache can rotate 180 degree and completely transform to change its position. It's distinguished hook-and-lock function allow the Transformer Attache to be securely attached to your bags or backpacks. The Transformer Attache is crafted in a high-quality metallic casing that gives it a professional and classic appeal. It's durable and resilient against water, dust and scratches.

Mini Hook Attache: Weighing 6.88g and measuring at 4.5mmH x 12mmW x 39mmL, the Mini Hook Attache is the smallest and lightest USB flash drive among the PNY's Hook series. Despite being ultra-compact and lightweight, it also features the hook-and-lock function that allows it to be extremely portable. It can be easily attached to bags, backpacks and wallets. Its exterior casing is made up of strong metal housing with a high quality, shock resistant layer. Available in silver, the Mini Hook Attache can store images, music, files with storage options ranging from 4GB to 32GB.

Gold Hook Attache 3.0: The Gold Hook Attache offers USB 3.0 specifications for faster transfer of files from your computer. This gold edition flash drive comes in a durable metallic casing with golden color plating. Mirror reflective surface and carabineer hook design lends a classy, rich and modern look. It exudes high fashion and taste with its well-crafted and precise attention to beauty and functionality. Carry it as a personal accessory at professional environments, or at social events if you want to make an impression. The Gold Hook Attache also makes an excellent gift option for your friends and family. It is available at memory capacity from 8GB to 64GB.

Hook Attache 3.0: With USB 3.0 specifications, the Hook Attache 3.0 offers fast data transfer of files, documents and much more. Store and transfer files in minutes with read and write speed up to 115MB/s read and 21MB/s write (in 64GB capacity). It's created with high quality zinc alloy casing topped with smooth silver color, multiple-plated with copper and nickel finish. The carabineer hook design allows it to be hooked on to wallets, bags or backpacks. It's the ultimate storage solution.
The Hook series of flash drives are available at storage options varying from 4GB to 64GB. All the models work smoothly with all the recent versions of Windows operating system and also Mac OS 10.3 and above. The Hook Series USB Flash Drives offer 5 years of limited warranty.
Last updated: Apr 7, 2020 at 12:09 pm CDT