With its modern design and bold engineering, the H440 has quickly become an NZXT fan favorite. Now, NZXT is happy to announce the availability of three new special edition colors: Black/Blue, Black/Green and Black/Orange.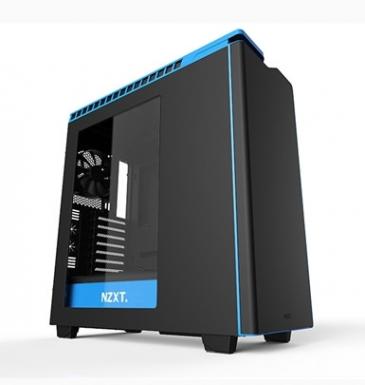 Each color is available exclusively through three different channels. The Black/Blue may be found on the NZXT Armory Store, the Black/Green may be found at Microcenter and the Black/Orange can be purchased from Newegg.
With its groundbreaking new interior design, the H440 guarantees a streamlined PC-building experience without sacrificing any of the luxuries builders have grown accustomed to in a high performance case.
NZXT has taken a bold step and completely removed the antiquated and often unused 5.25" optical bays to make room for a host of chassis improvements and innovations. Looking through the H440's massive full-view window will reveal an interior specially engineered to make any build seamless and beautiful.
An integrated power supply shroud completely conceals cables and offers an unprecedented amount of cable management space. Additionally, you'll find two SSD trays mounted above the shroud along with proper cutouts for precise cable routing. Four of NZXT's newly designed steel HDD trays are also included for additional storage expansion.
The H440 is the first case to include NZXT's next generation case fans, the FN V2. 1 rear 140 mm exhaust fan and 3 front 120 mm intake fans provide an effective and comprehensive cooling solution right out of the box. Supporting both 140 mm and 120 mm fans, the steel top and front panels come Kraken ready - fitting radiators up to 360 mm in size to offer versatile water cooling options in a sleek, minimalist package.
The Black/Blue H440 is available now on the Armory Store for just $119. Microcenter's Black/Green is also available now for $119, while Newegg's Black/Orange will be available in the coming weeks.
Last updated: Apr 7, 2020 at 12:08 pm CDT