The EVGA GeForce GTX 760 is the new weapon of choice for gamers - a powerful graphics card that gives you the fast, smooth, quiet gaming you're looking for in all your favorite titles. This series will also use EVGA's award winning cooler; the EVGA ACX Cooler. This double ball bearing design redefines traditional enthusiast coolers. Starting with a 40% increase in heatsink volume, the EVGA ACX is more efficient at dissipating heat, allowing for 15% lower GPU temperatures.
EVGA also spent time to ensure that even the fan blades were of the highest quality; with a 700% increase in strength, and 25% lower weight when compared to competitors dual fan designs. This makes the fans 20% more efficient by requiring lower power levels. Of course, EVGA is also using double ball bearing fans which offer a 12 year lifespan; this is 4X longer when compared to competitors.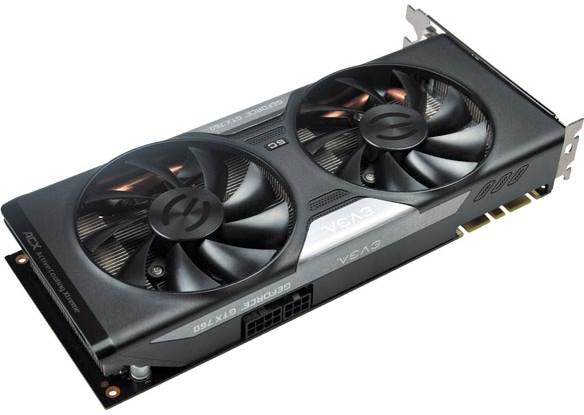 Key Features:
NVIDIA SMX Engine - The new Kepler SMX streaming multiprocessor is twice as efficient as the prior generation and the new geometry engine draws triangles twice as fast. The result is world class performance and the highest image quality in an elegant and power efficient graphics card.

NVIDIA GPU Boost 2.0 - Dynamically maximizes clock speeds to push performance to new levels and bring out the best in every game. Boost 2.0 allows complete control over Temperature Target and Power Target, allowing a new way to customize your overclock. Also, with the new EVGA Precision X, you can increase the voltage for maximum over clock!

NVIDIA FXAA - Anti-aliasing smoothes out jagged edges but can be demanding on framerates. FXAA is a new antialiasing technology that produces beautiful smooth lines with minimal performance impact. And with Kepler based GPUs, you'll be able to enable FXAA in hundreds of game titles through the NVIDIA Control Panel.

NVIDIA TXAA - An in-game option that combines MSAA, temporal filtering, and post processing for even higher visual fidelity. Get the image quality of 8X MSAA with the performance hit of only 2X MSAA. This means a smoother gaming experience without the loss in FPS normally associated with this level of eye candy.

NVIDIA Adaptive Vertical Sync - Nothing is more distracting than framerate stuttering and screen tearing. The first tends to occur when framerates are low, the second when framerates are high. Adaptive V-Sync is a smarter way to render frames. At high framerates, V-sync is enabled to eliminate tearing, at low frame rates, it's disabled to minimize stuttering. It gets rid of distractions so you can get on with gaming.

Frame Rate Target - Set a target Frame Rate with EVGA Precision X and your card will automatically adjust the power/performance to meet that target. This feature delivers the ultimate in efficient gaming.

NVIDIA 3D Vision Surround - Imagine expanding your gaming real estate across three displays in full HD 3D for a completely immersive gaming experience. With the EVGA GeForce GTX 760, you can also use award-winning NVIDIA 3D Vision technology to build the world's first multi-display 3D gaming experience on your PC. Additionally, the GeForce GTX 760 supports an accessory display for the ultimate gaming experience!

PCI Express 3.0 - Offers double the bandwidth of PCI Express 2.0, for the highest data transfer speeds to allow for maximum performance in bandwidth-hungry games and 3D applications. The GTX 760 is still backwards compatible with all existing PCI Express motherboards.

Pixel Clock Control - Use EVGA Precision X to "overclock" your refresh rate. With the latest EVGA Precision X, you can now increase your pixel clock! This allows for increased refresh rates on select monitors, meaning smoother gameplay and reduced screen tearing
Learn more about the EVGA GeForce GTX 760 here.
Last updated: Apr 7, 2020 at 12:08 pm CDT