Advantech, a global embedded platform manufacturer, today unveiled the new ASMB-822I server-grade motherboard powered by Intel Xeon processor E5-2600 family technology. This new technology comprises 64-bit multi-core processors, PCI Express Gen3 high speed communications, and DDR3 memory with total capacity up to 96GB. ASMB-822I is perfect designed for high performance demands such as NVR, DVR and also target to video wall, video conferencing, surveillance and other mission-critical applications.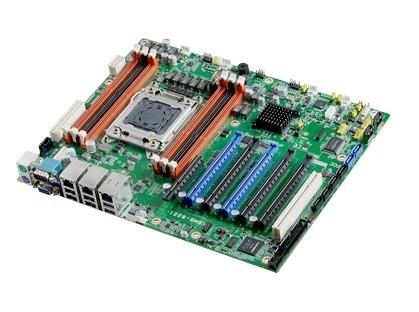 "Advantech is committed to providing a full spectrum of embedded systems with advanced and intelligent built-in technology, from fanless and ruggedized to high-performance solutions," said Linda Tsai,Director of Advantech Embedded Systems Group. The ASMB-822I is an ATX server board equipped with LGA 2011 Intel Xeon processor E5-2600 series and Intel C602J series chipset. It supports six DDR3 registered DIMM slots for a 96 GB total capacity and dual GbE LANs using Intel controllers.
Rich Expandability and Performance
The ASMB-822I comes with high connectivity and expansion options including: five PCIe x16 slots with x8/16 link (PCIe Gen3),one PCIe x8 slot withx4 link (PCIe Gen2), and one PCI expansion slot. Supports up to ten USB 2.0 ports (rear side and onboard header), two USB 3.0 ports in the rear for high speed devices. And also two USB Type-A connectors inside the chassis for USB dongle installation and for security and convenience needs.
Other I/O support includes: two COM ports and six SATA drives?composed of fourSATA2and two SATA3, which can achieve fast 3Gb/s for SATA2 and 6 Gb/s for SATA3 data access.
The SATA ports support software RAID 0, 1, 5, and 10 for fast, reliable data storge and transmission. The ASMB-822I also has dual Gb LANs that support teaming/failover, jumbo frame and virtualization applications.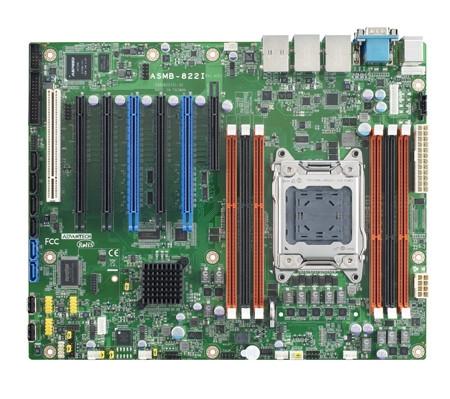 Resource Efficiency: Expansion Slot with Auto Switch Function
Besides high performance and rich expansion slots, the ASMB-822I also supports an auto switch function for efficient resource deployment across expansion slots. Slot pair 5 and 6, and slot pair 3 and 4 both support auto switching. If a PCIe x16 card is in slot 6, with nothing in slot 5, slot 6 fully supports PCIe x16 link. If there is a card in slot 6 and also inslot 5, both slots automatically support at PCIe x8 link. Slots 3 and 4 work the same. The board accommodates up to five full-length cards with no trouble. Auto switching provides for full, efficient signal use, with attendant resource savings.
Industrial Benefits: Reliability and Manageability
ASMB-822I offers high reliability and manageability, both for hardware and software. Unlike commercial server suppliers, Advantech has specific knowledge in the embedded domain that helps meet industrial needs. With its SSI (Server System Infrastructure) compliance, ASMB-822I is compatible with a standard chassis for easy assembly and maintenance. All components are industry-proven, and only solid capacitors are utilized, for high MTBF reliability.
As with most Advantech's server-grade IPC products, ASMB-822I supports IPMI 2.0, which permits out-of-band and cross-platform, remote system update and recovery, as wellas monitoring of voltage and temperature. An innovative thermal design is complemented by BIOS settings for optimized quiet fan curve control. In the event of system failure or blue screen or other errors, issues can be reported and recovery actions such as system reset or power down can be conducted remotely. This helps system administrators easily maintain and troubleshoot systems, especially in unmanned environments.
3-5-7 and CTOS Services
All Advantech server-grade products, including this new ASMB-822I serverboard, offers a long-term commitment to customers: 2 year standard warranty, up to 5 years of extended warranty, and a 7-year guaranteed product supply. For the 3 levels of service, if any customer has a system issue, Advantech provides a dedicated, professional AE for 1st level trouble shooting; strict revision control and parts repair comprise the 2nd level of service; and flexible BIOS or mechanical customization support from the 3rd level of expert backup. Advantech also provides Configure to Order Service (CTOS) that enables flexible server system configuration with local services. The ASMB-822I can be integrated with an Advantech 2U or 4U/Tower IPC chassis to fulfill server applications requiring a high level of compatibility. Customer requirements for non-Windows operating systems such as Linux, QNX or Novell also can be fulfilled on request. Please contact your local Advantech sales office, or visit the website for more information.
Last updated: Apr 7, 2020 at 12:08 pm CDT