February 21, 2013, Keelung, Taiwan - Lian-Li Industrial Co. Ltd, today announces a new brushed aluminum mid tower chassis, the PC-9N. Supporting ATX and micro-ATX motherboards, the PC-9N forgoes the traditional motherboard tray, and instead implements a railing mount design for increased thermal performance and better cable management.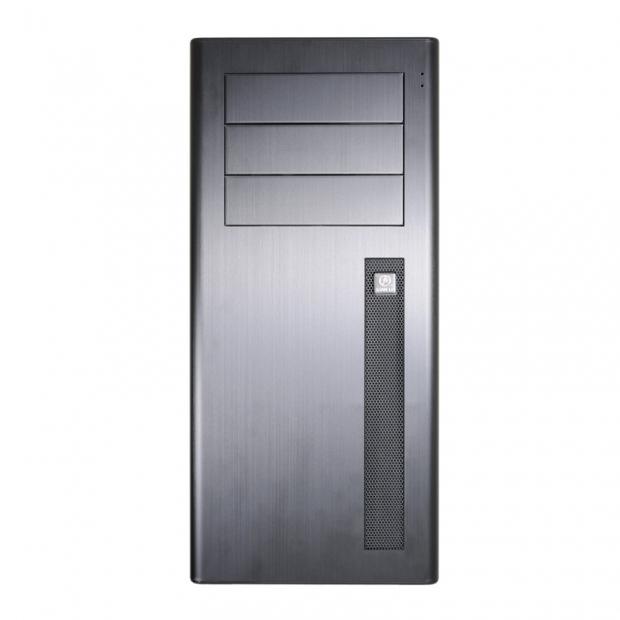 Lian Li's new railing mount technology greatly improves airflow under the motherboard, helping systems run cooler. This innovative Lian Li design replaces the traditional solid motherboard tray used in competing products, which blocks airflow and adds to system weight and cost. The new railing system also provides better routing options for internal wiring and cables, reducing clutter, improving system appearance and further improving airflow.
The Lian Li PC-9N holds up to three 3.5-inch hard drives and one 2.5-inch SSD in its all aluminum, tool-less, modular drive cage at the lower front of the chassis. The drives are secured by quick-access thumbscrews with rubber suspensions to greatly reduce irritating noise and vibrations. The HDD cage itself can be swiftly removed or rotated for easy maintenance access or case modification.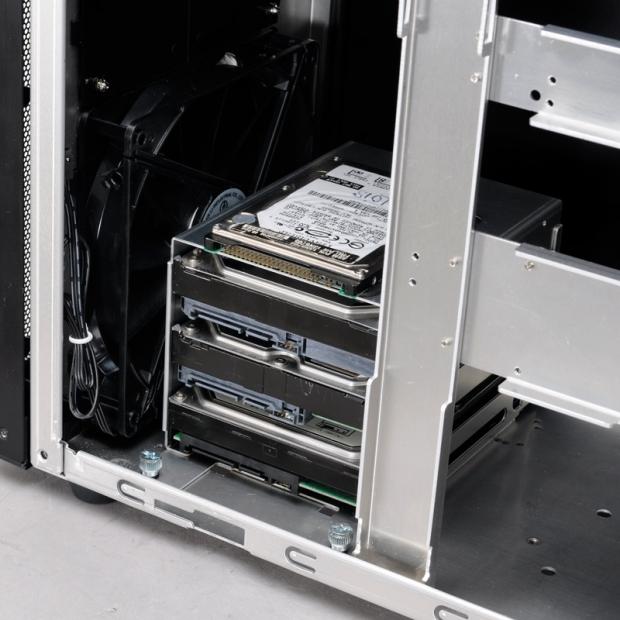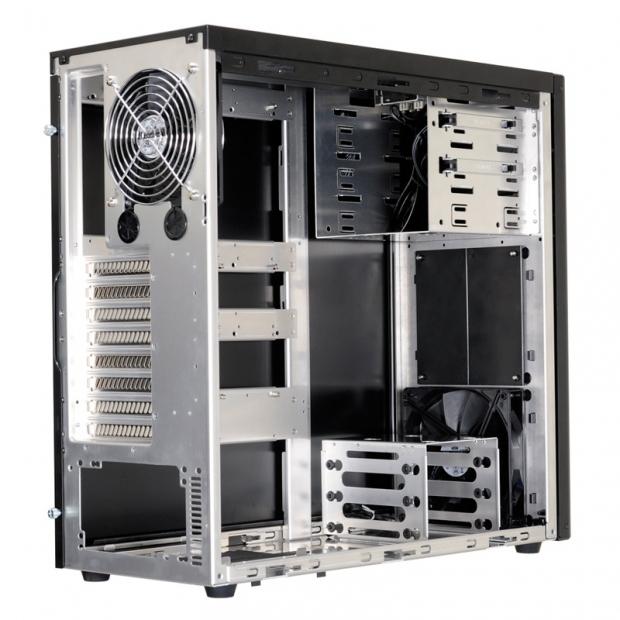 At the top of the chassis are three 5.25-inch drive bays with external access. The tool-less design of the bays, makes it easy for DIY builders to install optical drives.
A 140mm fan at the front pulls cool air into the chassis, and directly onto the hard disk drives. There is space for another optional 140mm fan in the middle of the front panel, where it can push external air directly across the motherboard and expansion cards, for advanced cooling requirements. The front panel can be removed without tools, making it easy to clean and maintain the air filters. The rear 120mm exhaust fan pulls hot air out of the chassis.
The PC-9N accommodates CPU coolers up to 170mm (6.6 inches) in height. The PC-9N has 8 vented expansion slots with thumb screws. There's space for very long VGA cards up to 430mm (16.93 inches) in the chassis.
Power supplies up to 300mm (11.81 inches) in length fit easily at the bottom of the PC-9N. Ventilation slits underneath the PSU, with a removable pull-out air filter, help increase the life and performance of the power supply and system.
The I/O panel on the top of the case has two USB 3.0 and HD audio connections. A door covers the I/O panel to protect it from dust and keep the elegant look when not in use.
The PC-9N is available in two stylish color options: silver (PC-9NA) and black (PC-9NB).
Look out for more PC cases featuring Lian Li's new motherboard mounting system and other technical innovations in the near future.
Check out Lian Li's new facebook page at: http://www.facebook.com/LianLiHQ
Last updated: Aug 2, 2020 at 12:18 am CDT