February 2013 - Milpitas, CA - HighPoint Technologies launches the Industry's fastest USB 3.0 RAID HBA's available for Mac OS X 10.8x Mountain Lion - the RocketU 1144CM. This third generation, PCIe 2.0 RAID HBA delivers 5Gb/s per-port performance and supports up to 4 external USB SSD's, hard drives or Enclosures.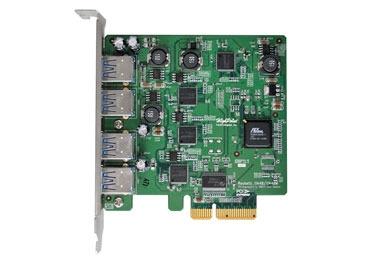 Dedicated 5Gb/s per-port Performance
HighPoint's innovative 4-Port HBA architecture delivers revolutionary USB 3.0 performance. Unlike conventional USB 3.0 HBA's, each port has a dedicated USB 3.0 SuperSpeed controller, and delivers the fastest SATA performance possible over USB connectivity. The four independent 5Gb/s USB 3.0 Type-A connectors can be used simultaneously, and deliver an unprecedented transfer bandwidth of 20Gb/s; ideal for multi-drive configurations of high-performance SATA 6Gb/s SSD's and hard drives.
USB 3.0 RAID Solution for Mac Pro's and Mac OS X
The RocketU 1144CM is powered by HighPoint's industry proven hardware assisted RAID technology, and was designed specifically for Mac Pro workstations and high-performance applications. RocketU 1144CM HBA's are fully compatible with OSX 10.6x and later, including the most up to date builds of Mountain Lion 10.8x.
Each RocketU 1144CM includes HighPoint's intuitive Web-based management interface, which allows administrators to quickly create and manage a variety of storage configurations including RAID levels 0, 1, JBOD, and individual drives.
Complete Host to Device USB 3.0 Storage Solutions
The RocketU 1144CM is the perfect companion for the RocketStor 5122B, the Industry's fastest dual-bay USB 3.0 storage dock. Both devices capitalize on HighPoint's unique USB 3.0 architecture to ensure 5Gb/s transfer bandwidth for each SATA device. Each RocketU 1144C can support up to two RocketStor 5122B storage docks - ideal for configurations calling for two or more 6Gb/s SATA SSD's and high-capacity 4TB hard disk drives.
Availability and Pricing
RocketU HBA's and RocketStor Storage Docks are available immediately from our worldwide network of Distribution and Reseller channels.
Distribution Channels: ASI, D&H Distribution, MaLabs
E-Commerce Channels: Amazon.com, Amazon.ca, B&H, Newegg.com
MSRP
RocketU 1144CM - USD$ 149.99
Last updated: Apr 7, 2020 at 12:07 pm CDT