AVADirect, a leading provider of custom computer solutions, now offers NVIDIA GTX 690 Dual Graphics Card.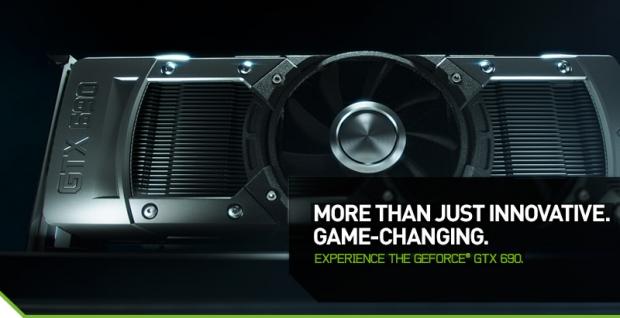 NVIDIA recently released the GTX 680 graphics card to create a new, immensely unprecedented gaming experience that changed the way enthusiasts think of graphics card performance. Now, AVADirect offers the latest development from Nvidia, the GTX 690 dual graphics card. Never seen before, the GTX 690 dual graphics card provides vastly improved performance over previous dual graphics card from both NVIDIA themselves and competitors ATI.
AVADirect largely believes that the Kepler giant will take a large part in offered high-end gaming desktop and workstations. NVIDIA has made historic improvements to the thermal design of their products, and the GTX 690 is solid proof. Using materials such as case aluminum, trivalent chromium, and magnesium alloy, the GTX 690 easily surpasses previous dual graphic card designs by utilizing said materials to create a new way to dissipate heat, improve acoustic dampening characteristics, and reduce the overall weight of the unit. The form of molding used, known as thixomolding, was adopted by NVIDIA to create the new solution implemented into the GTX 690. This is just one of the many reasons the GTX 690 will easily be remembered throughout history.
The GTX 690 offers specifications similar to the GTX 680, with 32 ROPs, 1536 unified shaders, 29.3 pixel fillrate, 256 Bit Bus Width, 2GB of GDDR5, 192.3 GB/s of bandwidth, a 915Mhz GPU clock (with a 1502 memory clock) with a 1020Mhz boost clock, a newly added feature to the Kepler graphics card line. With impressive specifications as these, AVADirect is confident to incorporate the GTX 690 dual graphics card in select configurations to shatter benchmarks throughout the board. Compared to a set of GTX 680s in SLI, the GTX 690 falls just below performance on average, and is about $200 more than a GTX 680 SLI setup. To many, his may seem a little on the short-handed side, however there are positives to consider in this comparison. Many have boards that many not support SLI, have limited space in their cases, or prefer a solution that consumes less power and produces less heat output. The GTX 690 exhausts the same heat of a single GTX 680 and consumes 75w less, on average, than a GTX 680 SLI setup. With the GTX 690 offering quad SLI support, it makes the GTX 690 a very tempting choice.
AVADirect is offering the GTX 690 in select configurations. They will begin to offer manufacturer variants as they are released.
Last updated: Apr 7, 2020 at 12:06 pm CDT