Kingston Digital, Inc., the Flash memory affiliate of Kingston Technology Company, Inc., the independent world leader in memory products, today announced the Kingston DataTraveler HyperX 3.0. The DataTraveler HyperX 3.0 is designed for enthusiasts, gamers, early adopters and high end consumers; it features the fastest speeds and largest capacities that Kingston has to offer in a USB Flash drive. Faster speeds and higher capacities enable users to quickly store their digital files and keep it with them at all times, in HyperX style.
Its high-speed eight-channel architecture provides USB 3.0 data transfer rates of up to 225 MB/s read and 135 MB/s write. Users can save time associated with opening, editing and copying large files and applications between devices. The fast write speeds also allow users to work on large files or applications directly from the USB 3.0 drive without performance lag.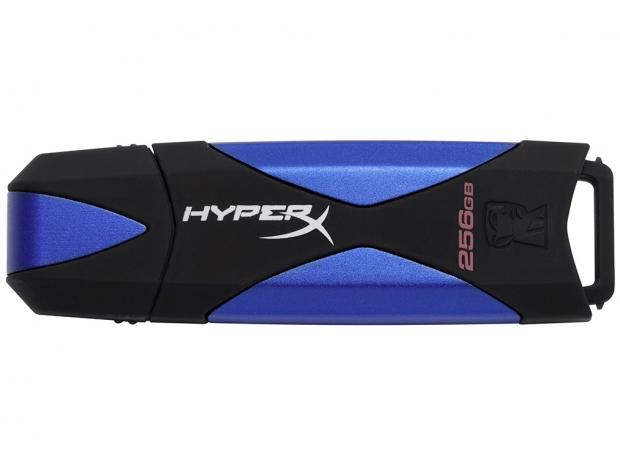 "Enthusiasts have long known HyperX as the memory of choice for overclockers and power users who need the most performance from system memory," said Krystian Jaroszynski, product marketing manager Flash, Kingston Technology. "The new DataTraveler HyperX 3.0 USB Flash drive continues this tradition. With the fastest speeds and largest capacity, this storage device is the perfect solution for users who require high performance whilst carrying their digital library."
The DataTraveler HyperX 3.0 is available in 64GB, 128GB and 256GB capacities. The 256GB capacity can store approximately 10 Blu-ray Discs (25GB each), 54 DVDs (4.7GB each), 48,640 MP3s (4MB each) or 13,473,684 Microsoft Word files pages with various formatting and basic graphics.
With a durable and sleek design the DataTraveler HyperX 3.0 features a metal and rubberized casing with a reinforced key ring hole for daily use. It allows users to keep it with them at all times, as it can be easily attached to a key ring or lanyard.
Kingston DataTraveler HyperX 3.0 Features and Specifications:
• Capacities: 64GB, 128GB, 256GB
• Speed:
- USB 3.0: up to 225 MB/s read and 135 MB/s write
- USB 2.0: up to 30 MB/s read/write
• 8-Channel Architecture
• Backwards Compatible: with USB 2.0 and USB 1.1 ports
• Solid/rugged design: durable metal and rubberized casing provides increased protection
• ReadyBoost Support
• Dimensions: 2.952" x 0.916" x 0.626" (74.99mm x 23.29mm x 15.9mm)
• Operating Temperature: 32°F to 140°F (0°C to 60°C)
• Storage Temperature: -4°F to 185°F (-20°C to 85°C)
• Simple: just plug into any USB port
• Practical: durable casing with a solid lanyard loop
• Warranty: 5 Years

Last updated: Apr 7, 2020 at 12:05 pm CDT