-- GIGABYTE Announces H55 Mini-ITX Contest on HWBOT --
-- Back-to-Basics H55N-USB3 Overclocking Challenge --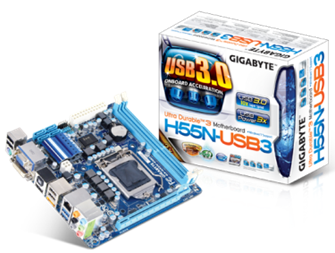 TAIPEI, Taiwan - August 2, 2010 - GIGABYTE TECHNOLOGY Co., Ltd, a leading manufacturer of motherboards, graphics cards and other computing hardware solutions today announced a new overclocking competition in conjunction with HWBOT.org called the H55 Mini-ITX Contest.
With an eye on going back to the hobbyist roots of overclocking, GIGABYTE and HWBOT thought it would be a good time to host a competition centered around the basics of overclocking. So, during the month of August, show us how far you can push your GA-H55N-USB3 motherboard and submit your Super PI 32m scores on HWBOT. Since not everyone has access to LN2, we've split the competition into two categories; Stage 1 we've limited the CPU speed to 4000 MHz, and Stage 2 has no CPU speed limit.
Since most of you are in this sport for the love of overclocking, and not for the love of prizes, we've decided not to announce any. That's not to say there won't be any at the end of the competition for the winners, but for the true overclocking purists out there, it gives you the chance to show the community you are doing this for fun (and maybe just a little for the bragging rights).
We are also looking to see who is the fan favorite, so make sure to vote using HWBOT's voting system (there might just be a lucky draw prize in it for those of you who vote). Good luck everyone and have fun!
To learn more about the GIGABYTE H55 Mini-ITX Contest, please visit:
http://hwbot.org/competition/gbt_h55_mitx
.
The H55N-USB3 is unique because it is the only Intel H55 chipset Mini-ITX motherboard with next gen USB 3.0 technology. For more about the GIGABYTE GA-H55N-USB3 motherboard please visit:
http://www.gigabyte.us/MicroSite/238/index.htm
.
About GIGABYTE Upgrade Your Life
GIGABYTE, headquartered in Taipei, Taiwan, is known as a global leading brand in the IT industry, with employees and business channels in almost every country. Founded in 1986, GIGABYTE started as a research and development team and has since taken the lead in the world's motherboard market. On top of motherboards and graphics accelerators, GIGABYTE further expanded its product portfolio to include notebook and desktop PCs, digital home entertainment appliances, networking servers, communications, mobile and handheld devices, servicing every facet of people's lives at home or business. Everyday GIGABYTE aims to "Upgrade Your Life" with the most innovative designs and impeccable quality and services. Visit http://www.gigabyte.us/ for more information.
Last updated: Apr 7, 2020 at 12:02 pm CDT