The MSI Wind U135DX - Fast and furious
MSI has unveiled the Wind series U135DX netbooks with MSI's new generation, exclusive TDE technology and Intel ATOM processor N455 for high mobility, high performance, and extended battery power.
Taipei-MSI offers you the new-generation, custom-designed 10-inch Wind U135DX netbook with chic exterior sheathed in MSI's own Color Film Print. It comes equipped with Intel's latest ATOM processor N455, which supports DDR3 system memory and works with MSI's TDE turbo drive technology for processor and memory to give you a mobile computing experience characterized by lightness, power savings, and high performance.
MSI Marketing Director Sam Chern explains that the Wind U135DX is a new generation netbook crafted meticulously by MSI. It comes with Intel's most advanced ATOM processor N455 and TDE technology which can accelerate processor instantaneously and a solid and quiet independent Chiclet keyboard. The Wind U135DX comes in blue, red, and silver and the cover and wrist rest areas feature MSI's all new Color Film Print coating with stylish designer patterns. For comfort of use, the touchpad has been made 20% bigger, once again underscoring the care and "Insist-on-the-Best" spirit that goes into the design and production of every MSI product.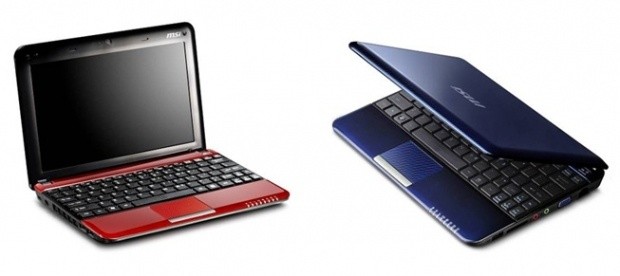 TDE technology gives unprecedented performance
TDE turbo drive technology: The Wind U135DX features MSI's epoch-making TDE's turbo drive technology which kicks in the overclocking to enhance processing performance instantly, maximizing the machine's hardware capabilities. It supports up to 2GB of DDR3 system memory for mobile computing that is lighter and faster than your wildest dreams.
Intel ATOM processor N455: The Wind U135DX comes with Intel's latest ATOM N455 processor with power-sipping single-chip architecture enhancing overall performance by 10% and extending battery life by 15%.
A trendy piece of work
Stylishly classy: The body of the MSI Wind U135DX is coated in MSI's own Color Film Print with elegant patterns set off by the NB's silver trim and wavy lines, putting the Wind U135DX in a class all its own. MSI's Wind U135DX comes in blue, red, or silver and the body comes encased in MSI's timeless shimmering color film print to protect it from scratches and wear.
Chiclet keyboard: Big on details, MSI offers the most comfortable computing experience possible. As such, the Wind U135DX employs MSI's own Chiclet keyboard with independent keys for a solid, silent touch when typing, while adding to the overall elegance.
20% wider touchpad: MSI made it a point to install the latest extended touchpad in the new generation Wind U135DX. Not only is it 20% wider for easier control, it is graced with an attractive pattern, allowing these two netbook models to provide a superior, more comfortable user experience, while enhancing overall attractiveness.
Super extended battery power*
ECO engine power saving technology: The Wind U135DX is equipped with a high resolution; power-sipping LED screen and MSI's exclusive ECO engine power saving technology which helps bring the new generation Intel ATOM processor N455 into full play, while effectively extending the netbook's battery life. ECO technology allows you to select from among five power management levels-Gaming, Movie, Presentation, Office, and Turbo Battery. This flexibility maximizes battery life, giving the U135DX up to 7 hours of battery power.
10" power-saving LED backlit display: Following in the outstanding tradition of other MSI Wind U series netbooks, the U135DX is not only light and highly mobile, it boasts a power-saving 10" LED backlit screen with 1024×600 resolution for richer, crisper colors and better readability when word processing and using the Internet-all that while being stingy on the power.
*Actual battery time will vary with differences in computer use and settings.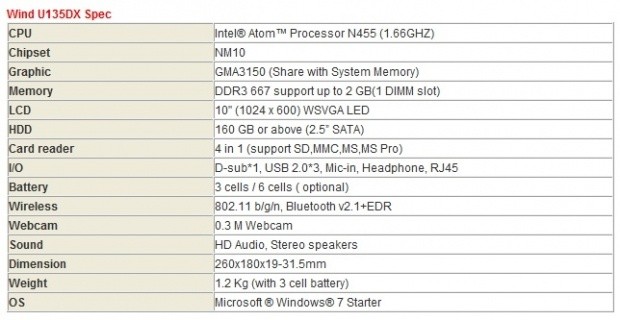 Last updated: Apr 7, 2020 at 12:02 pm CDT