Acer Introduces Aspire X5950 and X3950 Slim Desktops
The creation and consumption of multimedia have become mainstream trends among users. As a result, the PC world continues to evolve pushing the boundaries to offer users a better experience. The new Acer Aspire X5950 and X3950 excel at handling even the most demanding home computing and entertainment needs. Great for sharing your photos and videos, mixing music or doing multimedia editing, these desktops feature first-rate applications, components and performance in a cool design taking up just a third of the space of standard PCs.
Harnessing the power of the Intel Core i7, i5 and i3, a family of processors capable of delivering maximum processing power in response to the most demanding tasks such as editing multimedia files, or playing fast-paced games, these desktops can speed through intensive computing applications matching the performance according to requirements, thus ensuring maximised entertainment and productivity. Allowing much faster multitasking the Aspire X5950 and X3950 help you be more efficient and get more done in less time. On top of it, you get a reduction of power consumption while taking advantage of great performance.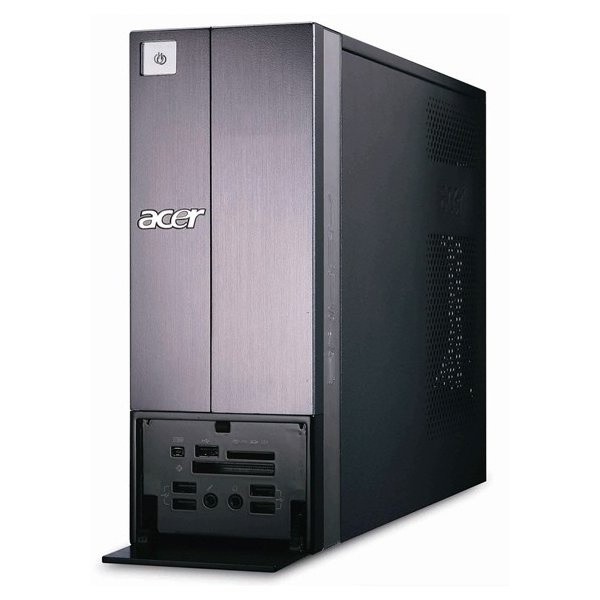 The combination of the Intel H57 Express Chipset with next-generation graphics solutions delivers high-quality visuals for dazzling HD entertainment and gaming, rich graphics and outstanding performance. To let you enjoy movies at their best, the Aspire X5950 and X3950 can be equipped with Blu-ray Disc drive that ensures the playback of the best quality video available.
And, if you want to enjoy your favourite movies on a big screen, an HDMI port provides convenient connection to the latest high-definition systems via a single cable link. Add the digital and analog hybrid TV-tuner that lets you watch digital or traditional TV, record TV shows or capture videos and you are ready for a superb entertainment experience, a true feast for your senses.
Perfect for home computing and entertainment the Aspire X5950 and X3950 are sleek and stylish, with a space saving form factor and excellent ergonomics. Frequently used ports, such as audio jacks, USB ports and a multi-in-one card reader, are easily accessible on the front of the machine and are nicely concealed and protected from dust and damages by a door when not in use. Evoking efficiency and high-tech style, the Aspire X5950 comes with a brushed-metal chassis, while the high gloss black finish of the X3950 portrays solidity and elegance.
Equipped with large hard disks, with up to 2TB of capacity, the Aspire X5950 and X3950 have plenty of space for your multimedia library. Plus, DRR3 memory architecture speeds up data transfer, ensuring a better system response.
Featured on the Aspire X5950 and X3950 is Acer Arcade Deluxe 4.0, the best way to manage your digital library. A cool and simple interface bundles:
• Arcade Photo: an intuitive tool for easily and quickly managing and showing your favourite pictures.
• Arcade Videos: view your videos, convert them to other formats or store them online.
• Arcade Music: the hub where to keep and play all your music files.
These desktops also come pre-loaded with Acer eRecovery Management, a handy utility that simplifies data recovery process with full or incremental backups and driver or application reinstallation through an intuitive interface. To further protect your important data, the new Aspire include MyWinLocker, a digital safe that stores you critical files on a secure virtual disk.
The Aspire X5950 and X3950 are the ideal solutions for multimedia home-users and entertainment enthusiasts looking for a feature-rich system that satisfies their entertainment and computing needs.
Last updated: Apr 7, 2020 at 12:02 pm CDT