KINGMAX Releases DDR3-2400 MHz Modules with 'Invisible' Heat Spreaders
KINGMAX, the world leading manufacturer of DRAM Module and Flash Products, announces the epochal product - DDR3 2400MHz with Nano Thermal Dissipation Technology. The new product abandons the traditional heat sink which has heavy and huge size, instead of the Nano Thermal Dissipation Technology to provide higher performance and economical power.
To compare with the normal heat sink which equipping with DRAM Module usually, KINGMAX DDR3 2400 MHz has the advantages as the lighter size to provide more convenient space to arrange other components ; the no power request design to offer economical operation environment than those needing external power for fans. Furthermore, the Nano Thermal Dissipation Technology enables the performance of DRAM Module to the maximum, which makes the product to be over-clocked up to 2400MHz and more.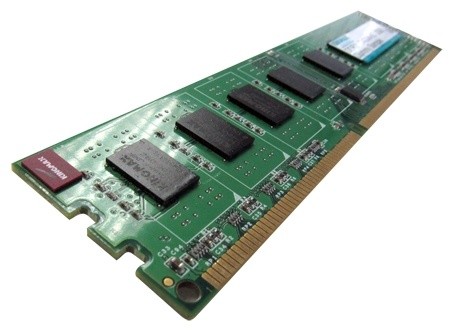 The Nano Thermal Dissipation Technology adopts the nano-size thermal dissipation silicon compound to increase the release of radiant heat. The nano-size silicon compound fills up the invisible vacant space of the smooth surface to remove the surface heat more quickly. It is like a sponge, pulls the heat and releases into the air at a faster rate than normal product by it self.
KINGMAX DDR3 2400MHz is the world first DRAM module applying the advanced thermal dissipation technology. It really not only helps the DRAM module operating smoothly than expectation, but releases the potential performance of DRAM Module to higher. Furthermore, the silicon compound could be remixed into the resin for product packaging; it would bring a better thermal dissipation result than just covering on the surface.
In addition, the Nano Thermal Dissipation technology exactly acts the key factor to improve the performance of semiconductor procedure and products. According to the Lab's data, the DRAM Module which applying the Nano Thermal Dissipation Technology has 2? decreased than normal one. The critical "2?"makes the DRAM Module operating smoothly than the crashed normal one.
The Nano Thermal Dissipation Technology is a green technology; it replaces traditional heat sink with insensible weight; it takes over the fans with the advantage in power supply. It reduces the size and weight than normal product and no energy requires. The above advantages do not only improve the product performance, but also help to make the environment green.
KINGMAX DDRIII 2400MHz memory module presents the best efficiency running at the highest bandwidth up to 19.2GB/s, which allows more data input and arises the system operating capability. It is perfectly developed for enthusiasts, gamers and benchmark competitors.
KINGMAX DDR3 2400Mhz DRAM module with Nano Thermal Dissipation Technology has been passed the SGS testing and compliant with RoHS standard.
Features of KINGMAX Long-DIMM DDRIII 2400 Dual-Channel:
Support Intel P55 Chipset
• Adopting Nano Thermal Dissipation Technology
• ASIC chip embedded for anti-counterfeiting purpose
• Lead-free production process
• TinyBGA technology adopted: with advantages as compact size, well heat dissipation and low EM interference
• 100% product compatibility and stability
• High data transfer performance for overclocking enthusiasts and hardcore gamers
Specification of KINGMAX Long-DIMM DDRIII 2400 Dual-Channel:
• 240-pin DDRIII 2400MHz
• CAS Latency: 10
• Bandwidth: 19.2GB/sec
• Voltage: 1.5~1.8v
• Capacity: 4GB (2GB*2)
• Worldwide lifetime warranty
Last updated: Apr 7, 2020 at 12:02 pm CDT