-- GIGABYTE Unleashes First UD7 Motherboard --
-- GIGABYTE GA-X58A-UD7 featuring 333 Onboard Acceleration, 3-Way SLI™ and CrossFireX™--
Taipei, Taiwan, November 18, 2009 - GIGABYTE Technology CO., LTD., a leading manufacturer of motherboards and graphics cards, is pleased to launch their latest flagship motherboard, the GA-X58A-UD7. Based on the Intel® X58 chipset, the GIGABYTE GA-X58A-UD7 delivers all the killer next generation features that gaming enthusiasts and power users have been waiting for including GIGABYTE's 333 Onboard Acceleration features with support for USB 3.0, Serial-ATA Revision 3.0 (6Gbps) and a 3x USB Power Boost, as well as multi-GPU support for NVIDIA 3-Way SLI™ and ATI CrossFireX™ and support for Intel's upcoming 32nm high performance processors.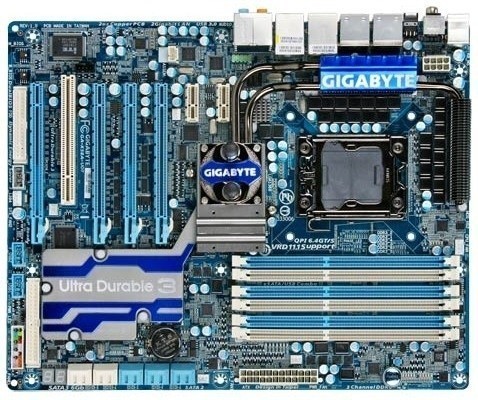 "GIGABYTE is once again raising the standard by which all other motherboards are judged with our latest flagship GA-X58A-UD7," commented Henry Kao, Vice President GIGABYTE Motherboard Business Unit. "Featuring next generation storage capabilities including USB 3.0 and SATA 3, as well as GIGABYTE's own unique 3x USB Power Boost, the GIGABYTE GA-X58A-UD7 truly epitomizes everything that a highest performance, highest feature set motherboard is all about."
Continuing GIGABYTE's technology leadership, the GIGABYTE GA-X58A-UD7 features the revolutionary GIGABYTE Ultra Durable™ 3 design, with 2 ounces of copper for both the Power and Ground layers to enable dramatically lower system temperature, improved energy efficiency and enhanced stability for overclocking. The GIGABYTE GA-X58A-UD7 also features the GIGABYTE Smart 6™ technology, offering a combination of 6 innovative software utilities that provides an easier and smarter way for managing your system, including improved system performance, faster boot-up time, secure platform management as well as easy to enable system recovery with a click of mouse button.
The GIGABYTE GA-X58A-UD7 supports the latest Intel® Core™ i7 processors for the LGA 1366 socket as well as Intel's next generation 32nm processors, offering a high level of future CPU headroom for users wanting to maintain cutting-edge levels of performance. With the memory controller integrated directly into the processor die, the GIGABYTE GA-X58A-UD7 also supports triple channel DDR3 memory for blazing fast memory performance.
USB 3.0 Support
The GIGABYTE GA-X58A-UD7 motherboard supports the latest generation SuperSpeed USB 3.0 technology made possible through an onboard NEC uPD720200 host controller. With superfast transfer rates of up to 5 Gbps, users are able to experience an almost a 10x improvement over USB 2.0. Additionally, backwards compatibility with USB 2.0 assures users of long term use of their legacy USB 2.0 devices. The onboard NEC SuperSpeed USB 3.0 technology also provides new power management features that include increased maximum bus power and device current draw to better accommodate power-hungry devices.
SATA 6 Gbps Support
Yet another onboard feature of the GIGABYTE X58A-UD7 is Marvell's new SE9128 chips for high-speed SATA Revision 3.0 compatibility, delivering superfast 6Gbps link speeds for twice the data transfer rates of SATA Revision 2.0 (3 Gbps). When used in RAID 0 (Stripe) mode, the GIGABYTE X58A-UD7 offers even faster data transfer rates of up to 4x the speed of current SATA interfaces. Another advantage of the Marvell SE9128 is its onboard RAID processor, which enables hardware based data balancing for ultra low CPU utilization, providing a much more powerful RAID solution compared to traditional software based RAID.
3x USB Power Boost
The GIGABYTE GA-X58A-UD7 motherboard features a 3x USB power boost, delivering greater compatibility and extra power for USB devices. GIGABYTE's unique USB power design is also able to efficiently regulate output over the full voltage range, which greatly enhances USB device compatibility. In addition, dedicated lower resistance fuses ensure lower voltage drops, and provide a more stable and plentiful power delivery.
For additional information about the GIGABYTE GA-X58A-UD7 motherboard, please visit the GIGABYTE website at:
http://www.gigabyte.com.tw/Products/Motherboard/Products_OverView.aspx?ProductID=3251
About GIGABYTE Upgrade Your Life
GIGABYTE, headquartered in Taipei, Taiwan, is known as a global leading brand in the IT industry, with employees and business channels in almost every country. Founded in 1986, GIGABYTE started as a research and development team and has since taken the lead in the world's motherboard market. On top of motherboards and graphics accelerators, GIGABYTE further expanded its product portfolio to include notebook and desktop PCs, digital home entertainment appliances, networking servers, communications, mobile and handheld devices, servicing every facet of people's lives at home or business. Everyday GIGABYTE aims to "Upgrade Your Life" with the most innovative designs and impeccable quality and services. Visit www.gigabyte.com.tw for more information.
Last updated: Apr 7, 2020 at 12:00 pm CDT