thatgamecompany's 'Sky: Children of the Light' Takes Flight With Global Launch
Jul 21, 2019 9:10 PM CDT
Santa Monica, CA - Thursday, July 18th, 2019 - thatgamecompany (www.thatgamecompany.com), the award-winning studio behind Journey (2013 Game of the Year) and the highly-acclaimed Flower, is happy to announce their next release, Sky: Children of the Light, is now available on the App Store worldwide. It will also launch on tvOS and macOS, Android, PC and console formats in the near future. The iOS release can be downloaded here: http://bit.ly/PlaySkyiOS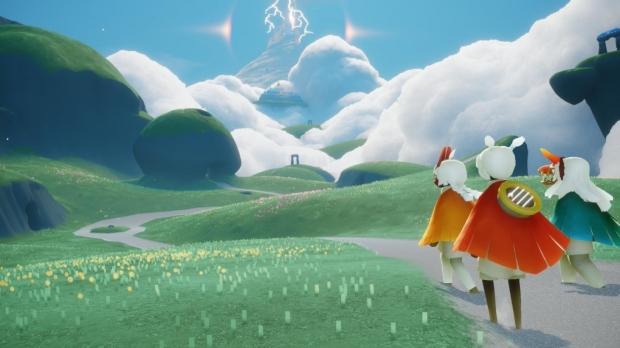 Sky: Children of the Light is an ever-expanding "social adventure" world that will continue to evolve with new characters, adventures and collectibles. It is best described as a heartwarming experience designed for fans to share and play with friends and family, time and time again. The online series is highly accessible, beautifully-animated, and it marries a stunning soundtrack and emotionally-driven backstory to bring the world to life. Sky: Children of the Light is the first chapter in the Sky series, with more to follow in the future.
About The Game:
In Sky, we arrive as the Children of the Light, spreading hope through the desolate kingdom to return the fallen Stars to their constellations. Only by sharing light to awaken and redeem the perished ancestors and civilizations can the mysteries be uncovered, and the Stars be restored again. Hold hands to take flight as our adventure has just begun.
In the kingdom of Sky, you can...
Soar and explore 7 dreamlike realms to uncover the mystery

Encounter and socialize with like-minded players from around the world

Feel free to express yourself with a delightful selection of character customizations

Team up with others to adventure into darker realms, save spirits and uncover ancient treasures

Gift candles of light to share appreciation and grow friendships

Enjoy a unique musical experience and create harmonies together

Join an ever-expanding world with new upcoming attractions, including seasonal events and expansion of realms
Android players can now pre-register on the Google Play store:http://bit.ly/PreregisterSky
Sky: Children of the Light is free-to-start and is available now from the App Store for iOS:http://bit.ly/PlaySkyiOS
Stay tuned for more news on tvOS, macOS, PC and console!
Developer: thatgamecompany
Publisher: thatgamecompany
Genre: Social Adventure (Online Only)
Players: Up to 8 simultaneous players (networked drop in/out)
Date: July 2019
Last updated: Jul 27, 2022 at 03:38 am CDT
Related Tags