Make the Most of Now with our Newest Power Banks
Jul 15, 2019 7:22 PM CDT
Taipei, Taiwan - July 15th, 2019 - Silicon Power's latest duo of power banks have enough capacity and output ports to free yourself from the wall socket and refuel all of the devices that matter to you while you're on the go. With your busy lifestyle in mind, these power banks have been equipped with Quick Charge 3.0 and USB Power Delivery, via two Type-A USB ports, which allow compatible devices to charge up to 80% in 35 minutes. Plus, one Type-C USB port delivers up to 18W power, which is twice as fast as conventional 5W charging. Therefore, you can spend less time charging and more time living. Make the most of now with our Cell C10QC and Share C20QC.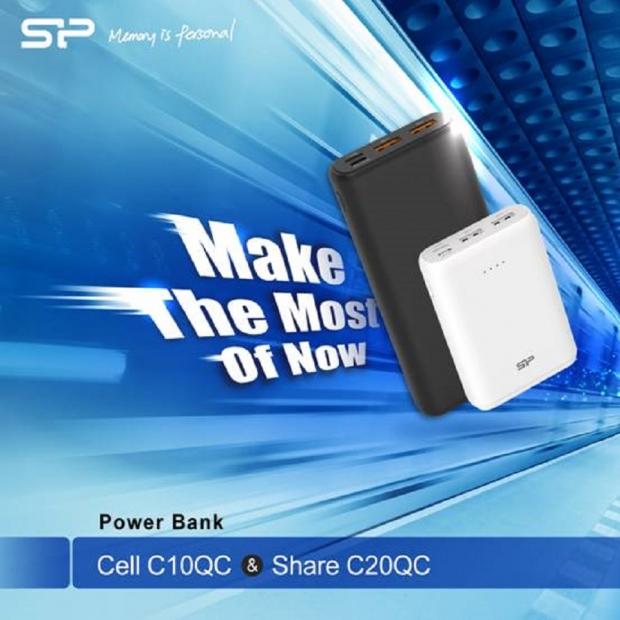 The Cell C10QC: Your new travel companion
With 10,000mAh power, why sacrifice size for capacity when you can have both? Take the Cell C10QC when you're out and about, from day-trips around town to road-trips across towns. Its compact size is portable-friendly, its lighter weight won't slow you down, and its high capacity will keep your devices running with you. So, leave those wall adaptors at home and get to where you need to go while charging up to 3 devices on the way - that even includes compatible laptops, whether it's for leisure travel or business trips.
The Share C20QC: More than just a power bank
As its name implies, the Share C20QC was designed for sharing. With 20,000mAh power and 3 outputs, this power bank is more of a portable power supply source. Go head-to-head with a friend anywhere on your favorite gaming device and focus on winning, or travel to remote areas and focus on enjoying the time - not on battery level. You'll wonder why you spent so much time attached to a wall before. Experience digital freedom - from gaming in the park, to camping in the woods, to using your compatible laptop anywhere you choose.
Last updated: Sep 25, 2019 at 05:39 pm CDT
Related Tags