Thermaltake COMPUTEX 2019 Presents: TOUGHRAM RGB / TOUGHRAM DDR4 Memory
May 28, 2019 8:52 PM CDT
Thermaltake, the leading PC DIY premium brand for Cooling, Gaming Gear and Enthusiast Memory solutions, proactively participates in the memory market by announcing brand new premium memory products - TOUGHRAM RGB and TOUGHRAM.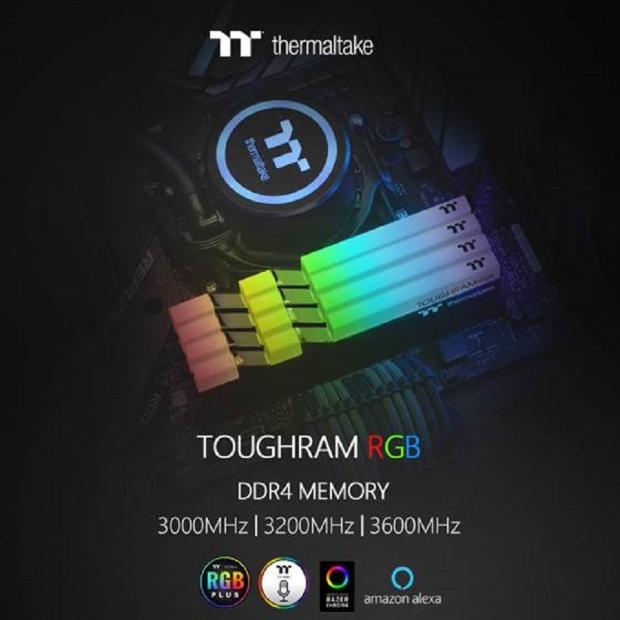 Besides, the innovative WaterRam RGB Liquid Cooling Memory kit, Thermaltake has expanded its lineup with the clock speed of 3600MHz. The Thermaltake TOUGHRAM RGB and TOUGHRAM DDR4 Memory lineup is aiming at high performance gaming/overclocking. TOUGHRAM RGB series range from 3000MHz, 3200MHz and 3600MHz.
The RGB lighting effects designed for the TOUGHRAM RGB with its addressable RGB lighting settings can be synchronized with the TT AI Voice Control, Amazon Alexa, and Razer Chroma. TOUGHRAM memory series range from 2400MHz to 3000MHz. These two memory series are supported by the TT Premium heatspreader design, which are tightly screened memory ICs that ensure outstanding cooling performance.
The TOUGHRAM RGB memory is designed with performance 10-layer PCB and specially designed lighting circuitry to ensure no performance impact, while the XMP 2.0 supports keeps the memory at its rated speed with just a single setting. When connected to user's PC via standard DDR4 DIMM slots, the TOUGHRAM RGB doesn't require any additional cables or connectors to provide full lighting control from within the TT RGB MEMORY Software. For more information on Thermaltake Group please visit the Thermaltake booth at COMPUTEX Taipei 2019 (Taipei Nangang Exhibition Center, 4th floor, Booth #M120) or visit https://computex.thermaltake.com/2019/.
Further information about Thermaltake at COMPUTEX Taipei 2019 is available online: https://computex.thermaltake.com/2019/
For more photos and information, please refer to : https://www.dropbox.com/sh/j65l5okpsyps5v3/AAB1hucF4SlC4eQfCgMSK7eMa?dl=0
For more details on the Thermaltake TOUGHRAM RGB Memory please visit:
3000MHz- http://www.thermaltake.com/toughram-rgb-memoryddr4-3000mhz-16g-8g-x2.html
3200MHz- http://www.thermaltake.com/toughram-rgb-memoryddr4-3200mhz-16g-8g-x2.html
3600MHz- http://www.thermaltake.com/toughram-rgb-memoryddr4-3600mhz-16g-8g-x2.html
Further details please refer to the attached press release and images.
We would appreciate it if you could kindly introduce us in your publication or website. Should you have any query or need high-res images, please contact us, thank you!
Related Tags