19th March, 2019, Davao City, Philippines - BIOSTAR, a leading manufacturer of motherboards, graphics cards, and storage devices, presents its 2019 product line-up at two Media and Dealer Events in Philippines, Cebu City and Davao City held on the 11th of March, 2019 at the Quest Hotel and Conference Center in Cebu City and the Marco Polo Hotel in Davao City on the 13th of March, 2019. The Philippines event tour highlights include the debut BIOSTAR's SoC lineup, the new gaming-ready BIOSTAR A10N-8800E SoC motherboard and the A68N-5600, the RACING series B250GT5, and M500 1TB M.2 Solid-State Drive. BIOSTAR is launching a series of SoC, CPU on-board, solutions as well as a full range of AMD gaming motherboards as an alternative over Intel-based gaming systems, a response to the existing intel CPU shortage in Philippines.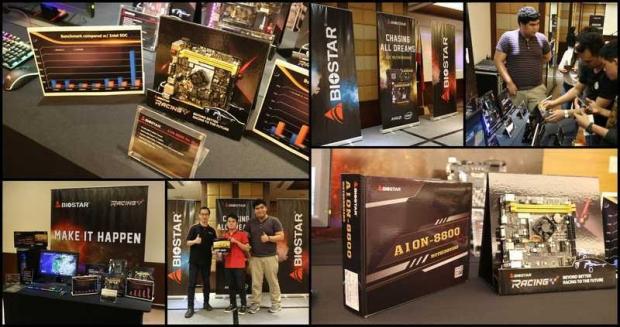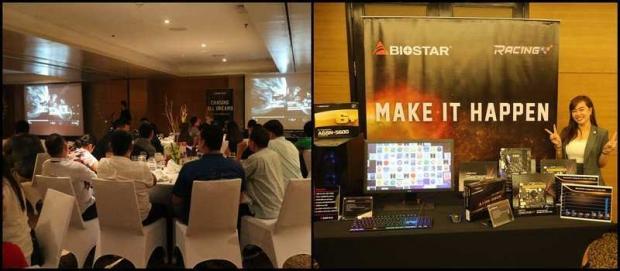 "With Intel's CPU shortage so prevalent in Philippines, we're offering users a variety of SoC based solutions as well as a full line-up of AMD AM4 motherboards to keep up with the increased demand" Commented Kevin Cheng, Global Marketing Manager. "BIOSTAR's SoC Motherboard solutions include the AMD-based A68N-5600 and A10N-8800E then the Intel Braswell-based J3060NH and J3160NH SoC motherboards."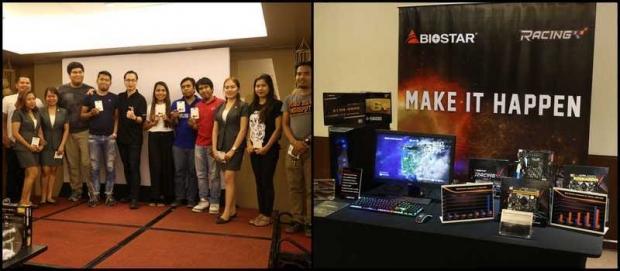 A10N-8800E SoC Motherboard
The BIOSTAR A10N-8800E 4-in-1 combo Motherboard comes with built-in Carrizo architecture-based AMD FX-8800P quad-core processor, integrated AMD Radeon R7 Graphics and on-board cooling. The A10N-8800E offers superb processing performance, power efficiency and gaming-grade graphics with a unique blend of features only found in the BIOSTAR SoC line-up. Supports up to 4K resolution via HDMI without discrete graphics, dual-channel DDR4 memory up to a speed of DDR4-2133 and a maximum capacity of 32GB (2x16GB). The motherboard also packs 1x M.2 Key M 16Gbps slot for high-performance PCIe NVMe M.2 solid state drives.
AMD Radeon R7 Graphics delivers immersive gaming graphics superior to Intel's integrated graphics counterpart.
Super LAN Surge Protection - Advanced anti-static protection that strengthens electrical stability and prevents damage from electrical surges and lightning strikes.
HDMI 4K/2K H.256 decoder that enables high-definition resolution on 2K/4K displays for detailed images and videos for greater entertainment enjoyment from the likes of YouTube and Netflix through the rear I/O HDMI port.
Super-Fast Connections with USB 3.1 Gen1 ports with 5Gbps transfer speeds along with a single M.2 M-key 16Gbps slot supporting high-speed PCIe NVMe M.2 SSDs.
HD Audio with Realtek ALC887 7.1-Channel high-definition audio delivering immersive audio for superior gaming experiences.
GAMING PRODUCTS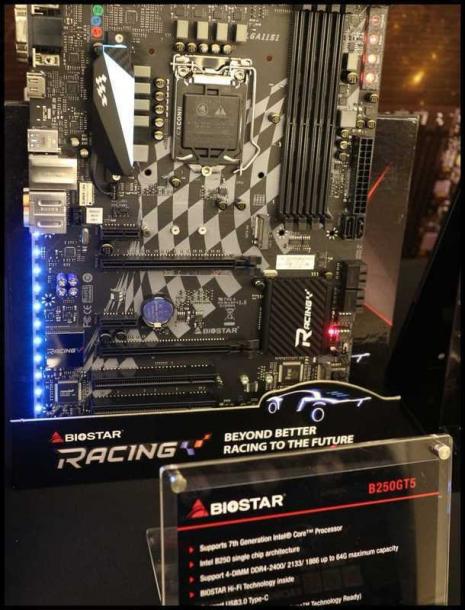 RACING B250GT5 Motherboard
The RACING B250GT5 supports the 7th generation Intel Core processors featuring the Intel B250 chipset. The RACING B250GT5 comes with four DIMM slots supporting DDR4-2400/2133/1866 memory of up to 64GB maximum capacity. The B250GT5 features the BIOSTAR exclusive Hi-Fi Technology. The motherboard also supports high-speed M.2 32Gbps storage and Intel Optane Memory technology. It also packs HDMI with support for 4K resolution displays.
M500 1TB M.2 Solid-State Drive
The BIOSTAR M500 SSD is NVMe (Non-Volatile Memory Express) 1.2 compliant delivering high-performance speeds of up to 1700MB/s sequential read and 1100MB/s sequential write and random read/write IOPS of up to 200K/180K. The BIOSTAR M500 M.2 PCIe SSD sports a diamond-shape heat sink design that delivers efficient cooling to sustain performance and avoid thermal throttling. The heat sink also gives the M500 an edgy gaming look that's perfect for any gaming motherboard.
The Dealer Event highlights BIOSTAR's new products and alternative solutions to the current Intel CPU shortage without compromising performance and budget. The BIOSTAR 4-in-1 CPU on-board motherboard is a compact and capable solution for gaming, work, and casual use and is now available in the Philippines.
For availability in the Philippines, contact IONTECH http://www.iontech-enterprise.com/
For more information:
A10N-8800E: https://www.biostar.com.tw/app/en/mb/introduction.php?S_ID=935

A68N-5600: https://www.biostar.com.tw/app/en/mb/introduction.php?S_ID=885

A320MH: https://www.biostar.com.tw/app/en/mb/introduction.php?S_ID=912

M500 1TB SSD: https://www.biostar.com.tw/app/en/SSD/introduction.php?S_ID=19

RACING B250GT5: https://www.biostar.com.tw/app/en/mb/introduction.php?S_ID=863
CONNECT WITH US
Website: www.biostar.com.tw

Facebook: www.Facebook.com/BiostarHQ

Twitter: www.twitter.com/BIOSTAR_Global

Instagram: www.instagram.com/biostarofficial

YouTube: www.YouTube.com/user/BiostarTaiwan

Availability: http://www.biostar.com.tw/app/en/wheretobuy/index.php
ABOUT BIOSTAR
BIOSTAR, is a brand dedicated to the production of motherboards, graphics cards, industrial computing systems, IoT, crypto mining equipment, and healthcare solution. Since its establishment in 1986, the BIOSTAR GROUP has become a major motherboard supplier in the IT industry as well as in IoT, Internet of Things. In order to pursue the best quality and aesthetic design, BIOSTAR has invested heavily in ID design, equipment, global marketing research as well as R&D. With a constant emphasis on quality, BIOSTAR always seeks to beyond better and race to the future.