CORSAIR, a world leader in PC components high-performance gaming hardware and enthusiast memory, today announced its fastest ever kit of DDR4 memory, VENGEANCE LPX 16GB (2x8GB) 4,600MHz. Co-developed with leading motherboard manufacturer ASRock and its X299 OC Formula motherboard, this latest addition to the CORSAIR range of VENGEANCE LPX memory takes Intel XMP 2.0 performance on the Intel X299 platform and Intel Core X-Series Processors to new heights, able to achieve 4,600MHz with just a single setting.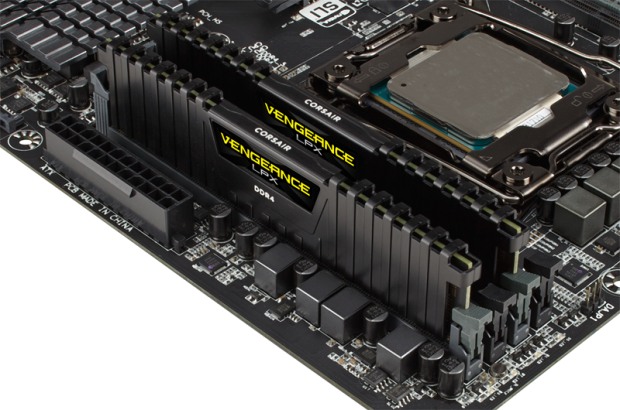 Built using hand-sorted industry-leading Samsung B-die IC's and running performance timings of CL19-26-26-46 at 1.5V, VENGEANCE LPX 4,600MHz is ready for enthusiasts, overclockers or those who simply demand the very fastest components, to push their system's performance to the limit
High-speed memory doesn't stop at 16GB and CORSAIR also leads the way when it comes to high-speed DDR4 at a wide range of capacities. With more Intel XMP certified kits than every other DRAM manufacturer combined, you'll find record setting kits of VENGEANCE LPX at 32GB (4x8GB) 4,133MHz, 64GB (8x8GB) at 4,200MHz, 32GB (2x16GB) at 4,000MHz and for those who need the maximum in speed and capacity, 128GB (8x16GB) at 3,800MHz.
Backed by a comprehensive lifetime warranty, world-wide technical support and a legacy for performance, CORSAIR DDR4 memory continues to be the leader in speed.
Availability, Warranty and Pricing
VENGEANCE LPX DDR4 4,600MHz will be available from September 21st via the CORSAIR worldwide network of authorized retailers and distributors, or direct from the www.corsair.com webstore. All CORSAIR VENGEANCE LPX DDR4 kits are backed by a lifetime limited warranty and the CORSAIR worldwide customer support network.
Product SKUs