AOC, a worldwide leader in monitor display technology, today presents a full range of its newest display innovations at CES 2016 in Las Vegas. Visitors will find a new curved gaming model and a 4K display with HDMI 2.0 and unique designs at the booth located at Titian Ballroom #2306, The Venetian Meeting Rooms, Level 2, 3355.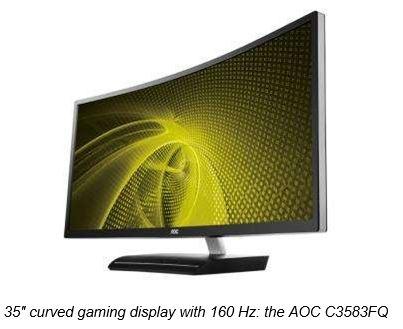 Immersive gaming
Be drawn into an even more intense gaming experience! The new AOC C3583FQ 160 Hz gaming monitor premieres at CES. It comes with a 35" (89 cm) curved panel to frame the player's field of view completely and engages him or her even more in the action. The integrated Adaptive-Sync technology is FreeSync compatible and together with the 160 Hz refresh rate will get every gamer's pulse racing thanks to smooth, lag-free images without screen tearing or ghosting effects.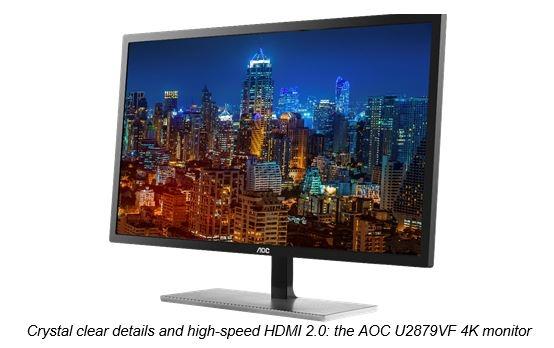 Super-smooth 4K playback and editing with HDMI 2.0
AOC will also present a new 4K highlight which combines the 4K UHD resolution of 3840 Ã- 2160 pixels with ultra-fast connectivity options for private and professional use. The 28" (71.1 cm) display boasts DisplayPort 1.2a and HDMI 2.0 which enable image transmission at super-high speeds. This way, users can enjoy crystal clear 4K video content with up to 60 frames per second. The display also comes with AMD FreeSyncâ"¢ technology for super smooth gaming without input lag or screen tearing. The display will be available to consumers early January 2016.
AOC at CES 2016:
Date: 6 - 9 January 2016 Time: 9 a.m. - 6 p.m. Location: Titian Ballroom #2306, The Venetian Meeting Rooms, Level 2, 3355 S, Las Vegas Blvd, Las Vegas, NV
Last updated: Apr 7, 2020 at 12:10 pm CDT