While it's taken quite a while to start seeing any form of significant decrease in the cost of owning a solid-state HDD, more so just recently we've begun to see them slide down towards the real world. One of the first signs of this came in the form of Super Talent's new MasterDrive MX SSDs, which had the top model (a 120GB variant) sitting at $699.
OCZ has
now stepped in
with the Core Series 2.5" SSDs which boast even more aggressive pricing with a 128GB model sitting at just $479. Other drives in the lineup include a 32GB model at $169 and 64GB at $259. Read below for OCZ's promised performance figures :-
Core series SSD drives are available in capacities of 32GB, 64GB, and 128GB and deliver incredible 120-143 MB/s 80-93 MB/s read/write speeds and seek times of less than 0.35ms, making the Core series up to 10x as fast on a seek-time basis and up to 40% faster on a R/W basis that the best performing 2.5" HDDs on the market, all while consuming 50% less power. MSRPs at time of launch are USD $169, $259 and $479 for 32GB, 64GB and 128GB models respectively.
The SSD market never looked so good.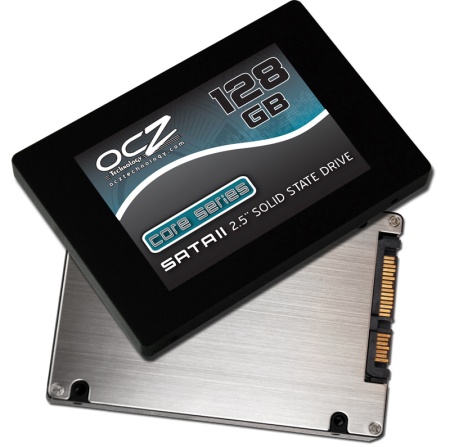 Sunnyvale, CA-July 1, 2008-OCZ Technology Group, Inc., a worldwide leader in innovative, ultra-high performance and high reliability memory and computer components, today unveiled the OCZ Core Series SATA II 2.5" Solid State Drives (SSDs). OCZ has gained momentum in this pioneering technology, which uses NAND flash instead of rotating platters as the storage medium, and is a high-performance, highly reliable and energy-efficient alternative to conventional hard disc drives.

The OCZ Core Series delivers the performance and reliability of the latest SSDs at a 50% less price per gigabyte than other high speed offerings currently on the market. For the first time, OCZ is putting SSD technology within reach of the average consumer, and delivering on the promise of SSDs as an alternative to traditional hard drives in consumer targeted mobile applications.