Razer is rolling out one of its more advanced gaming mouse features to several products in its lineup with 8000 Hz Razer HyperPolling Wireless technology coming to Razer's Viper V2 Pro, DeathAdder V3 Pro, Cobra Pro, Basilisk V3 Pro, and Viper V3 HyperSpeed gaming mice.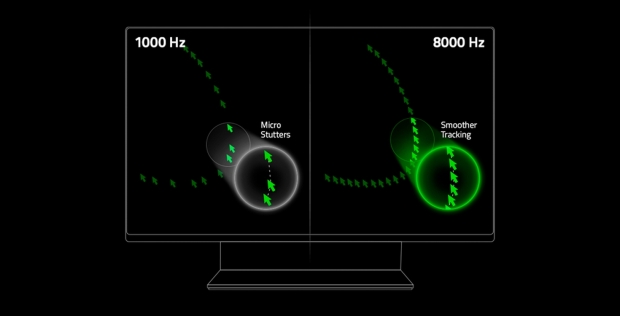 It's an impressive upgrade when stacked against the industry standard 1000 Hz polling because it means that instead of an input delay of 1 ms, you're getting an input delay of only 0.125 ms. An 8X increase that Razer believes creates "smoother cursor movements, impeccable accuracy, and the elimination of any micro-stutters."
The update arrives via new firmware currently being rolled out via the latest version of the Razer Synapse software.
"We've enhanced our lineup, not just because we can, but because we're tuned into our community's needs," Razer writes in the announcement. "By extending 8000Hz HyperPolling Wireless to more gamers, we're giving more Razer gaming mouse users an even greater edge."
Jumping up to the super-fast polling rate is optional, with Razer Synapse allowing gamers to adjust and customize their preferred setting from 125 Hz up to 8000 Hz. One of the gaming mice listed is the Razer Cobra Pro - which I reviewed not all that long ago - an exceptional lightweight offering that has now gotten just that little bit better.
The question of whether or not most gamers need 4K or even 8K polling is not a new one, as it puts extra strain on both your system (CPU mostly) and your mouse's battery life. Still, for competitive gamers, enabling technology like NVIDIA Reflex and playing on super-high refresh rate displays, having a mouse with the lowest input delay is another cool feature to have.