The James Webb Space Telescope (JWST) has honed its extremely powerful instruments on a region of space approximately 6,500 light-years away from Earth within the constellation Taurus.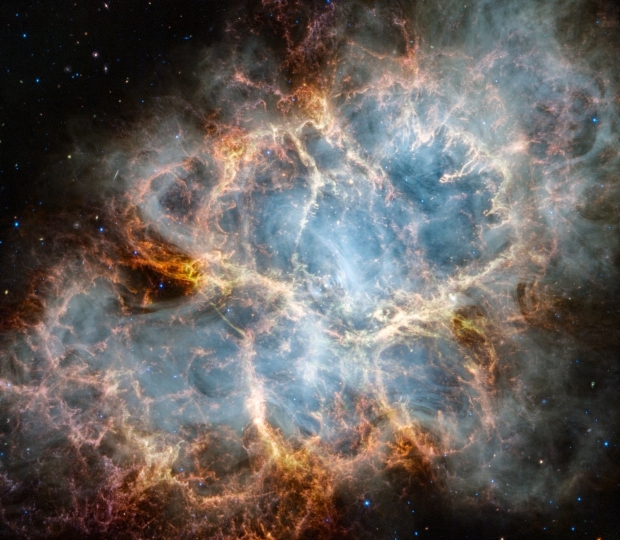 NASA has taken to its website to showcase the new image from Webb, explaining the world's most powerful space telescope has imaged the Crab Nebula, the remains of a star that suffered its end-of-life explosion known as a supernova. NASA writes that this nebula was originally discovered in 1054 CE by 11th-century astronomers, and since then has been an attractive location in the cosmos to better understand the evolution of stars and what happens after they go bang.
Notably, NASA writes that Webb's instruments allow astronomers to accurately understand the composition of the ejected material, with the space agency writing its contents are mostly iron and nickel. NASA compared Webb's image to an image snapped by the Hubble Space Telescope in 2005. The space agency explains that Webb's infrared observations revealed in the central regions of the nebula emission from dust grains shown in yellow-white and green.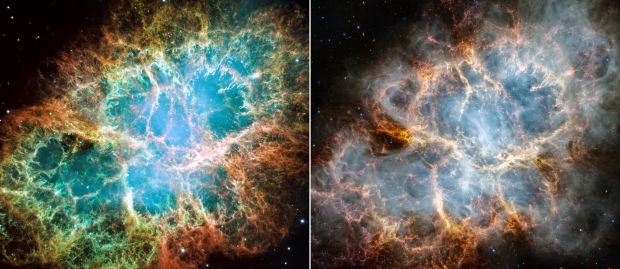 "Additional aspects of the inner workings of the Crab Nebula become more prominent and are seen in greater detail in the infrared light captured by Webb. In particular, Webb highlights what is known as synchrotron radiation: emission produced from charged particles, like electrons, moving around magnetic field lines at relativistic speeds. The radiation appears here as milky smoke-like material throughout the majority of the Crab Nebula's interior.

This feature is a product of the nebula's pulsar, a rapidly rotating neutron star. The pulsar's strong magnetic field accelerates particles to extremely high speeds and causes them to emit radiation as they wind around magnetic field lines. Though emitted across the electromagnetic spectrum, the synchrotron radiation is seen in unprecedented detail with Webb's NIRCam instrument," writes NASA