We've already seen early teases of GIGABYTE's upcoming TRX50 AERO-D motherboard, but now ASUS has its official announcement of the ASUS Pro WS TRX50-SAGE WIFI motherboard, which handles AMD's new families of Ryzen Threadripper 7000 and Threadripper PRO 7000 series CPUs.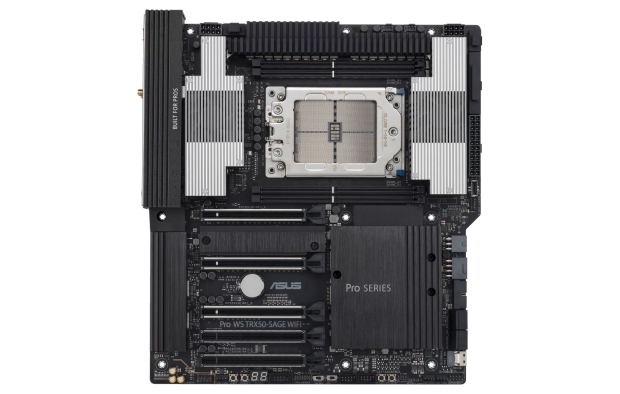 The new ASUS Pro WS TRX50-SAGE motherboard can handle the flagship Threadripper PRO 7995WX processor, which features 96 cores and 192 threads of mind-boggling processing power. If you want the HEDT-focused Ryzen Threadripper 7980X processor, you'll get 64 cores and 128 threads of HEDT power inside of your system.
ASUS also provides 5 x PCIe x16 slots, with 3 of them being PCIe 5.0 compatible, so you can install a bunch of high-end SSDs on Gen5 connectors for some 64GB/sec SSD action. ASUS includes 10GbE and 2.5GbE networking ports here, as well as support for SlimSAS NVMe technology. Power-wise, we've got a 36-phase VRM design, with two fans on each side -- keeping those VRMs nice and cool when you're powering a 64-core or even 96-core CPU. There's also DDR5 memory here in quad-channel, thanks to it not being a consumer board, with ECC memory support.
The new ASUS TRX50-SAGE motherboard includes the new AMD AM6 socket, which is where the support for the 96-core RYzen Threadripper PRO 7000 series CPU comes from. You've also got CPU and RAM overclocking, supporting up to 1TB of ECC R-DIMM DDR5 memory modules.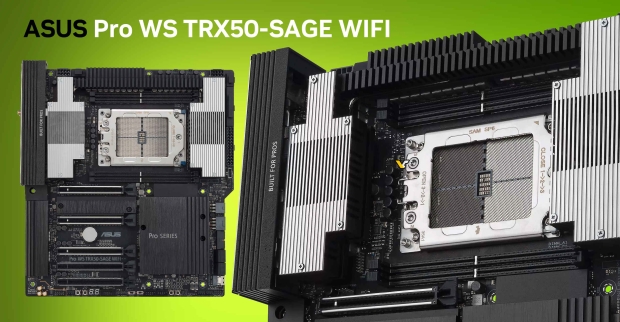 ASUS includes dual 8-pin power connectors on the TRX50-SAGE motherboard, as well as the massive VRM cooling system, chipset cooler, M.2 heatsinks keeping your SSDs as cool as possible, as well as an M.2 thermal pad. Here's the full details on the ASUS TRX50-SAGE motherboard:
AMD TR5 socket supports up to 96-core CPUs: Ready for AMD Ryzen™ Threadripper™ PRO 7000 WX-Series Processors and AMD Ryzen Threadripper 7000 Series Processors.
CPU and memory overclocking: Support for up to 1TB ECC R-DIMM DDR5 memory modules (1DPC)

Robust power and thermal design: 36 power stages with two 8-pin power connectors for the CPU, massive VRM cooling, chipset and M.2 heatsinks, and M.2 thermal pad.

Ultrafast connectivity: three PCIe® 5.0 x16 slots, 10 Gb & 2.5 Gb LAN ports, three M.2 slots, front and rear USB 20Gbps Type-C® and SlimSAS NVMe support.
Server-grade IPMI remote management: hardware and software support for ASUS IPMI expansion cards, plus ASUS Control Center Express software for real-time monitoring and management
Trusted stability: Validated for extensive compatibility with the latest technologies, an expansive QVL list, and tested for 24/7 operation
Here's a list of the AMD Ryzen Threadripper PRO 7000 series CPUs:
AMD Ryzen Threadripper PRO 7995WX: 96 cores, 192 threads (base: 2.5GHz, boost: 5.1GHz)
AMD Ryzen Threadripper PRO 7985WX: 64 cores, 128 threads (base: 3.2GHz, boost: 5.3GHz)
AMD Ryzen Threadripper PRO 7975WX: 32 cores, 64 threads (base: 4.0GHz, boost: 5.3GHz
AMD Ryzen Threadripper PRO 7965WX: 24 cores, 48 threads (base: 4.2GHz, boost: 5.3GHz)
AMD Ryzen Threadripper PRO 7955WX: 16 cores, 32 threads (base: 4.5GHz, boost: 5.3GHz)
AMD Ryzen Threadripper PRO 7945WX: 12 cores, 24 threads (base: 4.7GHz, boost: 5.3GHz)
Here's a list of the AMD Ryzen Threadripper 7000 series CPUs:
AMD Ryzen Threadripper 7980X: 64 cores, 128 threads @ up to 5.1GHz for $4999
AMD Ryzen Threadripper 7970X: 32 cores, 64 threads @ up to 5.3GHz for $2499
AMD Ryzen Threadripper 7960X: 24 cores, 24 threads @ up to 5.3GHz for $1499