Diablo IV's Season of Blood is currently underway, and so far, the reception from players, both casual and hardcore, has been positive. Even if it's being review-bombed on Steam. With several quality-of-life updates, new vampiric powers, and many new endgame systems and loot overhauls, the game is currently in a much better state than it was at launch. And it's only going to get better.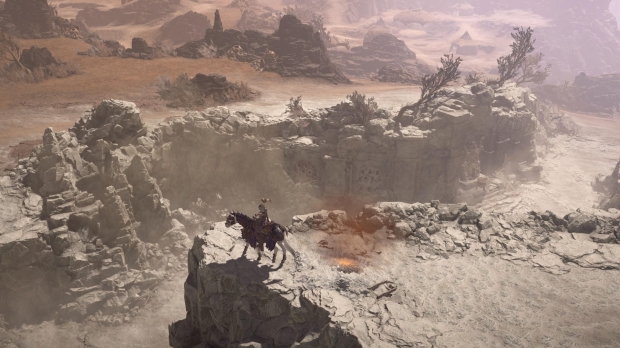 It's no secret that Diablo IV will continue to get post-launch support, with Blizzard noting that they have teams working on seasonal content and multiple major expansions. Blizzard's head of Diablo, Rod Fergusson, has even hinted that the cadence could get to a point where we see annual expansions. Very cool.
Based on the latest bit of data mining on a new internal 2.0 build of the game (via Wccftech), we've now got info on the first expansion, it's setting, the game's first new class addition, and one of the coolest single-player features from Diablo II making a return.
It goes without saying that everything from here on out is spoiler-territory, so fair warning if you're still playing through Diablo IV's campaign. With the main villain of the base game being Lilith, the Daughter of Hated, the first expansion is set to continue the story by focusing on her father, Mephisto, in what is currently being called Lord of Hatred.
Mephisto is featured in Diablo IV, and the rest of the Prime Evils (including Diablo) are mentioned quite often, too. Where the campaign ends up hints at Mephisto's return and the other Prime Evils, so it makes sense that future expansions will feature a roster of villains like Mephisto, Diablo, and others.
The leaks don't stop there, as data also points to the next class being something called Spiritborn, an angelic class that could feature wings, skills, and abilities based around flight. The setting for the Lord of Hatred expansion is supposedly the ancient city of Kurast - last seen in the iconic Diablo II. One of that game's most memorable locales, Travincal, is mentioned by name in the data.
It seems that the first expansion for Diablo IV will fully lean into the franchise's history, as there's also info surrounding a Mercenary system ala Diablo II - which are NPC characters you hire as companions in single or multiplayer. Mercenaries are different from the character-based companion system from Diablo III in that they're more versatile and come in different class-like flavors to complement playstyles. Mercenaries can be kitted out with gear and can die (though it remains to be seen if this aspect will carry over).
Rune stones are also mentioned, which would add another layer to character builds and augment items with more things than simple gems.
Ultimately, the future of Diablo IV is looking bright, and with Blizzcon right around the corner, we might actually be getting our first look at the above very soon.