With the arrival of the GeForce RTX 40 Series, NVIDIA has leaned into technology that delivers breathtaking visuals alongside upping raw horsepower. The GeForce RTX 4090 is an absolute beast in that department, but with dedicated RT and AI hardware, we've been treated to the stunning DLSS 3.5 images in games like Cyberpunk 2077. And now it's time to add Remedy's Alan Wake II to the list.
Much has been said about the game's intensive hardware requirements, with the game set to feature fully ray-traced graphics (i.e., path tracing) alongside a suite of cutting-edge DirectX 12 technologies. Remedy pushing in-game graphics is no secret, and even though it sounds like the game will struggle running on an old GeForce GTX GPU - a new deep-dive from NVIDIA shows that if you've got any of the new GeForce RTX 40 Series GPUs - you're golden.
On the high-end, the GeForce RTX 4090 can push 130+ FPS in 4K with DLSS 3.5 (Frame Generation, Ray Reconstruction, and Super Resolution), full ray-tracing, and max settings. Incredible.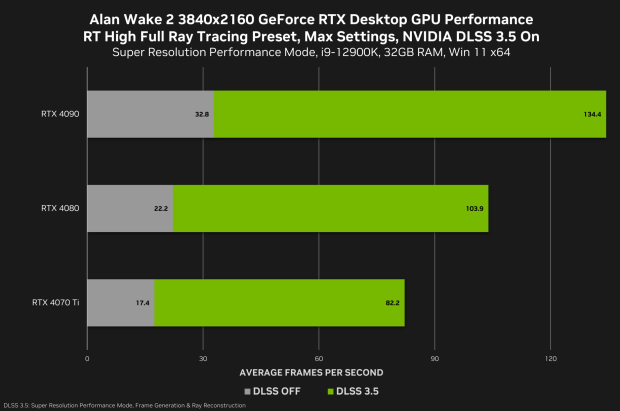 The GeForce RTX 4080 and RTX 4070 Ti perform well here, too, with 103 FPS and 82 FPS, respectively. If you're focusing on the 4K native rendering sitting at 32.8 FPS for the GeForce RTX 4090, you're missing the point. Like Cyberpunk 2077's RT Overdrive Mode, Alan Wake II is meant to be played with upscaling tech like DLSS and the new Ray Reconstruction technology. Throw in Frame Generation, and you get a 4X increase in performance.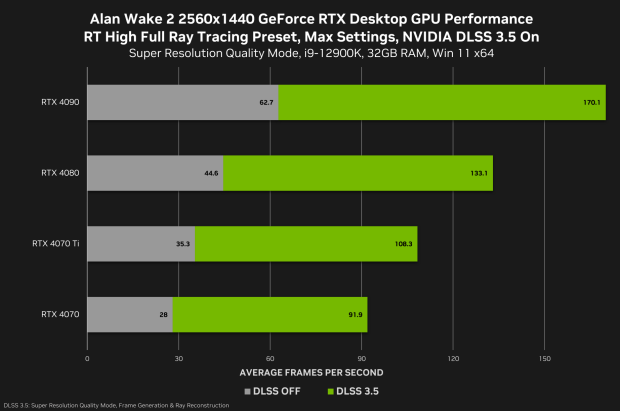 Switching the resolution to 1440p, the current sweet spot for PC gaming, the GeForce RTX 4070 enters the picture with over 90 FPS.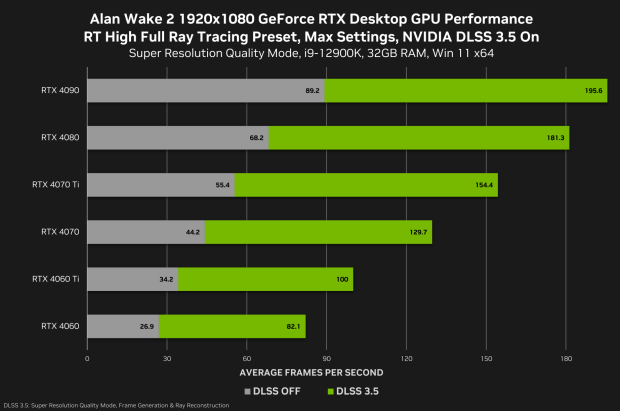 Finally, on the low-end, the GeForce RTX 4060 can push 80+ FPS in 1080p with DLSS 3.5, full ray-tracing, and max settings. Likewise, the GeForce RTX 4060 Ti delivers great results here, too, with 100 FPS.
NVIDIA notes that for GeForce RTX 30 and 40 Series GPUs, the game should be run with Medium or Low ray-tracing settings. These GPUs still benefit from DLSS 3.5's new Ray Reconstruction tech, a game changer for ray-tracing quality in PC games.
As seen in Cyberpunk 2077, it delivers crisper and more detailed reflections and other effects - to the point where it all looks like a major leap forward for RT's future. Alan Wake 2's lighting, reflections, and shadows all benefit from the brand-new tech, with NVIDIA showcasing the following examples of the difference it brings.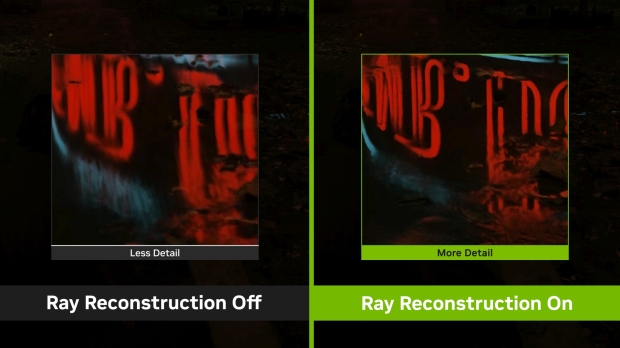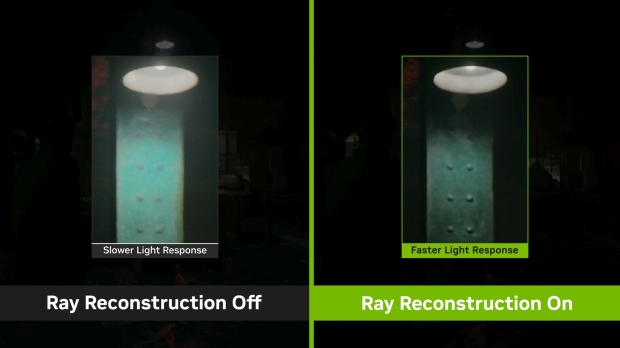 Alan Wake 2 is out October 27, with the GeForce Game Ready Driver set to drop ahead of the game's launch.