NVIDIA drops new Game Ready drivers for GeForce GPU owners fairly regularly, bringing day-one support to new games, adding to the number of DLSS-supported games, and fixing a few bugs here and there. The GeForce Game Ready 545.84 WHQL driver, available now through GeForce Experience or direct download, is slightly different.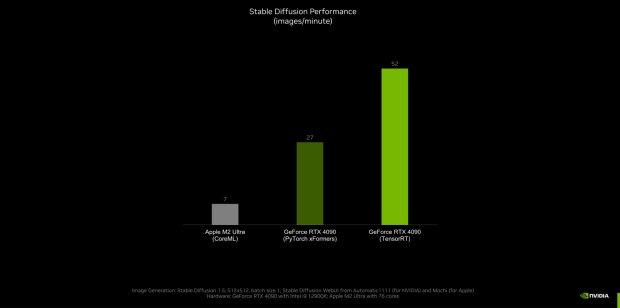 In addition to Naraka: Bladepoint and Warhammer: Vermintide 2 getting DLSS 3 support, it also significantly boosts AI acceleration, which means running Large Language Models on Windows PCs with GeForce RTX GPUs has gotten considerably faster.
NVIDIA has added TensorRT acceleration to Stable Diffusion's Web UI for its Generative AI tool to generate images - and for the flagship GeForce RTX 4090, the result is up to 2X the AI performance. Or up to 7X when compared to a top-of-the-line Mac with an Apple M2 Ultra chip.
"This enhancement makes generating AI images faster than ever before, giving users the ability to iterate and save time," writes NVIDIA. For AI image generation, NVIDIA has released a handy TensorRT guide for Stable Diffusion that you can check out and start generating. The extension is also available to download.
The AI boost doesn't stop there, as TensorRT-LLM for Windows is now up to 4X faster with the latest Game Ready driver.
TensorRT-LLM is an open-source library that accelerates performance for the latest AI large language models, like Llama 2 and Code Llama, and its arrival in the desktop space follows its data center launch last month. Per the naming, it uses the Tensor Core AI hardware in GeForce RTX GPUs to significantly use AI for applications like chat, document scanning, and several generative tasks.
The new GeForce Game Ready 545.84 WHQL driver also introduces RTX Video Super Resolution (VSR) version 1.5, as detailed in an earlier news post. It improves the AI-based streaming video upscaling tech and enhances videos played at native resolutions.
For those simply interested in the Game side of the latest Game Ready driver from NVIDIA, here's a look at Naraka: Bladepoint DLSS 3 performance.