XP SP3 vs. Vista SP1 - Which is fastest?
Comparing the service packs.

Published Apr 29, 2008 3:44 AM CDT
|
Updated Tue, Nov 3 2020 12:38 PM CST
Now that Windows XP SP3 has been released to the world, Adrian Kingsley-Hughes over at ZDNet Hardware 2.0 blog has done a bunch of application and gaming benchmarks comparing XP SP3 to SP2 and RTM as well as Vista RTM and SP1 in 32-bit and 64-bit flavors.
Starting off with the application testing, Adrian uses PassMark PerformanceTest 6.1 and discovers that SP3 does produce a better result than SP2. Coming out on top is Vista 64-bit RTM which is slightly faster than SP1. You can get a closer look at those results
over here
.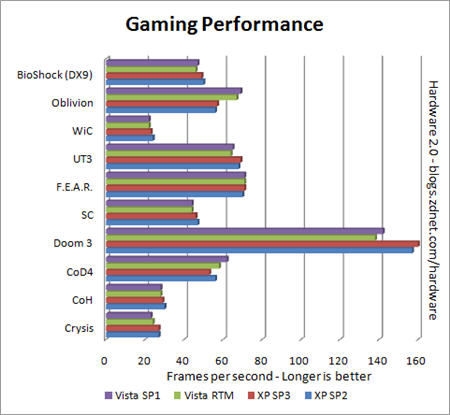 And moving onto the gaming side, the results are all up in the air. It's about an even split between XP SP2 and SP3 but Vista SP1 manages to win just about every game test over the shipping RTM version. You can see those results
over here
.