Windows 11 has been out for two years, so you might wonder how it's doing regarding market share. According to the latest report from StatCounter, there has been growth over the past year, with Windows 11 now accounting for 23.64% of the PC market as of September 2023 - a sizable jump from the 13.61% from a year ago. However, users aren't upgrading from Windows 10.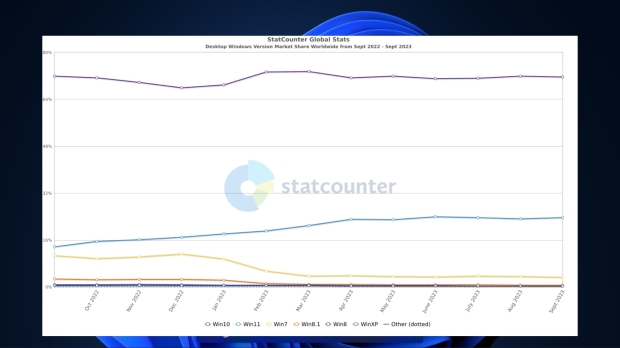 Looking at the StatCounter data, it's clear that as more people upgrade to Windows 11, far fewer people are still running Windows 7 and Windows 8. Even though Microsoft's latest OS is the successor to the popular Windows 10, Windows numero 10 is still the dominant Operating System with a whopping 71.64% market share.
And to make the situation even more interesting, Windows 10 market share hasn't changed over the past year, with the September 2023 figures being just about identical to the September 2022 ones.
This makes it look like people aren't rushing to install Windows 11, which is reflected in the latest Steam Hardware survey results from September 2023. There, we see that Windows 10 is the most popular OS among PC gamers, with a 57.97% market share, followed by Windows 11, with a 37.43% market share.
This is higher than the StatCounter figures, showcasing that PC Gamers are flocking to Windows 11 faster than general users. However, what's interesting with the Steam numbers is that Windows 11's share dropped in September 2023 by 1.79% while Windows 10 market share grew.
Regarding Microsoft's development, the company is all in on Windows 11, with Windows 10 no longer set to receive major updates or features - though continued support, including security updates, will continue through October 2025. It'll be interesting to see if and when most people move to Windows 11, or if enough time passes, skip 11 and go straight to Windows 12.