NASA's Hubble Space Telescope has been in operation for more than 30 years and is still able to produce some of the most impressive photographs of the cosmos, such as this recently highlighted image of a galaxy known as NGC 612.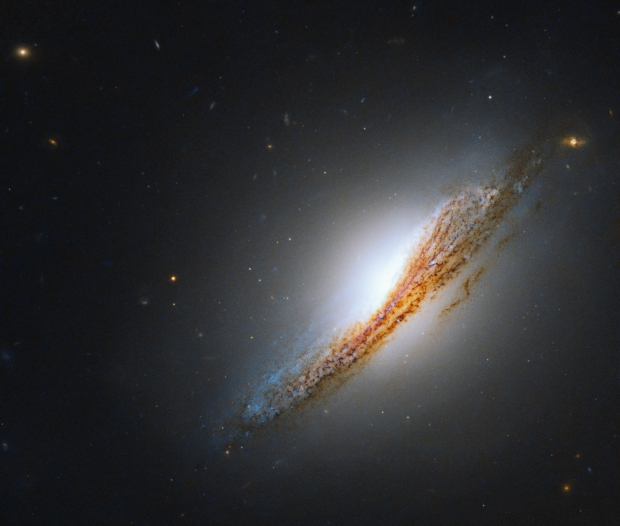 NASA has taken to its website with a brand new image snapped by the Hubble Space Telescope, with the iconic space telescope pointing its sensitive instruments at the lenticular galaxy called NGC 612, capturing its beauty in visible and infrared light. Notably, lenticular galaxies feature a central budge and disk that's similar to spiral galaxies, but they lack the long spirally arms. NASA explains that these types of galaxies harbor older star populations that range between 40 to 100 million years.
The above image shows a massive galactic disk that is mostly comprised of dust and hydrogen, with red and orange colors indicating matter. Furthermore, NGC 612 is a Seyfert galaxy, which means it has an active nucleus that's 100 times brighter than the combined light of its stars. More specifically, NGC 612 is a Type II Seyfert galaxy, meaning matter moves slowly around its nucleus.
"NGC 612 is also an extremely rare example of a non-elliptical radio galaxy, a type of galaxy that shows significant radio emissions - in this case, an association with radio source PKS 0131-36. Astronomers have only discovered five such radio-emitting lenticular galaxies in the universe," writes NASA
"One theory attributes NGC 612's unusual radio emissions to a past interaction with a companion spiral galaxy. Another theory focuses on the galaxy's bright and dominant bulge, which is similar to those seen in elliptical radio galaxies. By imaging this galaxy, astronomers hope to uncover more about what causes galaxies to emit radio waves," added NASA