RGB lighting on a modern PC, especially a gaming rig, is standard in 2023. What isn't standard is how you can customize and sync all of the various lighting protocols across different brands - and often, you'll need multiple pieces of software to make lighting changes to your motherboard, keyboard, and so on.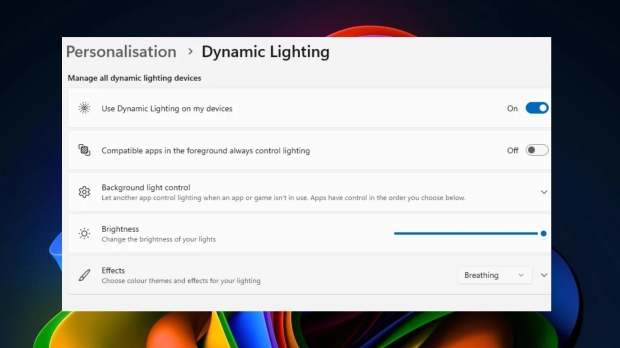 Microsoft has been teasing the addition of dedicated RGB lighting controls coming to Windows 11 for a while now, and it finally looks like the feature is here and available for everyone to check out if they toggle the "receive the latest updates as soon as they are available" toggle in the Windows Update menu.
Having RGB control software within Windows 11 could be a game changer for RGB lighting across various peripherals and other bits of hardware, as it could mean third-party apps having to be installed and a shift to a more unified way lighting is handled. Assuming, of course, that Microsoft can provide robust customization tools as lighting is about more than simply setting a color and leaving it at that. Which is what the tool is at the moment.
The lighting controls appear as a Dynamic Lighting option in the Personalization menu in Settings, which will display all of your RGB-compatible devices. From here, you can customize each device to set the color, the RGB lighting effect, and brightness and save different profiles.
The controls are pretty basic - and limited to Razer peripherals and a few others at launch. So, there's still a long way to go before we reach a stage where Microsoft's controls are a go-to for most, especially when you've got per-key lighting for keyboards and other more robust tools and RGB systems. Currently, a big part of the RGB scene is also about synchronizing lighting across multiple devices and integrating that with software and games - ala Razer, ASUS, MSI, and others.
The big plus could be a situation where hardware manufacturers create RGB lighting and systems that integrate seamlessly with the official Windows 11 lighting tools as they expand over time.