Continuing on previous observations conducted by the Hubble Space Telescope, NASA and the European Space Agency's James Webb Space Telescope, the world's most powerful space telescope, has gained results that indicate a relatively close exoplanet may have an ocean surface.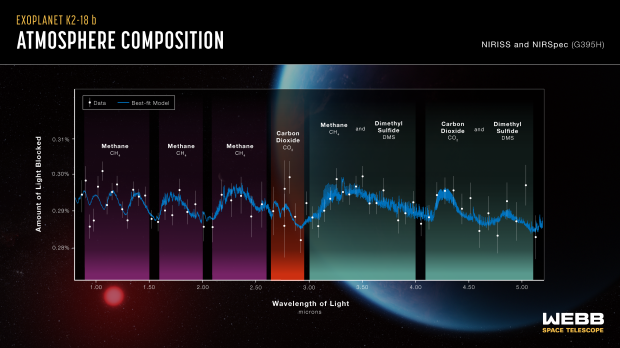 That planet is K2-18 b and has become a prime location for observations since its discovery, with Webb pointing its highly sensitive instruments at an exoplanet that is located just 120 light-years away from Earth. The results of scanning the atmosphere of the exoplanet were promising, with the analysis indicating that K2-18 b's atmosphere contains traces of carbon dioxide and methane, yet not ammonia, which, according to NASA, may indicate the surface of the planet contains oceans of water.
K2-18 b has a mass approximately 8.6 times that of Earth and is orbiting a star in what astronomers like to refer to as the "habitable zone," which is not too close to the star where the planet will be burned and not too far away where it will be frozen. Both situations for planet position relative to their local star dramatically reduce the chances of life existing, hence the decision by many astronomers to search planets that are residing in habitable zones.
Researchers behind the recent Webb study are looking at Hycean worlds, exoplanets that orbit their host star at a distance that enables water to exist on the surface and has a hydrogen-rich atmosphere. K2-18 b is a Hycean world. Another existing detection by Webb is the presence of dimethyl sulfide (DMS) in the exoplanet's atmosphere, which has only been discovered on Earth as a bi-product of phytoplankton.
"Upcoming Webb observations should be able to confirm if DMS is indeed present in the atmosphere of K2-18 b at significant levels," explained Madhusudhan.