NTDEV is the developer behind the popular Tiny10 and Tiny11 versions of Microsoft's latest Windows Operating Systems, which reduces the overall footprint of each OS in terms of their physical size in bits and bytes and removes tonnes of unneeded bloatware.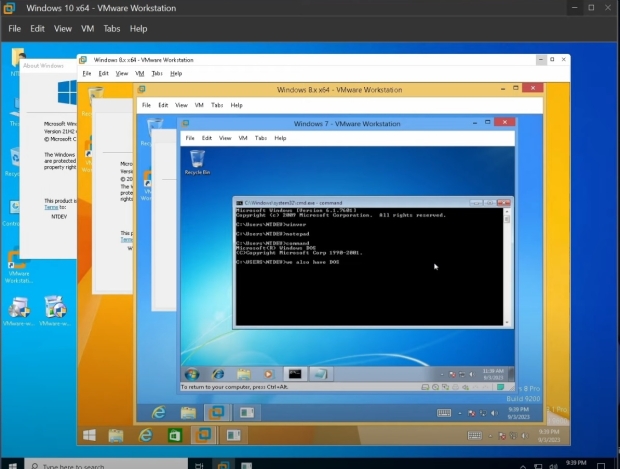 Recently, NTDEV released a version of Windows 11 called Live11 that squeezed the OS onto a 4GB USB drive (or DVD-ROM) that they also ran directly from the VRAM of a GeForce RTX 3050 without installation. So, it goes without saying that NTDEV knows the ins and outs of Windows and virtual machines at an awe-inspiring level - which brings us to the latest (and perhaps most fun) Windows experiment.
'Winception', or running a virtual nest of the last five versions of Windows on a single machine. That means Windows 7 is running a virtual version of Windows 8, which is then running a virtualized version of Windows 8.1, and so on.
Check out the video of this crazy Windows action below with the full nested OS setup, including Windows 7 running on Windows 8 running on Windows 8.1 running on Windows 10 running on Windows 11. Phew!
Over on Twitter/X, NTDEV notes that they used VMWare Workstation because it was "the easiest to do nesting," with the experiment running on an AMD Ryzen-powered rig. They add that Hyper-V froze after the third layer of nesting and that they couldn't get past the first layer with VirtualBox. So, if you want to try this one at home, be sure to use VMWare.
Of course, we'd love to see the nesting go even further - the next step would be to try and throw Windows XP into the mix or maybe even try and go all the way to Windows 95 and Windows 3.11.