RAM disks were a thing back when high-speed drives didn't exist, offering people improved speeds for specific tasks and operations. They're not intended to run fully-fledged operating systems like Windows 11, but this example is impressive.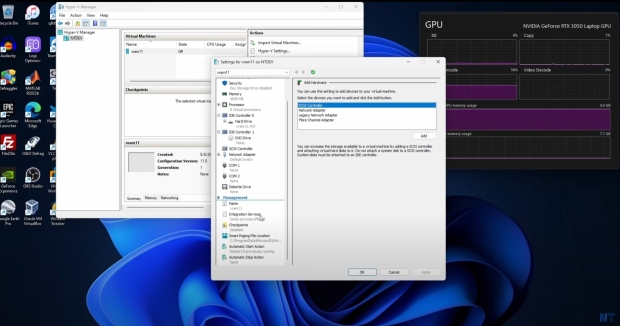 Tiny11 is a lightweight version of Windows 11 that removes the bloat and strips the OS back to a size that can run on modest hardware. Recently we reported on a version called Live11 that managed to squeeze Windows 11 on a 4GB USB drive that could run on RAM without installation.
And with the ability to turn the VRAM of any GPU into a RAM drive, Tiny11 developers NTDEV have done just that and were able to get its cut-down version of Windows 11 running on a GeForce RTX 3050 Laptop GPU with only 4GB of VRAM.
In the video demonstration below, NTDEV even fires up CrystalDiskMark to showcase some good read and write speeds for the VRAM Windows 11 install - 1960 MB/s read and 2497 MB/s write. We also see that, just like the USB install from a short while back, the OS takes roughly 3.5GB of the GPU's total 4GB of memory.
One of the key tools that made this little experiment a reality was using GPU RAM Drive, freely available via GitHub from creator prsyahmi. It follows the same principle as using system RAM as a drive by using a GPU memory buffer.
As a lightweight version of Windows 11, Tiny11 is a great option for those with outdated hardware or limited systems - as it can run on PCs with only 2GB of RAM with around 8GB of storage. This experiment isn't exactly a use-case, as running Windows 11 on the 4GB of VRAM on a GeForce RTX 3050 Laptop GPU is more fun than practical.