Although designed for professionals, the new ThinkVision 27 3D Monitor from Lenovo is a fascinating new display capable of presenting a glasses-free 3D image in addition to a 4K 3840 x 2160 2D image with an overall peak brightness of 310 nits and excellent Adobe RGB and DCI-P3 color accuracy.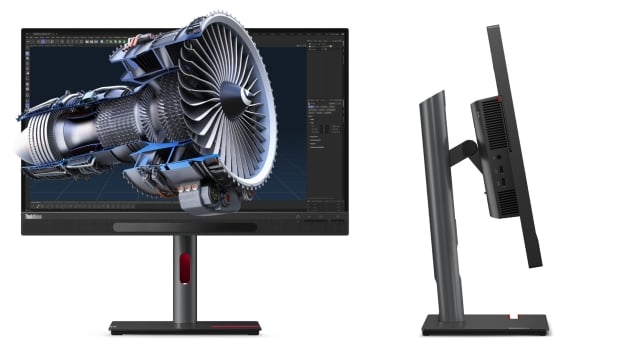 That is to say that you're getting a pretty great monitor for professional work involving any visual design, with the added benefit of 3D without the need to put on 3D glasses. The ThinkVision 27 3D Monitor goes 3D without additional hardware or processing; it projects two independent images with real-time eye tracking to create a stereoscopic image. Due to the dual-projection, Lenovo lists the 3D resolution at 1920 x 2160.
But, it'll require software support, which Lenovo includes to ensure compatibility with various apps. "Combined with its 3D Explorer software, the new 3D monitor forms a comprehensive ecosystem for 3D creation and consumption," writes Lenovo. "The solution offers an easy platform for users to access all their 3D apps, together with the capability to optimize work and comfort while enhancing control and efficiency."
With a maximum refresh rate of 60 Hz, it's not exactly a display you'd consider for PC gaming. Still, for those who work with 3D images, it's certainly an enticing proposition to visualize designs in 3D. In addition to offering a vibrant IPS panel for designers, the ThinkVision 27 3D Monitor also includes built-in speakers, USB-C docking functionality, and modular camera support.
The new ThinkVision 27 3D Monitor from Lenovo is on track for launch in February 2024 and will carry a price tag of around USD/EURO 2,999.