Here's a bit of a weird one, ASUS is launching a new GeForce RTX 3060 Ti with the 16-pin 12VHPWR connector that debuted with GeForce RTX 40 Series. The 'ATS-RTX3060TI-O8GD6X-GAMING-V2' or ASUS GeForce RTX 3060 Ti Atlas Shark initially made use of the 12-pin connector that we saw across many Ampere GPUs to minimize the need for multiple 8-pin plugs.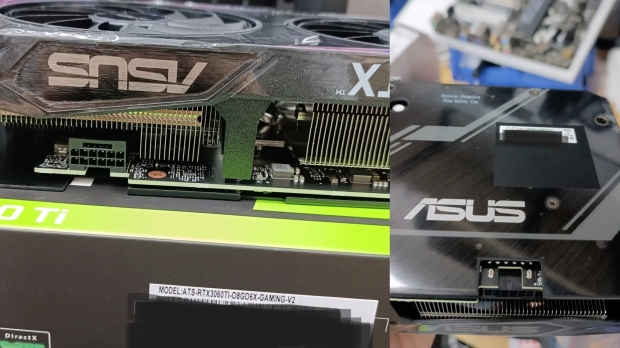 Pictures of the new connector on this GPU were posted by Extreme Player over at Bilibili, with confirmation that the new model was shipped to consumers and retailers in April 2023. The physical design looks unchanged outside the switch to the new 16-pin 12VHPWR connector.
Regarding the make-up of the GPU, the older 12-pin and newer 16-pin connectors share the same physical make-up. It's believed that no revisions were required to the rest of the GPU design outside of accommodating the new connector. With the controversy surrounding melting connectors and word of a revision to the existing 12VHPWR coming soon, you might wonder why ASUS has decided to ship a GeForce RTX 3060 Ti with a 16-pin 12VHPWR connector.
The answer might be pretty straightforward, even with the potential issue of cables and connectors not being seated correctly. It could be a case of ASUS being unable to source a cost-effective solution to obtain more 12-pin connectors as manufacturers have shifted to producing the newer 16-pin connectors.
Currently, the ASUS GeForce RTX 3060 Ti Atlas Shark is a variant limited to the Chinese market, so we might not see this variant make its way out west. However, it will be interesting to see if other partner models with 12-pin connectors switch to the new 16-pin connector for GeForce RTX 30 Series cards.