In a pre-hearing findings of fact document, the Federal Trade Commission says that both Microsoft and Activision have identified "large financial benefits from bringing Activision content to Xbox Game Pass."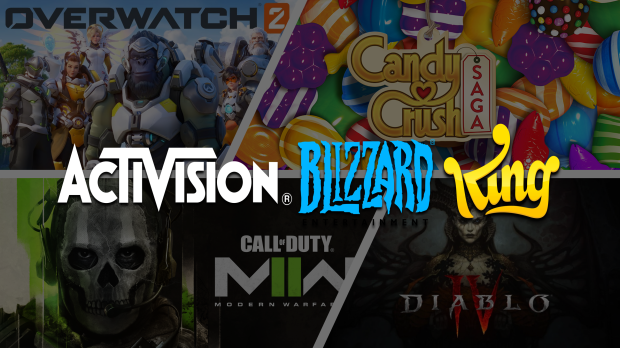 As Judge Jacqueline Scott Corley prepares her decision on the federal FTC v Microsoft preliminary injunction case, we thought it pertinent to scan through the various documents that the FTC and Microsoft have entered in the case's docket. The principal filings include what is called findings of fact, which essentially sees both FTC and Microsoft/Activision laying out the groundwork arguments for their sides of the case.
In the FTC's findings of fact document (Doc. #175), the Commission outlines interesting contextual information surrounding Activision's views on Xbox Game Pass.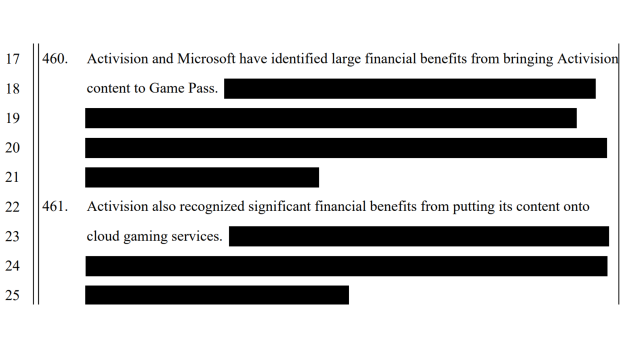 Page 82 of the document states that "Activision and Microsoft have identified large financial benefits from bringing Activision content to Game Pass [...]"
"Activision also recognized significant financial benefits from putting its content onto cloud gaming services."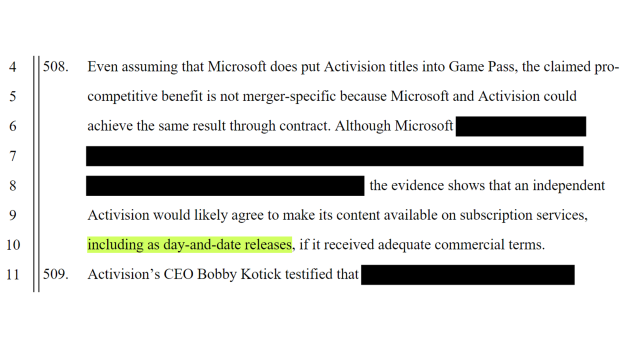 Then on Page 91 of the FTC's provisional findings of fact document, the Commission states that:
"Even assuming that Microsoft does put Activision titles into Game Pass, the claimed pro-competitive benefit is not merger-specific because Microsoft and Activision could achieve the same result through contract. Although Microsoft [REDACTED] the evidence shows that an independent Activision would likely agree to make its content available on subscription services, including as day-and-date releases, if it received adequate commercial terms."
The question is...if these benefits were identified, why didn't Activision sign a deal and bring its games to Xbox Game Pass? Presumably the answer to that question is in the redacted text that comes after the quote.
We also know that Activision is resistant to subscriptions like Xbox Game Pass, especially day-and-date releases, because of the undesired "cannibalization" effects that Xbox Game Pass can cause. These effects can reduce overall full game sales in exchange for subscription revenues. Activision does, however, often bring Call of Duty games to Sony's PlayStation Plus Essential subscription because those games rotate out on a 30-day basis, and inclusion of these games on PS Plus is part of the publishing licensing agreement/commercial agreements that Activision has signed with Sony.
"Promotional marketing, a catalog title for a short period time, those are the things we consider strategic opportunities," Kotick said in day 4 of the evidentiary hearing in the preliminary injunction federal case.
Key witness testimony also adds important context to the FTC's assertions. This document was created and filed before the hearing took place. The benefits are pretty obvious to Microsoft, as Activision games are some of the most valuable intellectual properties on the planet and could considerably drive up the value of Xbox Game Pass, but Activision couldn't entirely be convinced. Could Microsoft offer bigger benefits to Activision?
As economist Dr. Carlton wrote in his report, we know that Microsoft has tried to secure Activision content on Xbox Game Pass. This was addressed in Activision CEO Bobby Kotick's testimony.
In 2020, Xbox gaming leadership teams attempted to negotiate a deal with Kotick's teams to bring Activision games to Xbox Game Pass. The negotiations failed.
During this time, before the Xbox Series X/S released in late 2020, Activision also played hardball and threatened to not release Call of Duty on Xbox platforms unless Microsoft agreed to a certain revenue share split (the FTC let slip that this revenue split could have been 80-20 in Activision's favor). It's possible that the negotiations to bring Activision games to Game Pass were also part of the rev share split meetings.
Activision CEO Bobby Kotick has also indicated that Activision-Blizzard games could come to Xbox Game Pass if the "commercial incentive" were great enough. In short, Activision could bring its games to a multi-library content subscription service if the price were high enough.
Q When it comes to subscription services, do you have strong views?

I'm generally considered a strong view person when it comes to that.

Q Whether you should put COD or any of your games on subscription services?

I have a general aversion to the idea of a multi-game subscription, maybe part of it has having been in Los Angeles and having watched media companies move their content to streaming subscription services and the business has suffered as a result.

We also have a game that has a subscription called World of Warcraft. Our players pay us $15 a month for that single game.

The idea of having a game in content library subscription services would degrade the economics. It's inconsistent with the idea of starting out with F2P with creating game universes and having multiple flexible ways to play.
***
Q Lots of people at the company disagree with your aversion to subscriptions, correct?

I would say so.

Q Activision hasn't taken a formal decision not to offer its games on a subscription service?

While no, it's not something I think we want to, or would do.

From time to time we experiment, generally speaking I think it's not the right way to deliver the most value to our shareholders or provide flexibility to our players.

Q You would evaluate offering games on a subscription service, right?

We would.

Q You have made judgements to support these services before, right?

These were experiments. Generally speaking, we dont believe that, I don't believe that, the management doesn't believe that, I don't think that content library subscription is the best way for players to make their investment in games.
The FTC has filed its finalized findings of fact in the case, but that is sealed for now.
It is unknown exactly how quickly Judge Corley's decision on the PI will take.