Recently we reported on NVIDIA working with PCI-SIG to redesign the 12VHPWR connector for the GeForce RTX 40 Series with the new 12V-2x6 power connector as part of the new ATX 3.1 standard. This revelation came to light via an extensive report at Igor's Lab outlining how adjustments to pin depth help alleviate issues with the connection not being seated or plugged in correctly.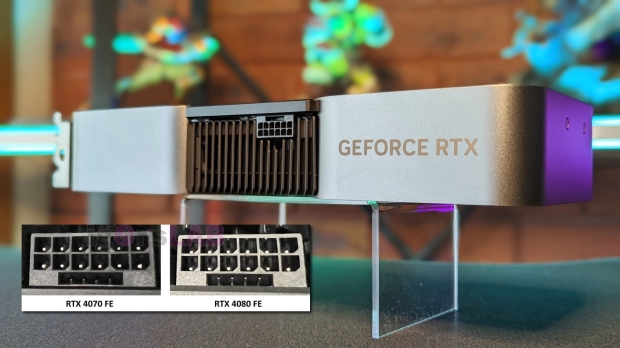 The outlet has now posted an additional report showing that the GeForce RTX 4070 Founders Edition model from NVIDIA features a modified 12VHPWR connector compared to what was seen on the GeForce RTX 4080 Founders Edition.
It notes that the RTX 4070 connector features a 1.7 mm inward offset for the sensor pins, compared to the 0.45 mm offset for the RTX 4080, and this is similar to what is being planned for the new 12V-2x6 connector being developed.
The new connector is set to be labeled with H++ to denote the revised design, but this isn't present on the RTX 4070. Igor's Lab notes that companies are already producing the new design, and power supplies like MSI are already showcasing support for the new 12V-2x6 connector.
The GeForce RTX 4070 was the first GPU in GeForce RTX 40 Series to launch models with the 12VHPWR connector and support for a traditional 8-pin connector, with the subsequent RTX 4060 Ti and RTX 4060 models both supporting the traditional 8-pin connection. The new design is all about ensuring a better and more reliable connection between the GPU and power supply, so hopefully, we get some official information on what it entails from NVIDIA itself soon.