Authorities have launched a widespread search both above water and below for the submersible Titan that contains at least five individuals that were on a journey to see the Titanic in the Atlantic Ocean.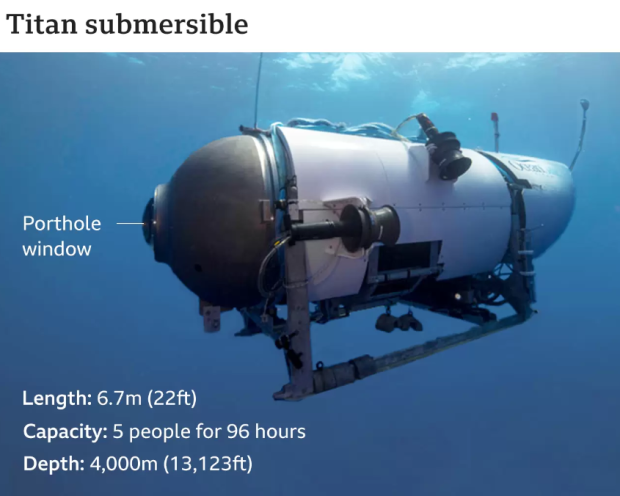 So, what happened? Tour firm OceanGate charges approximately $250,000 per guest it takes on an eight-day expedition to observe the famous Titanic wreck located 12,500 feet below the surface of the Atlantic Ocean. Participants are then crammed into a submersible vehicle called Titan, which is equipped with anywhere between 70 and 96 hours of emergency oxygen, and then dropped into the ocean to begin its dive to the bottom of the ocean.
According to reports, the Titan sub lost communication with the vessel Polar Prince an hour and 45 minutes into its dive. Who was on board? So far, we know the sub had five people on board, three of which have been confirmed to be Hamish Harding, a 58-year-old British businessman and explorer, Pakistani businessman Shahzada Dawood and his son, Suleman Dawood. It's believed French explorer Paul-Henry Nargeolet and Stockton Rush, a chief executive at OceanGate, are also on Titan - however, this isn't confirmed.
How did this happen?
Submarine expert Professor Alistair Greig from University College London told the BBC that the submersible could have released a "drop weight" after experiencing an emergency. "If there was a power failure and/or communication failure, this might have happened, and the submersible would then be bobbing about on the surface waiting to be found."
However, the other scenario would be a leak. If that is the case and the vehicle is unable to get back to the surface under its own power, "then the prognosis is not good".
"While the submersible might still be intact, if it is deeper than more than 200m (656ft) there are very few vessels that can get that deep, and certainly not divers. The vehicles designed for navy submarine rescue certainly can't get down to anywhere near the depth of the Titanic," added Greig.
This story is still developing.