In a press release for Mortal Kombat 1's official announcement, NetherReal and WB Games confirm that the legendary ultra-violent fighting franchise has surpassed 80 million sales worldwide.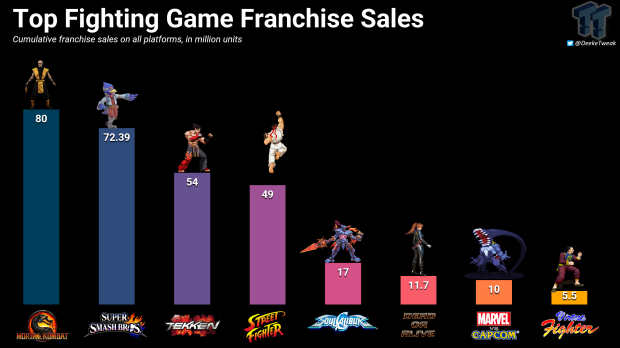 Today NetherRealm revealed Mortal Kombat 1, a soft reboot that promises a new beginning for the decades' long series. Nestled in the press materials was confirmation of total sales for the beloved brutal brawler: "Mortal Kombat videogame franchise that has sold more than 80 million units since its debut over 30 years ago."
So how does Mortal Kombat stack up against the top fighting game competitors? The enthusiast fighting scene is typically dominated by three big names: Mortal Kombat, Tekken, and Street Fighter, but Nintendo's Super Smash Bros. series is actually the second best-selling fighting franchise of all time. While we don't have perfect figures or updated sales data for each franchise, including older ones like Soul Calibur or Virtua Fighter, it does look like Mortal Kombat is on the top spot.
Note that the following data was compiled using information from Wikipedia as well as official sales figures from publishers like Capcom and Bandai Namco, as well as developers like NetherRealm.
Here's a list of the top fighting game franchise sales:
Mortal Kombat - 80 million
Super Smash Bros. - 72.39 million
Tekken - 54 million+
Street Fighter - 49 million
Soul Calibur* - 17 million
Dead or Alive* - 11.7 million
Marvel vs Capcom - 10 million
Virtua Fighter* - 5.5 million
*data may be incomplete and/or outdated
2023 looks to be one of the best years for fighting games in recent memory, with Street Fighter 6 dropping in June, Mortal Kombat 1 releasing in September, and Tekken 8 possibly launching throughout the year as well.