NASA's James Webb Space Telescope has eyed large groups of young stars grouped together in a spherical shape and found a monstrous star lurking in the background.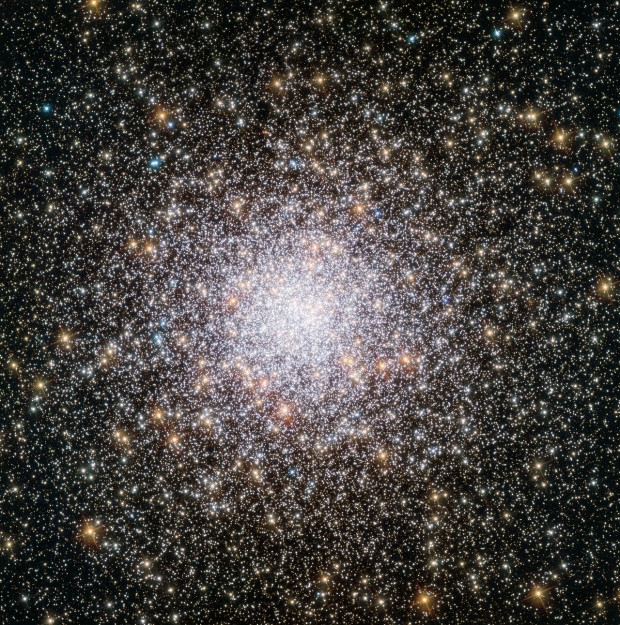 These groupings of young stars are called globular clusters and can contain millions of stars born around the same time. Evidence of globular clusters births go back as much as 440 million years after the Big Bang, and despite being born in relatively close proximity to each other, stars within globular clusters have a composition that is confusingly diverse. Astronomers are still attempting to explain why stars born in a globular cluster have varying levels of sodium, aluminum, oxygen, and many other elements.
One theory that has been suggested by astronomers is undiscovered supermassive stars are polluting these infant stars with chemical elements. Now, Webb's incredible observations have given that theory some credit, as astronomers have announced in a new report that Webb has provided the very first evidence of supermassive stars lurking within globular clusters. So, what's a supermassive star?
''Globular clusters are between 10 and 13 billion years old, whereas the maximum lifespan of superstars is two million years. They therefore disappeared very early from the clusters that are currently observable. Only indirect traces remain,'' explains Mark Gieles, ICREA professor at the University of Barcelona and co-author of the study
A typical rule of thumb for stars is the bigger a star is, the hotter it burns and the brighter it is. However, because the star is so large, its lifespan is dramatically reduced since its burning through its fuel at a much faster rate. According to a recent statement by astronomers behind the Webb discoveries, these supermassive stars are between 5,000 and 10,000 times bigger than the Sun and are estimated to be as hot as 135 million degrees Fahrenheit, which is many more times the Sun's temperature of 27 million degrees Fahrenheit.
While supermassive stars are large and bright, astronomers still struggle to locate them as their lifespan is so short. According to study team member Mark Gieles, of the University of Barcelona, globular clusters are anywhere between 10 and 13 billion years old, and supermassive star lifespans only stretch as much as two million years.
"These new results strengthen the international team's model. The only one currently capable of explaining the abundance anomalies in globular clusters. The next step for the scientists will be to test the validity of this model on other globular clusters forming in distant galaxies, using the James-Webb data," writes the astronomers.
Using Webb's sensitive infrared instruments, astronomers pointed the observatory at the galaxy known as GN-z11, which is located approximately 13.3 billion light-years from Earth. Webb's instruments detected very high proportions of nitrogen, which suggests that several globular clusters were born in GN-z11, and those globular clusters still harbor supermassive stars.
According to reports, astronomers arrived at this conclusion through the detection of high amounts of nitrogen as its presence can only be explained through the combustion of hydrogen at extremely high temperatures, only capable of being produced by the cores of supermassive stars burning through their lifespan.