Microsoft does not seek to acquire a simple games publisher or a series of studios with its $68.7 billion buyout of Activision Blizzard King, but a veritable games empire.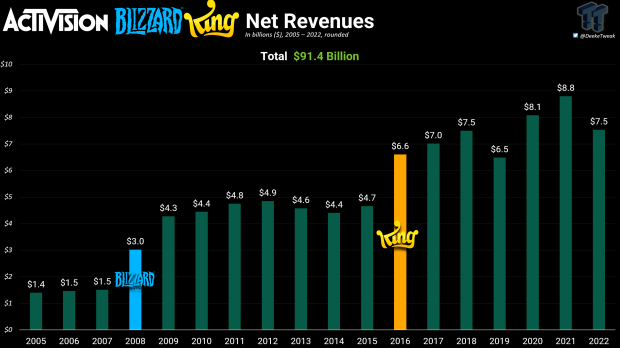 In an effort to show how substantial Activision Blizzard King really is, and how the gaming giant could help supercharge the Xbox business, TweakTown has collected and analyzed key financial and performance metrics. We've discussed how the inclusion of King will instantly boost Xbox's total monthly active users by hundreds of millions of people, and also discussed how the inclusion of Activision Blizzard King's 8 separate billion-dollar franchises could represent a tipping point for Xbox Game Pass.
Now we'll take a closer look at Activision Blizzard King's historical revenues across a 17-year span from 2005 to 2023, which coincides with the release of Call of Duty 2 onwards. Based on publicly-available data, Activision Blizzard King has generated over $91 billion in net revenues across this 17-year period.
For a more in-depth breakdown of key Activision Blizzard King business trends, click here.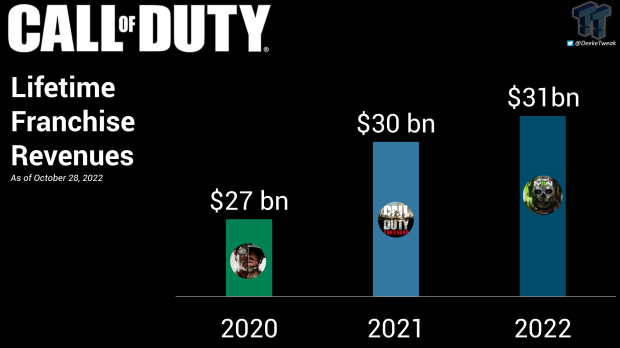 Our data also shows that Call of Duty has made over 1/3rd of these total figure, with total Call of Duty franchise revenues exceeding $31 billion following Modern Warfare 2's record-breaking release.
Apart from a massive slate of games, including the strongly-monetizable World of Warcraft, an 18-year old MMORPG that supercharged Blizzard's core subscription business, there were two major catalysts to Activision's growth.
The first was Activision's merger with Blizzard in 2008, which instantly saw the company's net revenues double throughout the year.

The second was the acquisition of King in 2016, which saw Activision-Blizzard's earnings jump from $4.7 billion to $6.6 billion throughout the year.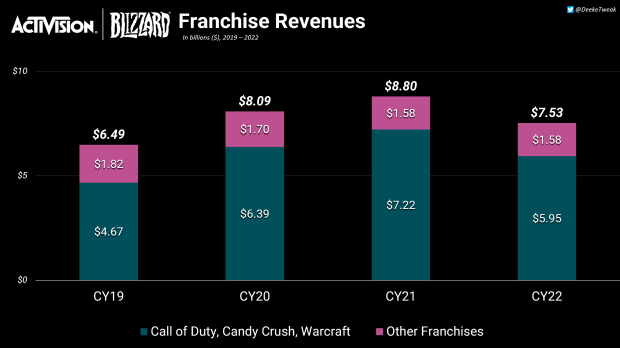 Things will certainly change for Activision Blizzard King under Microsoft's ownership.
We've determined that including all new titles on Xbox Game Pass will significantly disrupt ABK's business, especially the Activision segment, which depends on annual premium releases of Call of Duty to generate its multi-billion revenues across PC and console.
Microsoft has also made commitments to offer all current and future Activision-Blizzard console and PC games to cloud streaming service providers, including NVIDIA's GeForce Now and Boosteroid, however these services require users to have purchased a copy of the game.
That being said, Microsoft has also signed a 10-year deal to offer Call of Duty titles on Nintendo platforms for the first time since the Wii U era (for the past 7 years, Call of Duty has remained off Nintendo hardware). The Switch has a staggering 125 million+ installed base, so Activision-Blizzard will expand its addressable market.
These new disruptions will create lots of extra work for Activision Blizzard King developers, especially in the Call of Duty business. As it stands now, all development studios in the Activision segment help out with Call of Duty games, whether it be annualized releases, Call of Duty Mobile, or the Warzone duo of free-to-play titles.
Adding Switch, a system that is comparatively lower-spec than any system that currently runs Call of Duty, will be a challenge for these developers.