The Switch's new sales milestone has pushed total Nintendo hardware shipments to 836.65 million, and we take a closer look at the breakdown between console and handheld numbers.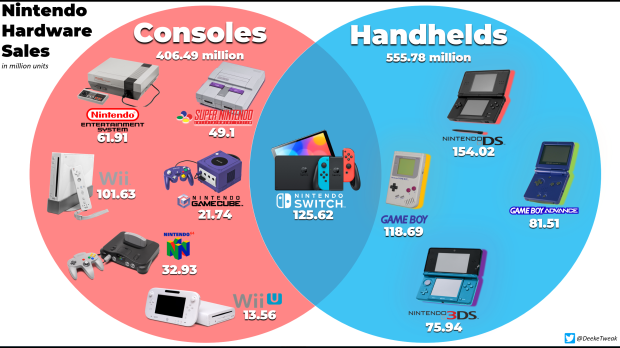 Every quarter, Nintendo and the rest of the games industry updates and refreshes key performance metrics. One of the most interesting bits of info concerns hardware and software sales, especially when comparing new systems that benefit from advancements like digital delivery and subscriptions against historical legacy platforms.
On this note, we see the Nintendo Switch has quickly become the star of Nintendo's core games business. It helps that the Switch family encompasses 3 devices, but more than that, the Switch is an evolution of all of Nintendo's past consoles and handhelds. So how does the Switch stack up against other platforms insofar as hardware sales, and how much has it affected total HW sell-in?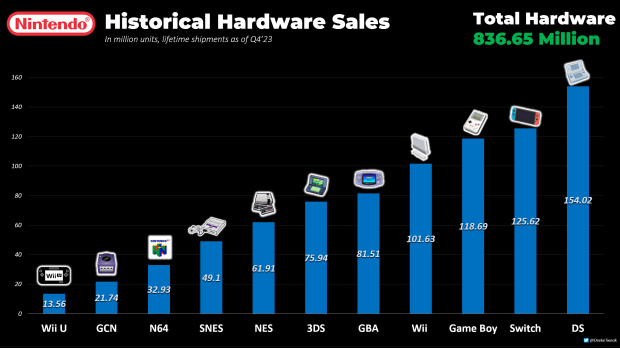 Right now the Nintendo Switch is #2 in total hardware sales with 125.62 million, as compared to the DS' mighty 154.02 million. The Switch may not ever beat the DS in hardware, but it has become the best system in terms of software sales with over 1.036 billion games sold in the last 7 years.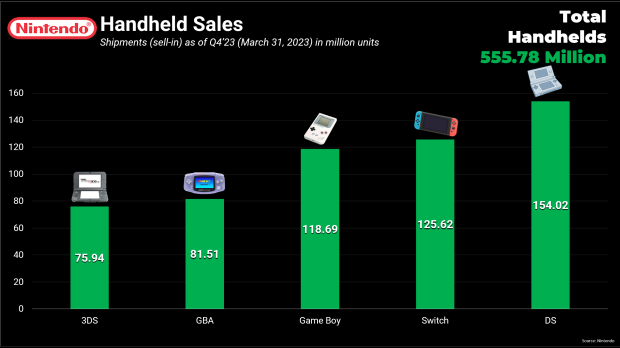 Nintendo has sold-in a total of 836.65 million handhelds and consoles from the NES era to the present. This means the Switch has made up 15% of total hardware shipments, and in previous coverage we've found that the Switch also made up more than 18.5% of total cumulative software sales.
The Switch has also sold 22% of Nintendo's total lifetime handheld sales, which amounts to over 555 million units.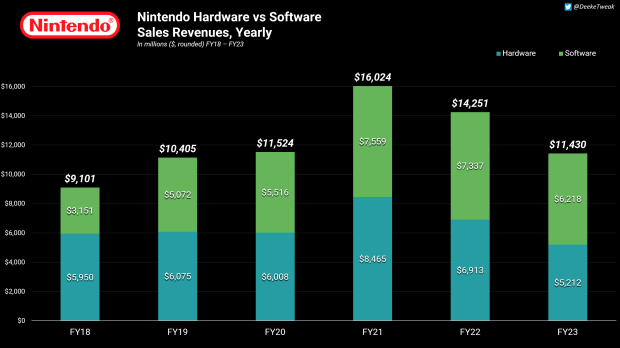 We've also noted that the Switch has generated over $69 billion for Nintendo from March 2017 - March 2023, and helped Nintendo make over $38 billion from hardware sales revenues across its current 7-year lifespan.
Nintendo Fiscal Year 2023 Content Index