It's official: The Nintendo Switch has now sold over 1 billion games, and the Switch now accounts for over 18% of all software that Nintendo has ever sold on its platforms.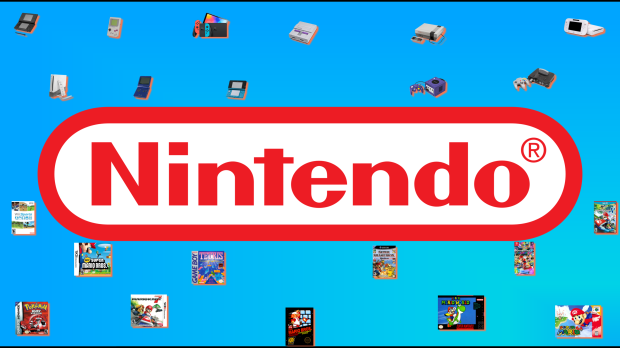 The Nintendo Switch just entered its 7th year on the market and the handheld-console ecosystem is still breaking new barriers. The Switch recently broke the 125 million shipments milestone and has also now sold a total of 1036.15 (or 1.036 billion) million games. The Switch family, which includes the base Switch from 2017, the Switch Lite introduced in 2019, and the premium Switch OLED in 2021, is currently #1 in total Nintendo software sales and #2 in hardware sales, just behind the classic DS.
Taking a closer look at software sales and we can highlight some interesting trends. To date, Nintendo has sold 5.592 billion games across all of its console and handheld systems, and the Switch makes up about 18.5% of these total sales.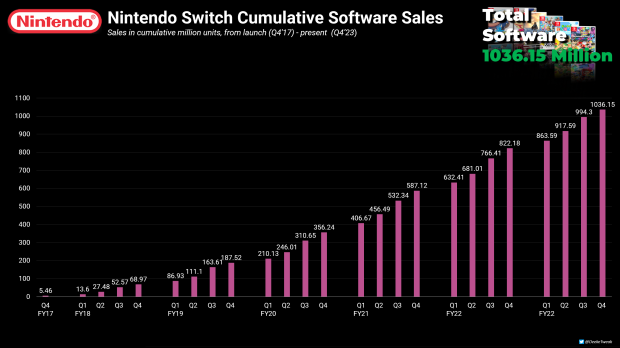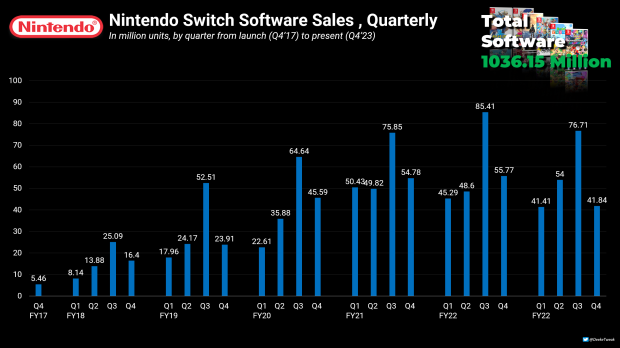 To put those numbers into perspective, we can also take a look at how many games that were made available on each historical system when compared to the Switch. Data provided by Nintendo also illustrates the total software sales against total number of games to give us an even better idea of the total software sales performance health--that is, how many games are actually sold out of the games that are made available on each platform.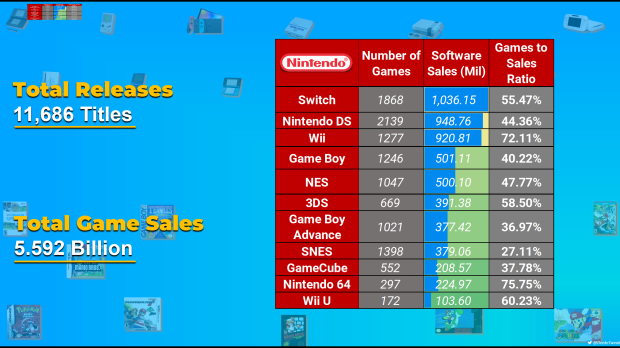 From the NES to present day, Nintendo has released over 11,600 games across its myriad of platforms that total up to 5.592 billion sales, with the Nintendo 64 having the highest games-to-software-sales ratio of 75%. This is because the N64 had only 297 games, and the system managed to sell nearly 225 million games during its lifespan.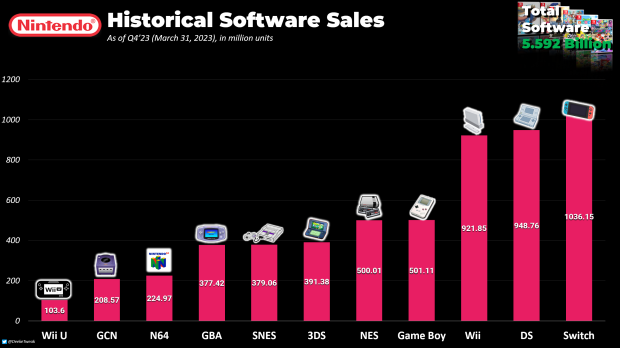 Other impressive metrics include total platform earnings. The Nintendo Switch platform has generated over $69 billion in revenues.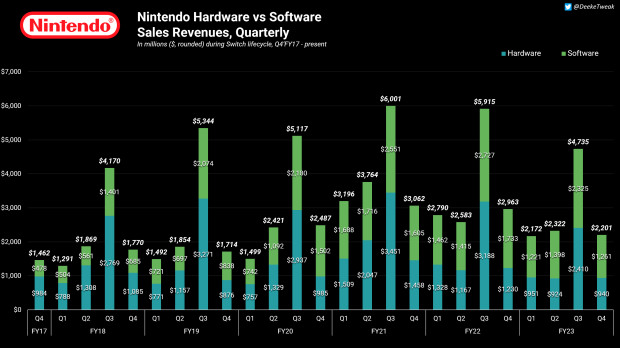 Throughout its 7-year lifespan, the Switch helped Nintendo generate over $34 billion from software. Not all of these software revenues are from the Switch, and also include other platforms like the 3DS.