On the heels of Redfall's controversial release, Microsoft reminds us that the Xbox Direct is the big one we've been waiting for.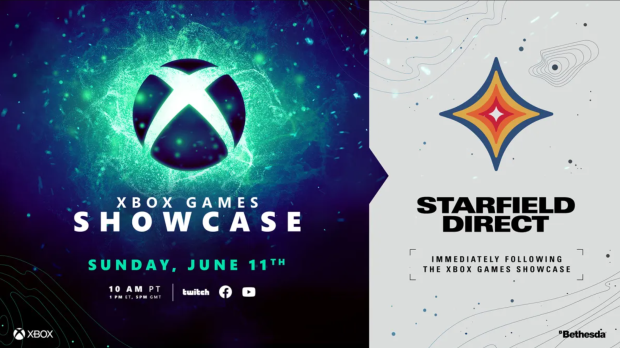 Just a bit ago, Microsoft released its debut $70 first-party game with Redfall. Things didn't go well and the game is being grilled by reviewers and players. Redfall's launch woes have reinforced the age-old belief that Xbox is on the brink of ruin due to its lack of hit games (one look at Xbox's financials tells a different story).
In an effort to seemingly curb these talks and reaffirm fans, Microsoft reminds everyone that the Xbox Games Showcase in June is "the day gamers have been waiting for," strongly indicating the June 11 stream could be the big blowout show that redeems the brand's image. Microsoft today confirmed that the Xbox Games Showcase will kick off on June 11 at 1PM EST on YouTube, Twitch, and Facebook.
There's a lot of pressure on Starfield to be success--as one of my followers @Crusader3456 aptly said: "If there was any more pressure on Starfield, it'd turn into a neutron star."
The Xbox Games Showcase includes both first-party games and third-party partner titles. We could see updates on The Outer Worlds 2, Avowed, Contraband, Perfect Dark, Fable, Everwild, and maybe even Wolfenstein 3 or the new Indiana Jones game. I'm personally hoping to see some sort of teases for The Elder Scrolls VI...but that might take the thunder out of the Starfield content.
The most important event may not even be the Xbox showcase, though. It could happen afterwards when Bethesda holds their first-ever Direct showcase centered around a single game; Starfield is getting its own shot in the limelight with a special Starfield Direct deep-dive stream that happens immediately after the Xbox show is finished.
"Join us for some new surprises and first-looks from our incredibly talented internal studios, and our many creative partners around the world. This is the day gamers have been waiting for to see what is coming to Xbox, PC, and Game Pass.

"Starfield Direct will invite you inside Bethesda Game Studios to learn much, much more about Starfield, with tons of new gameplay, developer interviews, and behind-the-scenes insider information.
Airtime for Xbox Games Showcase in Local Time Zones:
PT: June 11, 10am

ET: June 11, 1pm

BST: June 11, 6pm

CET: June 11, 7pm

JST: June 12, 4am

AEST: June 12, 3am