PlayStation delivers record-breaking earnings in Fiscal Year 2022, generating nearly $27 billion in total revenues for the period.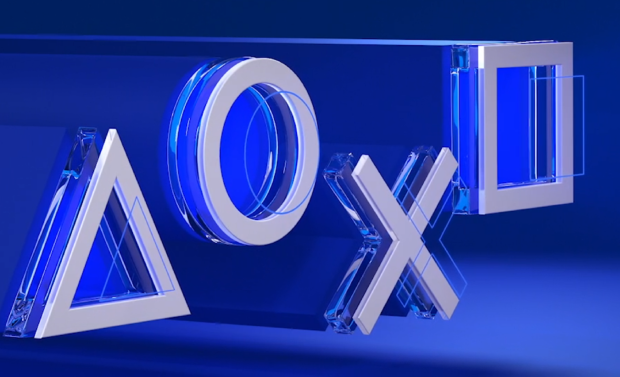 Sony has announced triumphant results for FY22 and has set new all-time highs for multiple segments. PlayStation generated eye-opening revenues of $26.9 billion throughout FY22, driven predominantly by PlayStation 5 console sales, which had shipped a strong 19 million units in FY22 and led to 38.4 million total cumulative PS5 sales by March 2023.
Sony made an astronomical $8.297 billion from hardware during the period and console sales revenues made up 31% of total earnings during the year, beating out every other segment including digital software sales as well as add-on content.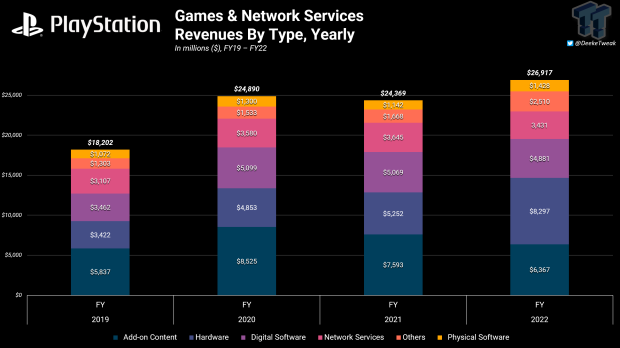 PlayStation Games & Network Services FY22 results
Add-On Content - $6.367 billion, down 16% year-over-year (YoY), up 9% from pre-pandemic levels (PPL)
Hardware - $8.297 billion, up 58% YoY, up 142% PPL
Digital Software - $4.881 billion, down 3.7% YoY, up 41% PPL
Network Services - $3.431 billion, down 5.9% YoY, up 10.4% PPL
Others - $2.510 billion, up 50% YoY, up 92% PPL
Physical Software - $1.428 billion, up 25% YoY, up 33% PPL
PlayStation's operating profit is a different story.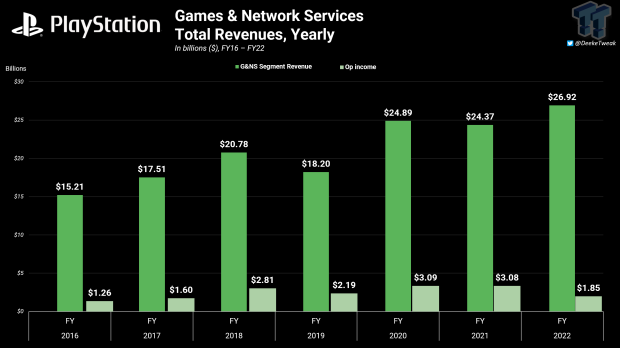 Sony reported $1.85 billion operating profit for its Games and Network Services segment, a reduction of over $1.5 billion year-over-year. Company management attributes this significant drop to rising expenses, including increased investment in its first-party games, as well as a decrease in third-party game sales (these were down by over 38 million), over $239 million in negative foreign exchange rate impact, and a substantial $389 million expense related to the acquisition of Bungie.
Remember that Sony will pay $3.7 billion total for the acquisition of Bungie, $1.179 billion of which will be reserved for deferred payments to employees for staying with the company.
Sony is also heavily investing in first-party games for the PlayStation brand, including a smattering of new live service titles for PS5 and PC, as well as new PlayStation 5 exclusives like Spider-Man 2, Wolverine, and a new AAA Horizon project from Guerrilla Games.
PlayStation FY22 Performance
Net Revenue - $26.917 billion, up by 10.4% or $2.5 billion
Operating Income - $1.85 billion, down by 40% year-over-year or $1.5 billion
Check below for more PlayStation news: